Orah 4i camera livestreams 4K VR videos with 3D audio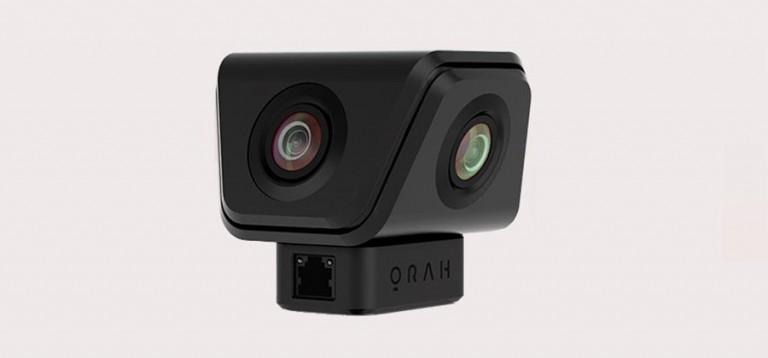 VideoStitch has launched the Orah 4i, a small camera capable of livestreaming 4K-resolution 360-degree video with 3D audio specifically for virtual reality applications. The company, perhaps best known for its 360-degree VR video software, has put the camera up for preorder at a discounted rate; company CEO Nicolas Burtey said in a statement, "We have developed a solution thatstreams 4K resolution live virtual reality video to headsets–all with the push of a button."
The Orah camera is small enough to hold in one hand, and can be attached to a monopod or tripod using a mount on the bottom. Lenses on each side capture content that is merged together into a single 360-degree offering — that content can itself be livestreamed for viewing with VR headsets, such as the Gear VR or Cardboard. In doing so, users are able to experience a situation in a more immersive, realistic way than ordinary livestreamed video.
Orah 4i takes the 360-degree video process a step further than some competing cameras due to the inclusion of 3D sound capture — the camera records audio from multiple directions, providing more realistic audio based on where a user is looking in the video — if someone is recording on the beach, for example, facing the ocean would provide louder ocean sounds than facing away. More importantly, though, someone can walk around the camera while taking and have their audio remain consistent no matter their position.
Said Burtey:
Until today, a live VR video production workflow relied on an array of small cameras put together on a holder. Videographers then dealt with multiple cables, power supplies and a variety of small hardware components. Orah removes these inefficiencies and numerous points of failure and lets them focus on what really matters to them for creating compelling content.
The camera features an all-metal model described as being "thermally efficient" for long video streaming sessions — that is to say, it won't overheat if you're running it for a long while. In addition to livestreaming, videos can be recorded to an SD card. The maximum video resolution is 4K at 30fps, while audio is output in 4-channel Ambisonic at B-format.
Detailed specs include a pair of Ambarella processors, four Sony Exmor sensors, four fisheye f/2.0 8-layer MC Glass lenses, four high dynamic range microphones, a thermal pad for heat dissipation, an anodized precipitation-hardened aluminum, and a 48 volt power supply. The camera itself measures in at 3.1 x 2.7 x 2.5-inches and weighs 17 ounces.
The Orah 4i camera is available for preorder now at $1,795 USD, a limited price, while the retail price is $3,595 USD.