Optoma UHD60 and UHD65 projectors offer 4K Ultra HD resolution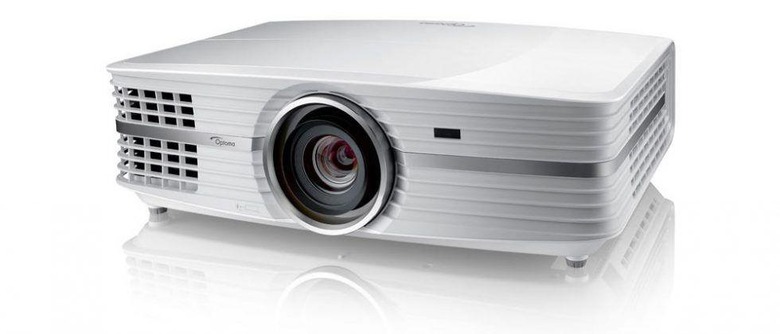 Optoma has introduced a pair of new 4K-resolution projectors, the UHD60 and UHD65. Both projectors bring 8.3-million pixels and a massive 3840 x 2160 resolution, making them some of the highest-res projectors on the market. The company says that its new projectors offer 'razor-sharp' image quality, as well as a high level of brightness, a great contrast ratio, and perhaps most importantly, a very budget-friendly price (relatively speaking).
The UHD60 projector is offered in a white style, while the UHD65 projector is differentiated with a black chassis. The UHD60 model has more modest features in certain regards, though it excels in other categories. For example, this model has a high brightness at 3,000 lumens, while the UHD65 is less notable at 2200 lumens.
The latter model has better contrast, however, with a 1,200,000:1 contrast ratio versus the UHD60's 1,000,000:1 contrast ratio. Both models feature dynamic black contrast, however. As well, both models offer HDR, though the UHD65 includes 'extraordinary' color and an RGB color wheel.
Other mutual features include a 1.6x zoom, vertical lens shift, and the ability to project an image measuring up to 300-inches. Both models likewise offer a pair of HDMI ports and a single HDCP 2.2 port. The UHD60 model is priced at $1,999 USD, which is notable considering the cost of high-end 1080p projectors. The UHD65 model is pricier with a $2,499 USD price tag.
SOURCE: Optoma