Optoma 3D-XL Converter Box To Ship In December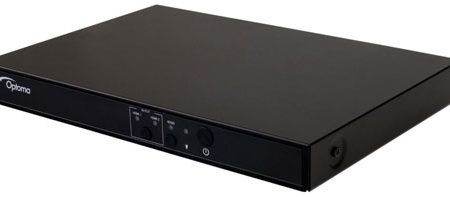 If you are a home theater fan looking to get into 3D movies and gaming you may be expecting some cool gear for Christmas. Optoma has an interesting converter box that will connect your HDMI 1.4a gear like your Blu-ray player, PS3 and other stuff to the 3D ready Optoma projectors or to any other 3D ready projector.
The converter box supports multiple HDMI 1.4a inputs and can be changed between 2D and 3D modes. It supports 1080p 3D with passive glasses needed, which are much cheaper to buy than active 3D glasses. The thing is compatible with only DLP 3D projectors.
If this is exactly what you need it will ship in December says 3D-Display-info with the price at Amazon of $499. The converter box ships with one pair of glasses. Each pair of extra glasses is $83. I wonder if since the thing uses passive glasses the glasses from the theater will work.