Optimus Popularis 3D prototype shot released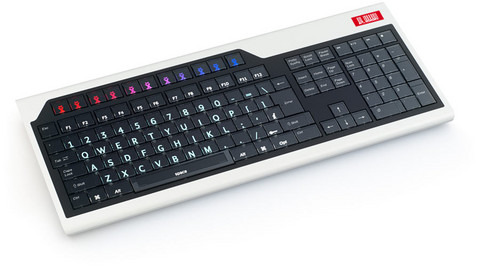 After teasing with a foam mockup, Art Lebedev Studios have released the first 3D prototype shot of the in-development Optimus Popularis keyboard.  The keyboard is shorter than the original Optimus Maximus, with the extra row of shortcut keys moved from the left of the main keys to above the function keys.  However it seems to share the same each-key-a-display setup, although the space key display is now full-length rather than the small square OLED on the Maximus.
What we still don't have is any real detail about the Popularis.  Art Lebedev claimed that the screens used were "not OLED ... but based on a totally different principle".  While it's never especially telling trying to examine a render for technical detail, theres been speculation that the Popularis uses individual LED displays or one large screen over which transparent keys are placed (though that seems technically complicated).
Best of all, though, is the price.  While the Maximus retails for a massive $1,590 – and is reportedly quite difficult to type on, with stiff, over-spaced keys – Art Lebedev is claiming a sub-$1,000 tag for the Popularis.  This could be due to cheaper screens, but likely also comes from reduced development costs.