OPPO Watch event will reveal the wearable in early March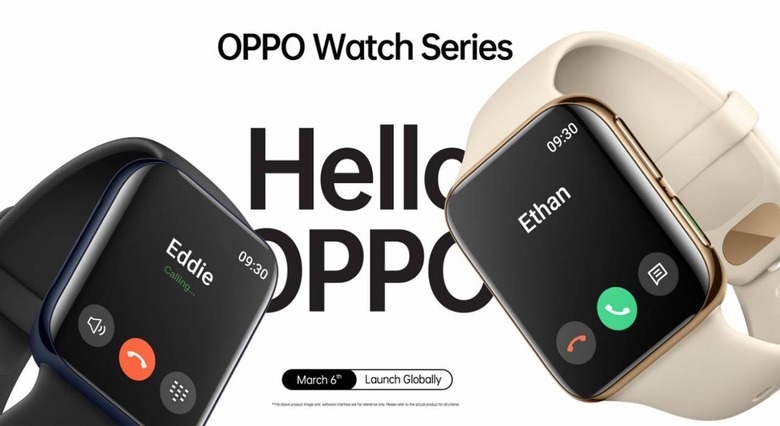 The OPPO Watch we've been hearing rumors about for weeks will be officially unveiled in early March, the company has announced. The unveiling will take place during the same event when OPPO reveals its Find X2 smartphone model. The company shared two official images of its wearable to go alongside the announcement, but the watch hasn't been officially detailed yet.
Though we've seen the OPPO Watch appear in various leaked images, the wearable hasn't been officially unveiled, at least not in any significant degree. In its announcement today, OPPO included two images of its watch, one with a cream-colored band and gold watch body, the other with a black band and what appears to be a dark navy blue watch body.
It's time to say hello to #OPPOWatch. 👀

Unveiled at the #OPPOFindX2 Launch Event March 6, 10.30am CET. ⏰ pic.twitter.com/IwbOJnHoyg

— OPPO (@oppo) March 2, 2020
The curved nature of the smartwatch is apparent in the images, but it's something we've seen before. We'll get a full look at the watch on March 6 when OPPO will reveal the wearable; the event is scheduled to happen at 10:30 AM CET / 4:30 AM EST / 1:30 AM PST. The launch will be 'global,' according to OPPO.
The OPPO Watch looks very similar to the Apple Watch, but we don't yet know what to expect in terms of features. The device appears to run Google's Wear OS based on the images we've seen, though it's too early to say for sure.
At this point in time, we can only note that the OPPO Watch features a curved display, two buttons on the side, and what is assumed to be a touchscreen. The model doesn't appear to feature a rotating crown. There's no information on how much the watch may cost at this time nor when it will be available to purchase.