OPPO Watch curved screen mystery unraveling: Who made this?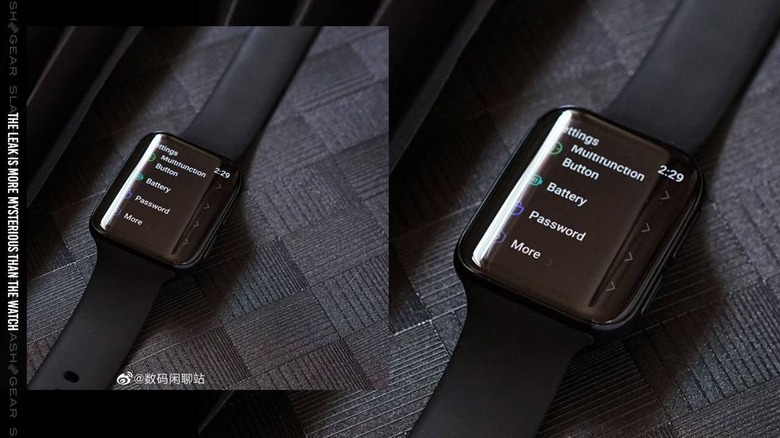 Today new imagery leaked of the unreleased (and still largely unrevealed) OPPO Watch. This watch was first leaked with imagery that looked a whole lot like an Apple Watch. Then we saw a slightly different angle – courtesy of Brian Shen, Vice President and President of Global Marketing for OPPO – and the term "game changer." He referred then to the "curved screen and 3D glass" that was, with the watch, forthcoming. Today we get another view.
In the mix with the OPPO Watch on the newest image – a photo*, it would seem – the watch appears to be running Google's own Wear OS. That's the latest name for the operating system that runs on official Google Wear mobile wearable devices. The timing might indicate that OPPO is working with Google for a demonstrative showing of Wear OS at Google I/O 2020 in May.
But wait – what if this isn't a photo, but a fan rendering? What if OPPO wasn't actually putting Wear OS on this device, and an image like this did not tell the full truth of the matter?
If this image is indeed a rendering made by someone other than OPPO, it could just show what the creator imagines how a menu screen could look. If the menu is imagined by the creator (if it's a render), the watch might still be running something other than Wear OS.
Below you'll see a pair of images that were definitely shared by OPPO – real, official, OPPO, not leaked. Notice how little the screens show in the way of OS-specific imagery.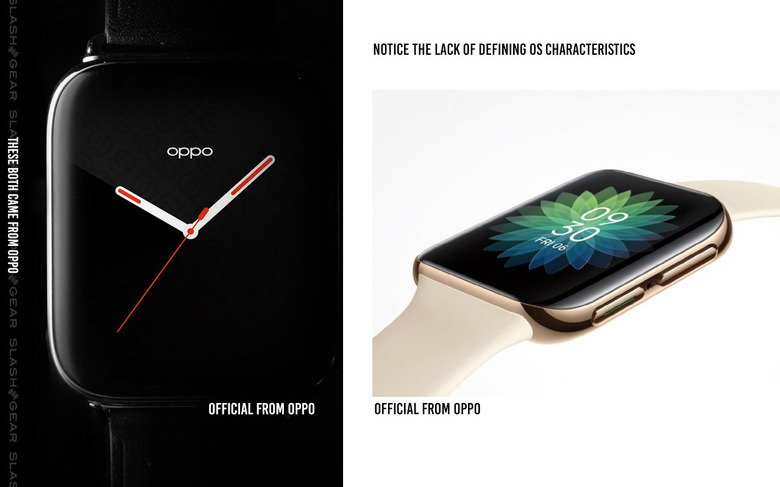 Per a note in a 91Mobiles post today, the "photo" image here is a "live image of the OPPO smartwatch courtesy [of] noted tipster Ben Geskin." This is odd, given the earliest appearance of the image on the internet (that we can find) was 18 hours ago* (on Febuary 25, 2020), without mention of Geskin (or watermark from 91mobiles). This 91mobiles post was posted decidedly inside of the day today (less than 18 hours ago), on February 26, 2020.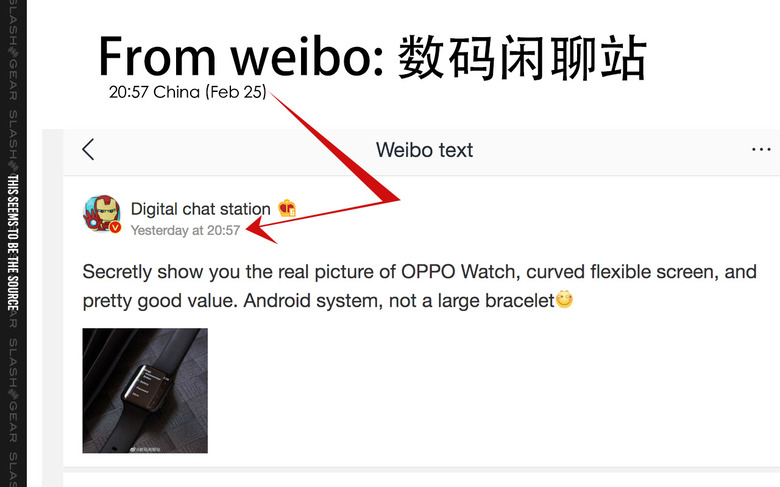 *The likely original source for this image, Digital Chat Station, appears to be the largest available file (in high quality resolution) on the internet. That appeared yesterday right in-line with the oldest instances of this image as shown by Google Images search results.
What's odd here, though, is the appearance of the following two tweets from Ben Geskin. At the point at which this article is set to go live, Geskin has not revealed which company he's speaking of – but the bit about "concept designs of yet unreleased products based on publicly available information" seems rather on-point.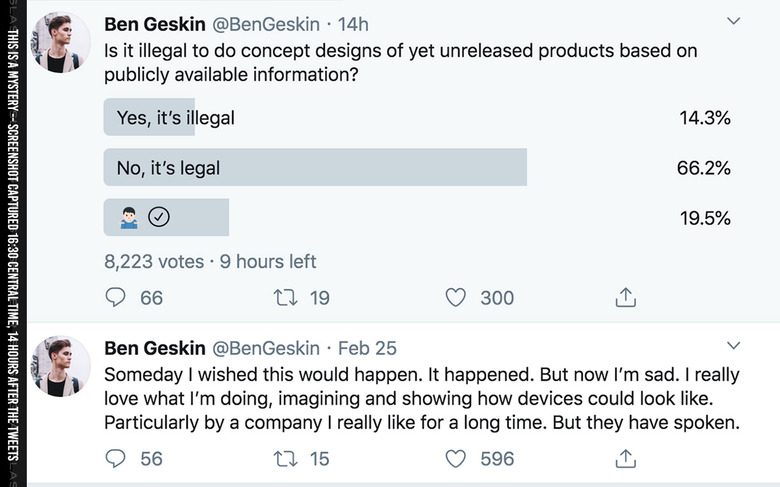 The situation seems to point to a kink in the leak path – or at least some sort of misdirection on the part of the image's creator. Stick around as this web of mystery unravels. Take a peek at the timeline below, while you're at it. There we've collected other notable bits of OPPO Watch detail before its likely launch with the OPPO Find x2, likely next week!