OPPO Reno First Impressions: 10x Zoom To Challenge Huawei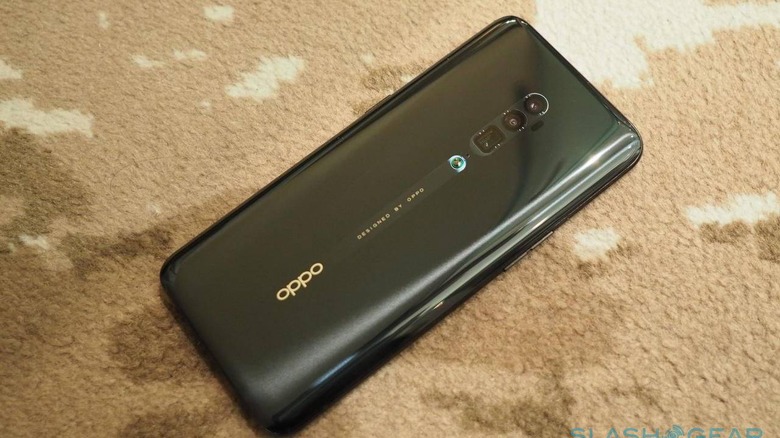 Huawei has just stolen the smartphone crown yet again thanks to its smartphone cameras and its newest 5x zoom is set to cement its position. But too give credit where credit is due, OPPO is really the one that made the first periscope-style zoom lens camera. Now it is aiming to remind everyone of its pioneering work with the OPPO Reno 10x Zoom that promise twice the lossless zoom of the Huawei P30 Pro.
It was back in 2017 when OPPO first unveiled its 5x optical zoom tech that used a periscope-style structure to squeeze in the required number of lenses into a thin phone body. Fast-forward to 2019, it had managed to double that number with a 10x zoom camera. Unfortunately, OPPO didn't immediately come out with a phone that used its own technology, giving Huawei the chance to be first.
The P30 Pro, however, only has 5x optical zoom. The OPPO Reno, or at least the 10x Zoom variant, has, as the name says, 10x zoom. Twice is better, right? Our preliminary test at night might not look convincing but the phone does have to deal with two very difficult factors. Be sure to keep an eye out for our more in-depth review.
Unlike the Huawei flagship, the Reno 10x Zoom has five distinct zoom levels, 1x, 2x, 6x, 10x, and 20x. As you might have guessed, at 20x the hybrid zoom kicks in. The result isn't flattering at night.
During the day, the results are at least more usable, though the blurring at 20x zoom is as expected.
The zoom really shines best when focusing on very distant objects.
The OPPO Reno 10x Zoom actually has three cameras. The main one is a 48 megapixel IMX586 from Sony, one of the most popular imaging sensors these days, it seems. In addition to the 13 megapixel telephoto camera with 10x hybrid zoom lens, the phone also has an 8 megapixel 120-degree ultra-wide-angle camera. The Reno series boasts of an Ultra Night Mode 2.0 that uses a combination of hardware and software to achieve that bright look in the dark.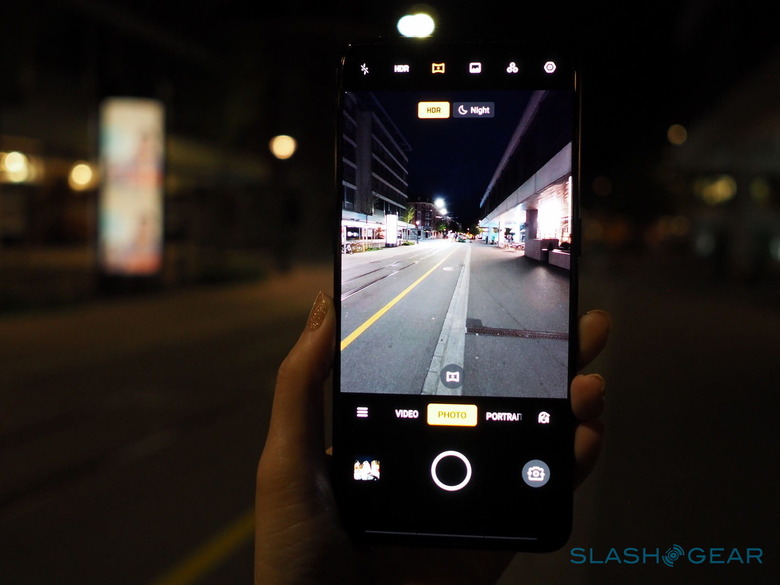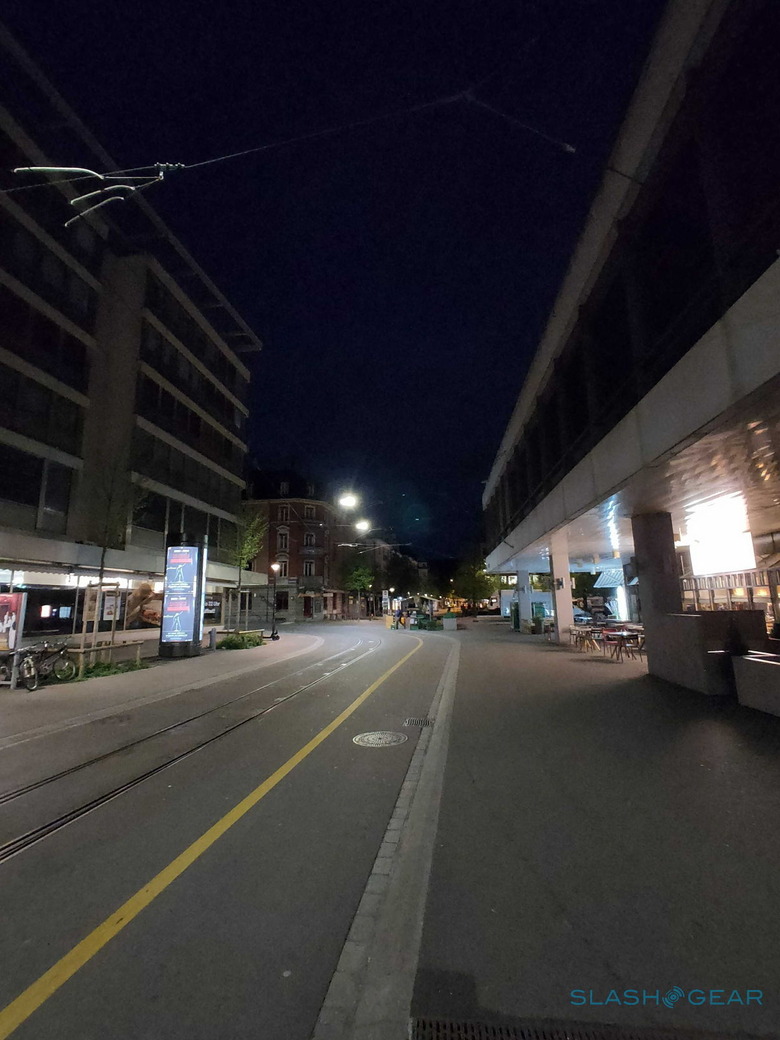 Yes, the OPPO Reno is a series. There's actually a non-Zoom OPPO Reno that is the mid-range sibling of the more popular one. It only has two cameras, one of which is a 5 megapixel depth sensor and a Snapdragon 710 instead of the latest 855. There's a quick rundown of the specs that divide the two Renos:
OPPO Reno 10x Zoom
• Operating System: Color OS 6 (Android 9 Pie)
• CPU: Qualcomm Snapdragon 855
• RAM: 8 GB
• Storage: 256 GB, expandable
• Display: 6.6-inch, 2340x1080 OLED
• Main Camera: 48 MP + 13 MP (telephoto) + 8 MP (wide angle)
• Secondary Camera: 16 MP f/2.0
• Battery: 4,065 mAh, VOOC 3.0 fast charging
OPPO Reno
• Operating System: Color OS 6 (Android 9 Pie)
• CPU: Qualcomm Snapdragon 710
• RAM: 6 or 8 GB
• Storage: 128 or 256 GB, non-expandable
• Display: 6.4-inch, 2340x1080 OLED
• Main Camera: 48 MP + 5 MP
• Secondary Camera: 16 MP f/2.0
• Battery: 3,765 mAh, VOOC 3.0 fast charging
Despite their differences, both Renos share one signature feature. They both have what was dubbed the "gum stick" popup camera. OPPO calls it the "Pivot Rising Structure" and it hides not just the front camera but even the rear camera's LED flash. That allowed OPPO to make the back cover completely seamless and put even the cameras under the glass cover. It definitely looks beautiful but that also means the now-seamless glass body has more risks of slipping.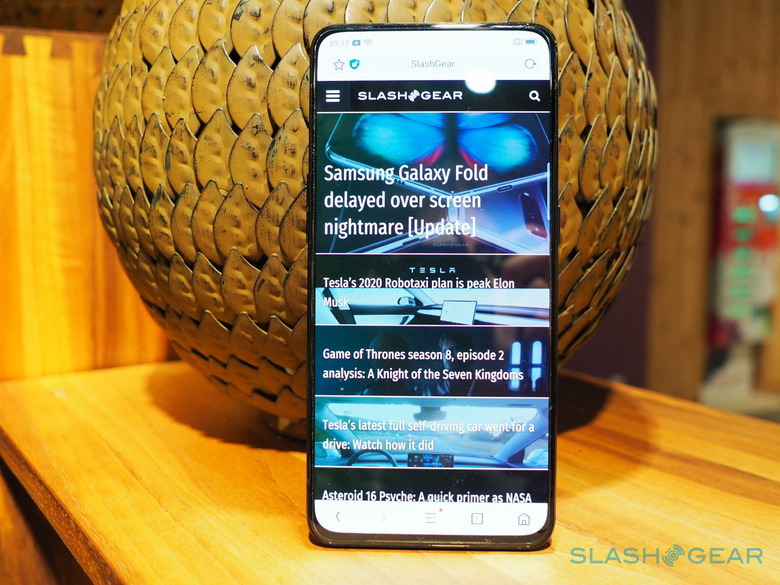 With the Huawei P30 Pro making headlines because of its cameras, OPPO is taking a big risk in challenging the current king. The OPPO Reno definitely has the numbers to make its case. Be sure to keep an eye out for our in-depth review to see its true capabilities. Reno will be available in May 10th with the price tag of 499 Euros, the Reno 10X in early June and will cost 799 Euros – Reno 5G edition is priced at 899 Euros and will be shipping in May.