OPPO Reno 2 to double-down with 20x zoom, more shark fin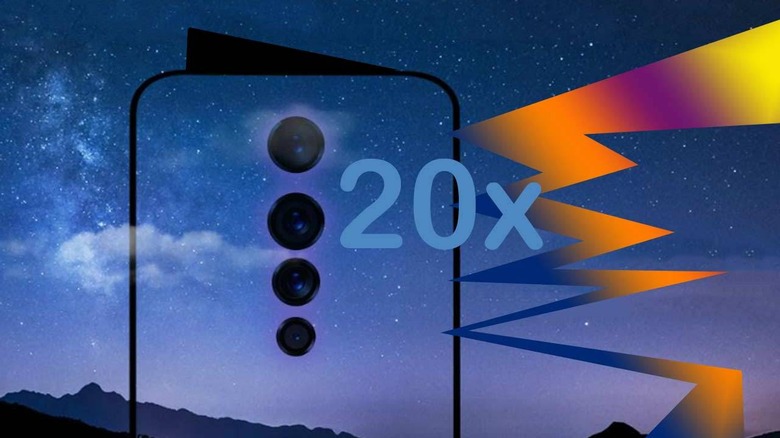 The first OPPO Reno took us by surprise earlier this year with a set of cameras and first-ever features in a smartphone. That was April – in May they announced an OPPO Reno Z, and here in August they've already got an OPPO Reno 2. The first version had three iterations: OPPO Reno, Reno 5G, and Reno 10X Zoom. This newest version will have a look very similar to that of the original, only this time it'll have twice the zoom.
To be extra clear, here, the 20x zoom is not referring to pure digital zoom or pure optical zoom. If you'll take a peek at our OPPO Reno 10x Zoom Review you'll find further explanation of how that phone dissects their so-called 10x zoom feature – and we'll have to just wait and see how an apparent 20x zoom works on this new model. It's not simple, and it's not purely lossless, that much is clear.
The OPPO Reno 10x Zoom featured a Snapdragon 855/Adreno 640 chipset with a 6.6-inch display and 4065 mAh battery. There is no standard headphone audio jack, but there IS a microSD card slot, and the overall package was reviewed highly favorably by our own JC Torres. There's also a shark fin – a built-in mechanism that holds the front-facing camera available whenever you activate said feature.
OPPO India was the source for the announcement of this smartphone. This make a whole lot of sense for OPPO, as India is one of the most important smartphone markets in the world right this minute – due in a large part to the speed at which said market is growing. OPPO values this market so very much that they're releasing this new smartphone in India first – before any other market in the whole world.
The OPPO Reno 2 will be released on August 28, 2019, and it'll be available in India first. Stay tuned as we learn more about this smartphone and its eventual availability in regions outside of India. If history serves, we can expect this device to get at least a little bit of international availability before the year is through.