Oppo R819 arrives with 4.7-inch display, 8MP camera, Jelly Bean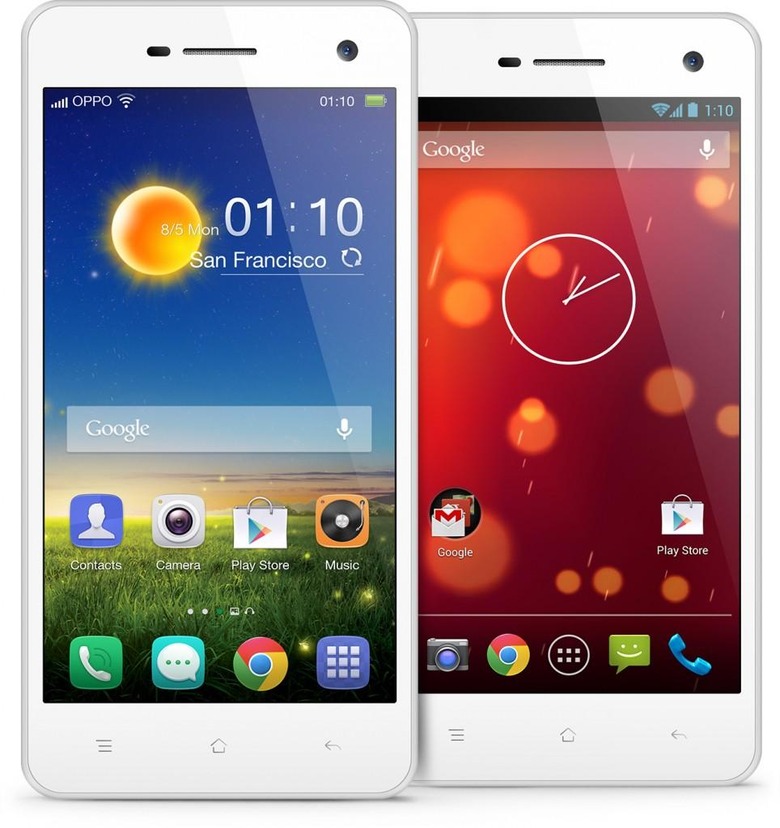 You may not be too familiar with Oppo, and they may not be as popular as some of the big guns like Samsung or HTC, but they're definitely putting up a fight against the big guys, as the Chinese phone maker announced the R819, which comes with a 4.7-inch 720p display, an 8-megapixel camera on the back, and comes stock with Android 4.2.1 Jelly Bean.
Oppo is boasting about the phone's thin profile and lightweight design, claiming that it measures in at only 7.3mm thin and weighs just 110 grams. By comparison, the iPhone 5 is 7.6mm thin and weighs 112 grams. It's still not the lightest or thinnest phone on the market, but it seems to be pretty darn close.
The device sports a speedy quad-core 1.2GHz processor, 1GB of RAM, a 4.7-inch IPS 720p HD display, an 8-megapixel rear camera, a 2-megapixel front-facing camera, and 16GB of on-board storage. The camera is something that Oppo is boasting about as well, packing in a f/2.0 aperture Sony Exmor BSI rear camera and a front-facing camera with an 88 degree viewing angle.
One unique aspect about the new device is that Oppo is letting the customer decide whether or not they want to run stock Android, or Oppo's own user interface. We wouldn't be surprised if most buyers went for the stock variety, but at least Oppo is providing users with the opportunity to go for the custom UI if they choose.
Other features to top out the phone include Wi-Fi Display support, DLNA, and dual SIM card support. There's no mention of a microSD card slot, so that 16GB of internal storage will have to do, but the cloud is always there to save the day and store all of your media that you need to take with you. No work on pricing or availability, but we wouldn't be surprised if the phone didn't make it to the states anytime soon.