OPPO punch hole camera patent uses dead space as a launcher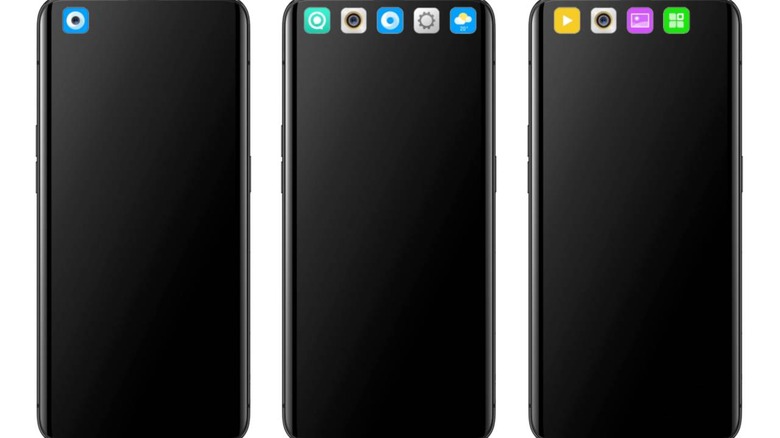 With Samsung and almost all of the major Chinese OEMs backing it up, it seems there is no more escaping the next dreaded "evolution" of the smartphone screen. The punch hole or hole punch camera is intended to be less visually invasive than the notch but, like a small black dot in an otherwise pure white paper, it may actually make it worse. Some like Samsung might try to distract users with fancy animations and gestures but OPPO might, instead, use that "dead space" as a launcher for the camera and a shortcut for other apps.
One functional difference between the notch and the punch hole cutout is that while the latter is visually dead space, it's still touch-sensitive. In the Galaxy A8s, Samsung has used that area of the touch screen to launch the camera app in selfie mode directly with a swipe gesture. Two new patents filed by OPPO shows it plans to do something like that but with a twist.
The area that the punch hole will occupy is often the place for the notification and status bar. But rather than having that cut off by the hole, OPPO's patent will instead put the camera app icon in that space, with the hole right in the middle of the icon's "lens". That's definitely an ingenious way to mask the hole and a more discoverable method to launch the camera app.
The patent, however, doesn't stop there. It also mentions of how a swipe gesture will reveal an app launcher of sorts, with shortcuts to favorite apps taking up the top row of the screen. It's akin to LG's old Second Screen, except one that appears and disappears with a swipe.
Of course, it's not really a solution but more like a band-aid around a wound of our own making. It also doesn't "fix" the problem when content will take up the entire screen, revealing the hole for what it truly is. Furthermore, this is simply a patent, not a finished implementation, but we'll see at MWC 2019 next month if OPPO actually got that far.