OPPO just revealed its own AR glasses [UPDATED]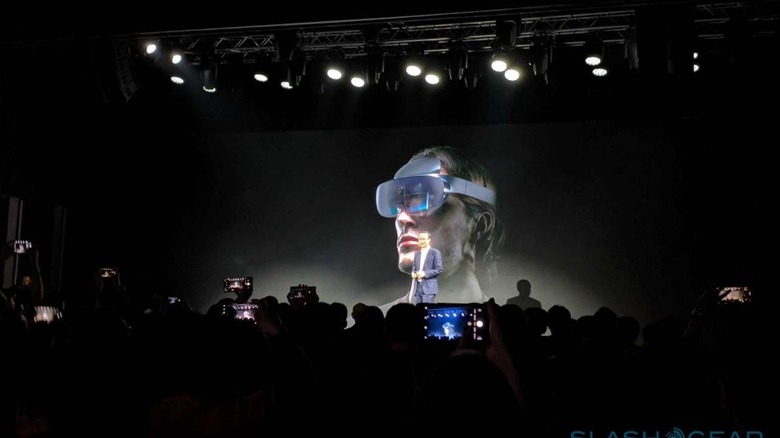 Google has put the nail in the coffin of its expensive and short-lived Google Glasses experiment but the dream of AR spectacles never truly died. It's just that pulling off one that balances comfort, portability, and privacy is one of the most difficult feats to accomplish in the tech industry. Defying those odds, OPPO has just revealed at its inaugural OPPO Inno Day that it is working exactly on its own augmented reality glasses, trying to prove that its innovation goes beyond just smartphones.
OPPO's AR glasses definitely comes as a complete surprise. Its innovation-centric week was expected to focus on technologies like 5G but, as some proponents would explain, VR and AR are actually some of the beneficiaries of this next-gen network standard. The fast and wide bandwidth promised by 5G networks definitely makes it easier for the headgear to communicate with computers and other connected devices. All without wires, of course.
OPPO doesn't go into detail about the technical aspects of these AR glasses, suggesting it's still at the prototyping and development stage. It does reveal that the eyewear sports as much as four cameras, two fisheye, one HD, and one Time-of-Flight (ToF) to give it a comprehensive view of the world in multiple layers and angles. More than just vision, the AR glasses also tout 3D surround sound that will come in handy when OPPO fully launches its AR Content, Game, and Service platforms.
The company did demonstrate the glasses in action and, in addition to simply seeing, the system was also capable of detecting hand gestures to control objects on the screen. There glasses themselves weren't tethered to any computer, at least not with cables, making it almost the ultimate AR glasses. Aside from having a rather bulky frame on your face, of course.
UPDATE: Here is a video of the OPPO AR Glasses in action
The still to be branded AR glasses is just one part of OPPO's drive to position itself as more than just a smartphone company. It sees 5G as one of the key elements in growing its business to other markets, including IoT and augmented reality. Be on the lookout for more news coming from OPPO's INNO DAY 2019.
Aki Ukita contributed to this article.