OPPO F3 Plus leaked specs show a two front cameras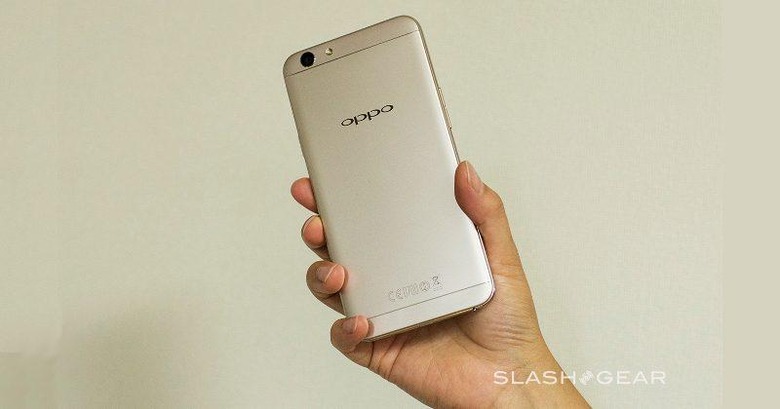 OPPO has always prided itself as a selfie expert, or at least its OPPO F1s was advertised as such. Following that tradition, rumors have its next flagship models, the OPPO F3 and F3 Plus, bearing dual front cameras for better selfies and all other awesome effects. While we're left to wonder where the OPPO F2 went, a new leak appeared detailing most of the specs of the OPPO F3 Plus, revealing not just two front cameras but an almost familiar mix of specs as well.
It is probably easy to write off the OPPO F3 Plus, at least based on this leak, as yet another mid-range smartphone. While there's truth to that presumption, there are also some points that go in the smartphone's favor. Actually, the OPPO F3 Plus resembles its predecessor quite a lot. The screen is larger at 6.0 inches but still Full HD only. There's 4 GB of RAM and 64 GB of storage, which are more or less premium memory components.
The biggest difference between the two generations is that, instead of a MediaTek P series, the OPPO F3 Plus is noted to be running on a Qualcomm MSM8976 Pro, a.k.a. the Snapdragon 653 that was announced just last October. The combination of a Snapdragon 650 series processor and 4 GB of RAM is oddly similar to the Lenovo Phab2 Pro, which is the current poster boy for Google's Tango AR platform. Which is to say, it's no underdog in performance.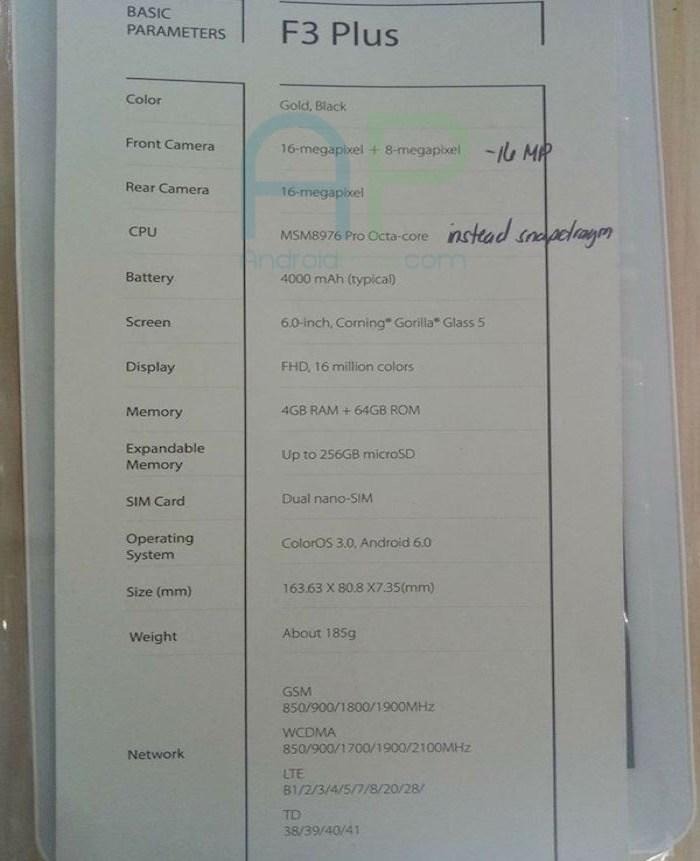 But unlike the Phab2 Pro and its AR backside camera and sensors, the OPPO F3 Plus is putting the focus on the front cameras, one with a 16 megapixel sensor and one with 8 megapixels. There doesn't seem to be any LED flash, which is odd and disappointing. We have yet to see how OPPO will spin it come March 23 when it unveils the OPPO F3 and F3 Plus.
Curiously, the smartphone doesn't seem to have any of OPPO's much-flaunted innovations in the mobile space. At MWC 2016, it boasted about its Super VOOC super fast charging technology as well as its MEMS-based image stabilization tech. This year, it went on stage to talk about its 5x lossless image zoom. At least based on this spec sheet, none of those have made it to the OPPO F3 Plus at all.
VIA: Android Pure