Opera web browser to soon have built-in 360 VR video player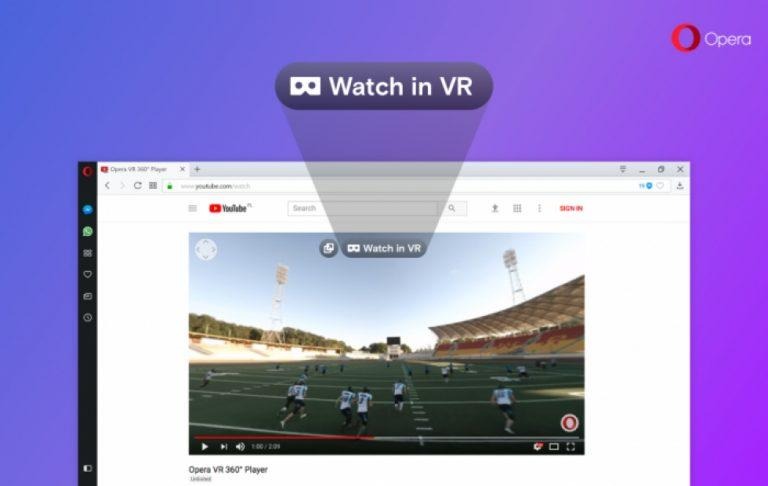 Virtual reality is still a bit of flux at the moment, with so many players and so many variables that make the setup a tad complicated. When you do manage to get your hands on a rig powerful enough to run VR programs and a not so cheap VR headset, you will sometimes discover that the experience isn't all that, especially when it comes to simply watching videos on YouTube. Opera is trying to fix the latter by baking a VR player into the next version of its web browser.
It might actually surprise some to find out that it's not exactly that easy to watch 360-degree web videos on VR headsets, ironic as that may sound. It all varies depending on the VR platform, app, or browser used, so VR users have had to use excruciatingly inconvenient workarounds just to watch a simple 360-degree, sometimes even just plain "2D", video on the web in their headsets.
Opera developer version 49 tries to take away all the guesswork, variables, and workarounds in that process. When the browser detects that a compatible VR headset is connected, it overlays a "Watch in VR" button on the video. Clicking on it launches the video in full 360 (or 180) degrees in the headset. No more using a mouse or keyboard to navigate, just turn your head to look around.
The VR support also works for 2D videos on the web, but don't expect them to magically become 360-degree videos. Instead, Opera will just play the video on a virtual screen, as if you were watching inside your own personal VR cinema.
With this new feature, you won't need any additional software just to watch videos, whether 3D or 2D, from the web in VR. All you need is Opera. That said, version 49 is still a developer preview, but you're more than free to give it a try.
SOURCE: Opera