Opera TV 2.0 Is Browser Maker's Second Shot At Smart TVs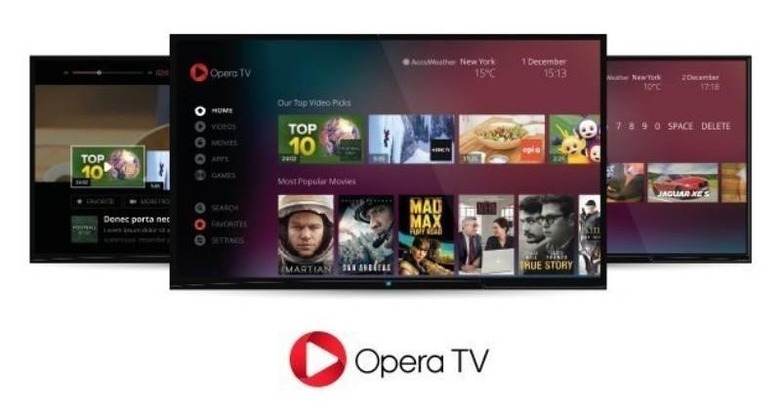 Yes, you read that right. Opera, the Finnish company whose main claim to fame has been its mobile web browsers, has a smart TV platform. In fact, it is now launching in version "two point oh". Opera is attempting to leave a mark in the over-the-top (OTT) market, where rival Mozilla's Firefox is also making a move, which is already starting to become a wee bit crowded. And Opera's spiel to OEMs and app developers? An HTML5-based application platform that offers a huge monetization opportunity through Opera's own ad platform and, perhaps more importantly, billing support.
That now makes at least four major Web-based smart TV platforms all competing not for users' attention but for manufacturers' commitments. We have Samsung's (technically the Linux Foundation's) Tizen and LG's webOS, both of which, while originally designed for mobiles, are now also being molded for smart TVs. Then we have Mozilla's Firefox OS, which hasn't been quite that successful on smartphones. Aside from HTML5 platforms, Opera will also have to contend with Android TV as well as Apple tvOS.
Naturally, Opera is trying to appeal to manufacturers and developers by calling upon many of the features that have made its web-based platform, as seen in its browsers, a hit among some users. That, of course, includes access to tons of web app and games. More significant to the smart TV context is access to video content, particularly live TV, like CinemaNow, Crackle, IGN, Feeln, Pitbull, Paula Deen, Red Bull, TED, Washington Post and Young Hollywood.
Developers, however, might also be just as interested in the monetization opportunities that Opera is offering in TV 2.0. The latest version of the platfomr integrates with Opera's own Mediaworks ad-serving platform, which it claims is used by more than 19,000 sites and apps on different devices. Plus, the OS also integrates with a PayPal-certified payment solution, which should not only ease the burden on developers but also give buyers some peace of mind.
Opera envisions that Opera TV 2.0 will be the user interface on more than 1,000 smart TVs, Blu-ray Disc players, and set-top boxes. But for now, it is first heading to Hisense's Smart TVs, due this first quarter. Other manufacturers who have adopted Opera's TV OS have not yet been named.