Opera Touch mobile browser launches with one-handed surfing in mind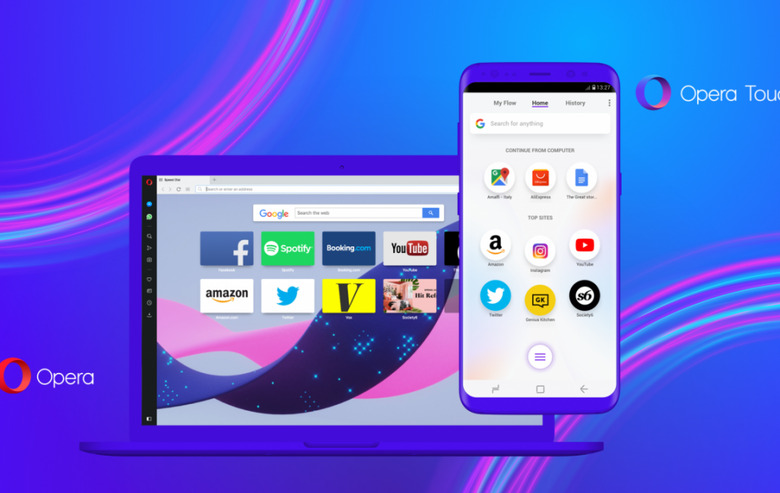 Opera is launching a new mobile browser today, and it's making some big promises about how it will change the way we browse on on our phones. Dubbed Opera Touch, this new browser is centered around one idea: letting you browse with one hand, leaving your other hand free to do anything your heart desires. In a world so focused on multitasking, Opera Touch might actually be a mobile browser worth downloading.
Opera cites some in-house research that shows 86% of smartphone owners prefer to use their phones with one hand, though points out in blog post today that most mobile browsers typically require two hands to use. Opera Touch attempts to put all of your critical controls within reach of your thumb, which in turn means that you won't have to reach to the address bar at the top of the page to type a URL or search query.
It does this by making a series of small changes to the way we expect mobile browsers to function. For instance, when you open Opera Touch, your cursor will be active in the address bar and the keyboard will be open, letting you immediately enter your web address or search term. You're not limited to searching just through text, either, as Opera Touch supports voice input and can scan QR codes and barcodes as well.
You'll also notice that a button has taken up residence at the bottom of the browser, which Opera calls the Fast Action Button (or FAB). The Fast Action Button will always be present as you're browsing, and tapping it will pull up your recent tabs and search function. You can use the FAB to close tabs you're no longer using, or you can use it to send a page through your computer with Flow.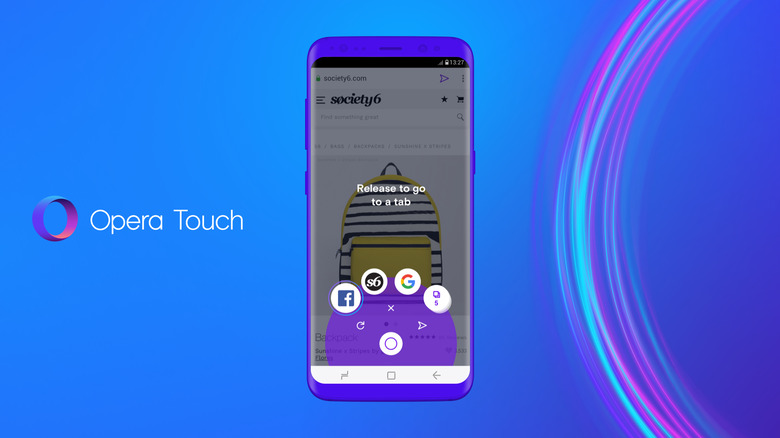 What's Flow? It's a new feature that allows you to send links, photos, and videos between Opera Touch on your phone and Opera on your PC. Opera Flow intends to take the frustration out of syncing mobile and desktop browsers and keep you from emailing links to yourself as an alternative. All you need to do to get up and running with Flow is scan the QR code in your desktop browser with Opera Touch and you're ready to go. Opera promises that no logins are required, and that your transfers are end-to-end encrypted as well.
Speaking of the desktop version of Opera, that's getting a little bit of love today as well. Opera has added a new feature called Instant Search to its web browser, which essentially allows you to pull up a search box over the webpage you're currently viewing by hitting Alt + Spacebar. With this, you can perform a search without having to open a new tab first or navigating away from the page you're currently viewing, and you can also use this pop-up box to find a tab you've got open – something that's good for someone like me, who always has way too many open tabs.
Opera Touch is rolling out today on Android [download], and while the update for Opera's desktop browser doesn't seem to be live just yet, it should be launching later today as well. Opera says that an iOS version of Opera Touch is launching soon, so we'll keep an ear to the ground for more on when that might be.