Opera Max 'VIP Mode' gives unlimited data saving...and puts an ad on your phone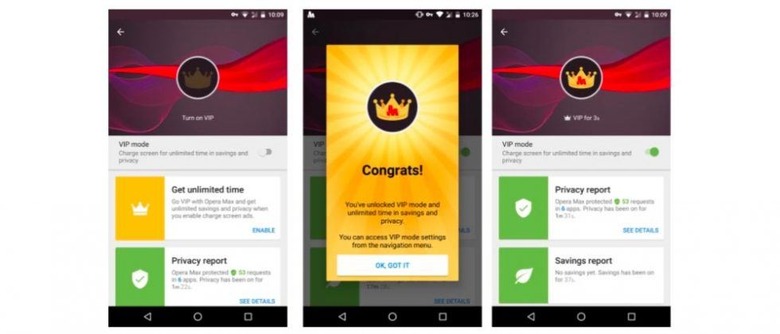 Opera offers an Android app designed to reduce the amount of mobile data you use throughout the day, and it's pretty great at doing so. That has resulted in somewhere around 50 million Android users actively using the app every month, and Opera found itself in a bit of a pickle: while the free app shows an advertisement when you're within the app, there was little reason to actually open the app and thus no one was looking at these ads with any sort of regularity. The company recently introduced a limitation that addresses that issue, and users weren't happy, so now the company is back with yet another change: VIP Mode.
Whereas originally you could turn on Opera Max and then let it run for days on end, Opera changed things recently so that you instead have to restart it every 12 hours, forcing you to then see an ad every 12 hours. This was done to boost advertisement revenue to fund the app, but users weren't happy about having to manually restart the data saver every day.
VIP Mode is a new way to get rid of that limitation, instead offering unlimited data saving and privacy services sans limits. There is a catch though: you'll have to live with an advertisement being displayed on your phone (or tablet's) lockscreen while the device is plugged in and charging.
Though many people are advertisement-adverse, in every practical sense this move isn't a big deal, not when you consider that Opera Max is free and you get all the privacy services, too. You won't see the ad when your phone is unlocked (e.g., while you're using it), and it's doubtful you'll be staring at your locked phone screen while it is charging.
SOURCE: Opera Blog