Opera Max adds privacy modes to data-saving app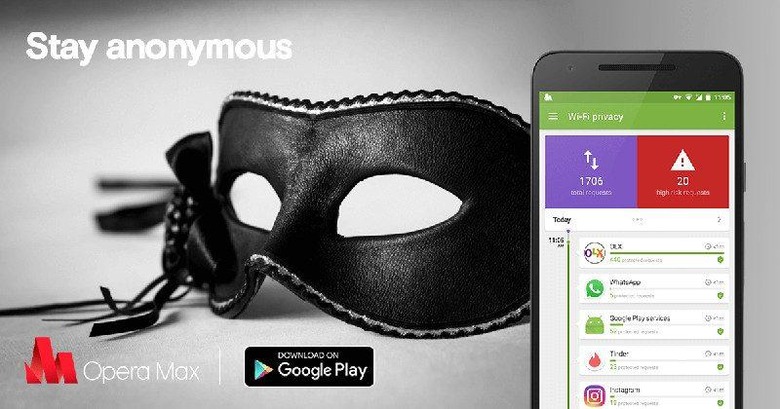 While browsers are still its main product, Opera's business on mobile has diverted slightly away from rendering web pages and more towards how that data travels over the Internet. On Android, for example, it has Opera Max which aims to save users money by compressing data en route to smartphones. Now that Android app is getting an upgrade, bringing in some features from Opera's other are of focus. In addition to saving data, Opera Max now also tries to save your identity and privacy as well.
At the very top of Opera Max's new list of features is privacy monitoring, something Opera is happy to gloat over Apple. In essence, it presents a timeline of which apps are sending out your information to third-parties and when. Opera boasts that it isn't just simply talking about privacy but is also allowing users to see just how bad apps can be.
No discussion about online privacy would be complete without ad blocking and encryption. And so naturally Opera Max provides those as well. This is both similar to blocking ads on websites and yet, at the same time, different because it happens on the app level rather than the web page level. Opera Max also gives you the option to easily encrypt your data and traffic when you connect to a public Wi-Fi, all at the tap of a button.
Of course, these enticing privacy features is really only possible because when you use Opera Max, you are channeling your data and traffic through Opera's servers, which is a technical requirement for Opera to be able to compress the user's data. In other words, it also presupposes that you trust that Opera itself will not use that data for other purposes.
The new Opera Max features first debuted in the Samsung Galaxy J5 Prime and J7 Prime last month and is now gradually rolling out to other Android smartphones. Because of technical reasons, Opera Max remains out of reach of iOS users.
SOURCE: Opera