Opera is Reborn with built-in chatting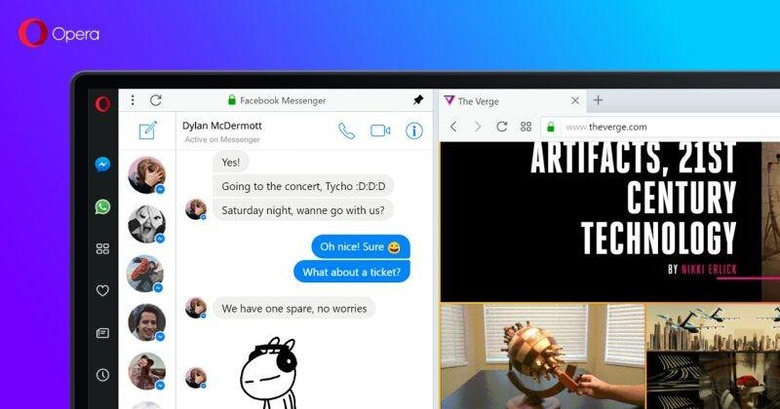 In a world full of Chromes, Foxes, Safaris, and Edges, is there still room for other web browsers? Opera, which precedes some of those, definitely thinks so. After toying around with some possible features in its experimental Opera Neon, the company is folding some of those more successful ideas into the newest version of Opera. Meet Opera Reborn, which has built-in social network chatting so you won't have to waste your precious office time switching between apps or tabs.
So, what's the big deal with the new chatting feature? For one, you won't need to install any app or browser extension just to get chatting. At least if you happen to extensively chat on Facebook, Telegram, or Whatsapp, because those are the only messengers built into Opera Reborn. Switching between chat and, say, work tabs is easily done with a keyboard shortcut.
Opera Reborn, however, is much more than just about chatting. It incorporates some of Neon's interface ideas, like the sidebar controls and icons, but not the fancy tabs and circles. Opera now also gets in with the times, providing light and dark themes.
Privacy and security has also been upgraded. Ad-blocking, which became integrated into the browser a while back, now has more control options, including blacklist options. Opera will also warn you if a login page you're on isn't using secure HTTPS.
These new features definitely give Opera a new flavor, but whether it's enough to stay afloat is always the bigger question. Opera does have certain markets where it is the browser to beat, but those remain relatively small, not to mention unprofitable, compared to the bigger players in the browser market.
SOURCE: Opera