Opera GX browser for gamers stops runaway CPU and RAM use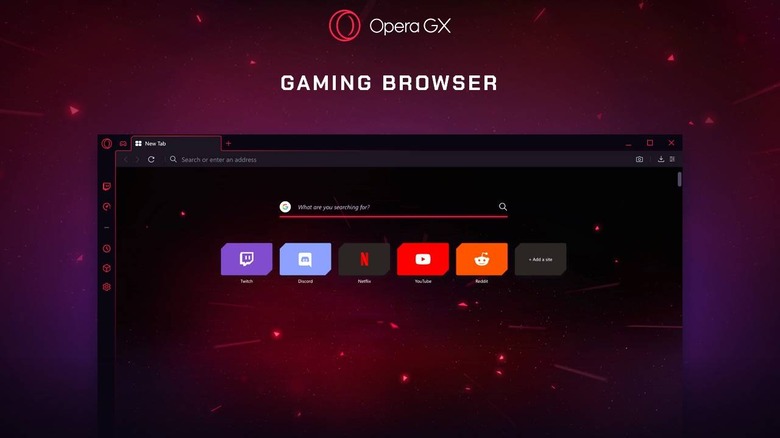 Opera has launched a new browser focused on gamers, allowing for precise control over just how much of your PC resources the app can tap into. Opera GX won't be released fully until later in the year, but an early access program is kicking off today to give gamers a taste of what to expect.
The goal, Opera says, is to give performance PC enthusiasts a browser which can be tuned and tweaked according to their overall system performance, much in the same way that games can. "Opera GX is built for people who love games and spend a lot of time building their setups," Krystian Kolondra, EVP at Opera browsers, said of the software. "We want to give them a browser to perfectly match their beautiful machines."
The heart of Opera GX is the new GX Control panel. That allows users to set how much of their computer's CPU and RAM they're willing to hand over to the browser. Even if you have plenty of RAM, for example, you could choose to limit Opera GX to just 25-percent of it at most; the app will automatically trim its requirements down to stay under that cap.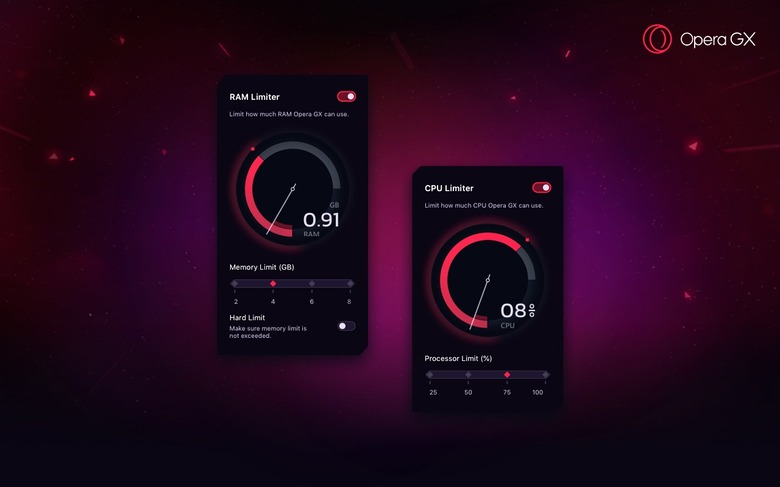 Opera's intention isn't to make a performance browser, but to make sure the software doesn't impede on game performance. Other browsers, the company points out, have a tendency to run rampant through system resources when left unchecked. Dealing that is typically an all-or-nothing situation, where gamers wanting to make sure actual gameplay isn't affected are forced to shut the browser down altogether.
That means they miss out on some browser-based features which modern gamers are increasingly coming to expect. Opera GX has Twitch integration, for example, with a sidebar that shows when a streamer they follow goes live. A "speed dial" screen has shortcuts to gamer-favorites like Discord, YouTube, and Reddit.
Opera is also making Opera GX into a hub for gaming news, with a GX Corner that curates together recent announcements and updates from the gaming community. The browser's sounds have been scored by GRIS soundtrack creator Rubén Rincón and the band Berlinist. Of course, you can also turn them all off if you prefer, and adjust the app's color scheme and themes.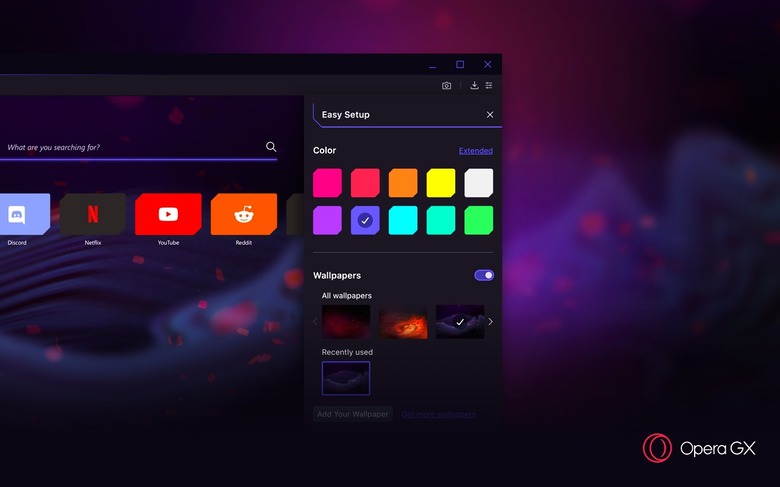 Matching wallpaper is supplied, and there's Razer Chroma integration. That means your Razer peripherals can change their hue to highlight with colors in the browser.
Behind the scenes, there's the same Opera engine as the regular version. It means you still get sidebar integration for Telegram, WhatsApp, Facebook, and other messengers, along with the Video Pop Out feature and an integrated ad blocker. A free VPN is also included.
Opera GX is available in Level 1 beta for Windows today, as a free download. The final version is expected t launch later this year, the company says.