Opening iPad Numbers Crush iPod and iPhone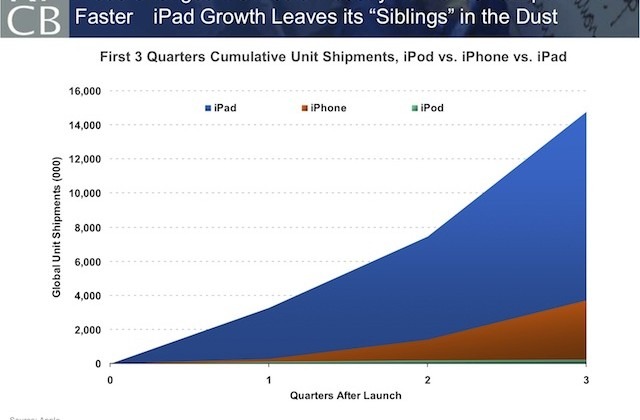 This has to make Apple execs happy. A presentation at Google's thinkmobile event by Mary Meeker, former Wall St. analyst now at Kleiner Perkins, showed just how monstrous the iPad's numbers are compared to its older siblings the iPod and iPhone.
The first slide shows that through the first three quarters of each device after its initial offering. The original iPod sold 236,000 in 2001. The original iPhone beat it in 2007 with 3.7 million sold. Now the iPad has demolished both of those with 14.8 million sold in the first three quarters of its life. The chart really shows how fast the public is willing to embrace a new Apple product, a result the company as nurtured for many years.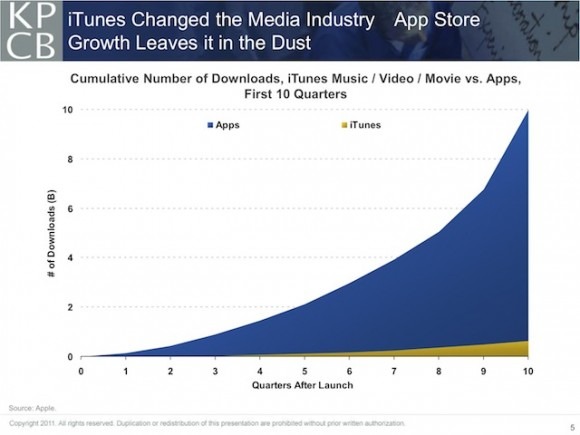 The second slide shows how Apple's iTunes has vastly changed over the years as well. Remember when people used the program to purchase music and movies only? That was a big deal when the idea was first introduced but it's second nature to many now. The slide shows that iTunes is all about the App Store now as 624 million songs were sold through iTunes, but a staggering 10 billion apps were downloaded.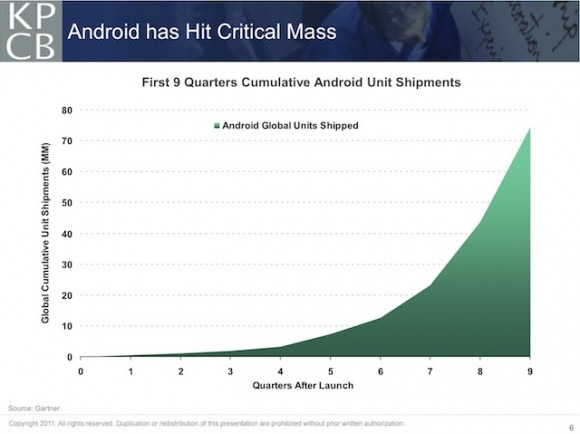 Google got some good news as well at its own even when the slide about Android came up showing sky rocket growth in the first nine quarters of Android shipments. Android is now topping 70 million units shipped and has passed Apple's iPhone shipping numbers as well.
[Via Cult of Mac]