OnStar upgrades design for 2013 GM models

General Motors has used OnStar technology in some of its vehicles for many years now. OnStar is an interesting technology that puts a blue button somewhere inside the vehicle, typically on the rearview mirror, allowing the driver to make phone calls or get assistance. The coolest part about OnStar has always been the ability of the service to activate automatically in the event of an accident.
Since OnStar launched, the blue button has been the same. For 2013, OnStar says it is "Buttoning Up" with a new look in 2013 models. One of the coolest new looks for OnStar in 2013 model GM vehicles is the frameless mirror you see in the photo above. That particular mirror will be used in the 2013 Chevrolet Camaro.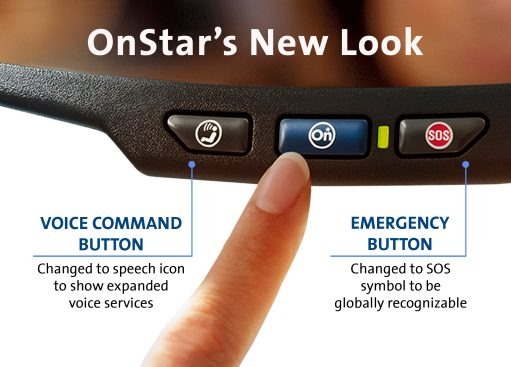 The black button that was previously called the "Hands-Free Calling button" had a white phone with a circle around it. OnStar has changed that button to the "Voice Command button" with a general speech icon on it that looks like a person sitting down and talking. The Emergency Button was previously a white cross with a red circle around it. That button has been replaced with a red circle sporting a white border and white letters spelling out SOS, the recognized international symbol for distress.
The iconic blue OnStar button has also changed with a switch to the company's new logo introduced in late 2010. The frameless mirror you see in the photo above that will be featured in some 2013 Camaro models will have touchscreen access. The OnStar buttons on the mirror has electrochromic capabilities and lights up when touched and dims shortly after. The mirror is also auto dimming and will be standard on the Camaro 2SS, 2LT, ZL1 coupe and convertible models.