Onkyo R515A5-3D Core i5 3D notebook unveiled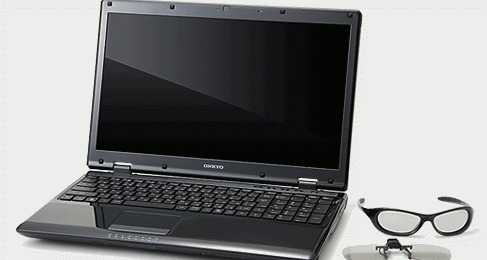 Onkyo has outed its latest notebook, the 3D-capable R5 Series R515A5-3D.  A 15.6-inch Intel Core i5 machine, the R515A5-3D uses an unspecified 3D system that can convert 2D content such as downloaded video and Blu-ray movies for use with the bundled polarized glasses.
Hardware specs include the 2.53GHz Core i5-460M processor, 4GB of memory, a 500GB hard-drive and WiFi b/g/n, together with a Blu-ray drive and digital TV tuner.  The display runs at 1366 x 768 resolution, and there's an HDMI port, USB/eSATA combo port and 10/100 ethernet among others.
Onkyo reckon owners will see around 3.8hrs runtime from the standard battery, and the whole thing runs Windows 7.  The Onkyo R515A5-3D will arrive on Japanese shelves next month, priced at 119,800 yen (#1,404).
[via AV Watch]