Onkyo P305A3 Ion nettop with detachable DVD burner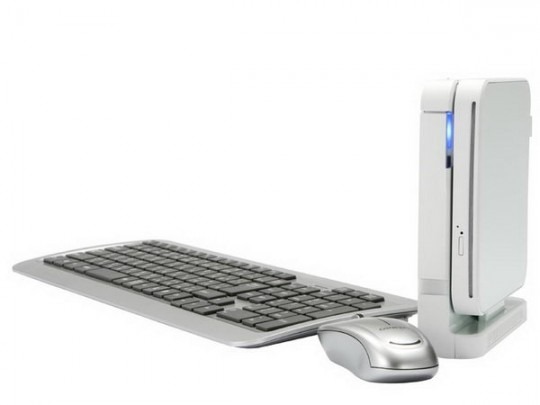 We've seen removable optical drives on nettops before now – ViewSonic had one back in July – but Onkyo's offering is particularly curvy and pleasing.   The Onkyo P305A3 may not have a catchy name but it does offer an Intel Atom 230 1.6GHz processor paired with an NVIDIA Ion graphics chipset, while the optical drive is detachable from the side.
There's also 2GB of RAM, a 160GB hard-drive and four USB 2.0 ports.  Other connectivity includes eSATA and HDMI, together with optional WiFI, and the whole thing runs Windows 7 Home Premium.
To be fair, it's arguably pointless to have a removable optical drive if it doesn't result in a slimmer or lighter nettop overall, and the P305A3's curved base means detaching the DVD burner won't actually make it all that smaller.  We're also not impressed with the Atom 230 processor, and hope Onkyo replace it with – at the very least – the dual-core Atom 330.  The nettop will go on sale in Japan on March 11th (which seems a very long way off) for 69,800 yen ($771) or with an HD 21.5-inch LCD for 89,800 ($992).
[via Netbooked]