OnePlus One iFixit teardown: not so easy to repair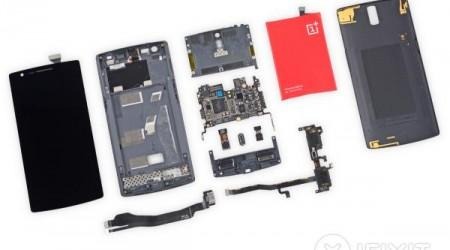 Every new high-profile smartphone is almost always given the iFixit treatment, being torn down piece by piece to see not just what keeps it all together, but ultimately how easy, or difficult, it will be to get one fixed. The Chinese-made OnePlus One is no different and with a score of 5 out of 10, the smartphone turned out to be truly a mixed bag.
One problem with devices designed with unibody-like features is that they are not usually easy to pry apart. Luckily, the OnePlus One is not one of those since it offers interchangeable rear covers in myriad colors. After defeating some stubborn clips, the back is well exposed and first true challenge is revealed. Though exposed, the battery isn't designed to be replaceable and OnePlus has ensured that by hiding the battery's connector beneath a panel. The panel attaches to the body using standard screws. However, they are hidden by rubber stoppers, making the process not impossible but not sweat-free either.
Fortunately the rest of the back and insides of the device are less eccentric and the components that make the OnePlus One what it is are made up of modular parts, making it possible to be easily replaced later on. With one glaring exception. The display is attached to the midframe with a good amount of adhesive, but that is not exactly the problem. The issue is that the display panel, that shows the images, and the digitizer panel, that accepts touch input, are fused together. This practically means that both have to be replaced at the same time even if only one of them really needs to be. This video summarizes most of the steps that iFixit took to dig into the OnePlus One, but you can also find the lengthier treatment in the link below.
Once taken apart, you will see the innards that make the OnePlus One tick, such as the 2.5 GHz Qualcomm Snapdragon 801 CPU, the 3 GB of RAM made by Samsung, the 64 GB of Storage from Toshiba, and WiFi and Bluetooth controllers from Qualcomm. The device is noted to have three microphones, with the main one located on the bottom board. The battery is a 3100 mAh as advertised, which is well and good since you cannot yank it out and replace it when an emergency arises.
All in all, the OnePlus One gives both hope and despair when it comes to repairability, being somewhat tedious to take apart but noted to be not as difficult like, say, the HTC One M8. That said, all of that is a bit moot right now. The OnePlus One still hasn't hit the wider market, available only to a selected few. Thus the knowledge and skills to repair this One will not be easily found outside of OnePlus' HQ, where current owners will most likely send their erring devices anyway.
SOURCE: iFixit