OnePlus Google Assistant Ambient Mode starts rolling out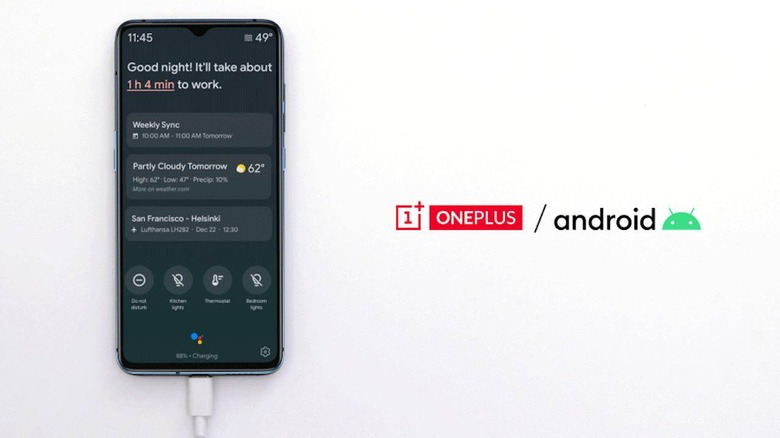 Google is pushing its now-rebranded Nest suite of products, particularly the Nest Home speakers, as the nerve center of the smart home. Fortunately, it doesn't expect everyone to have a smart speaker and especially a smart display at every single room in the house. What most people do have is an Android phone and, thanks to the new Ambient Mode feature that's starting to roll out now, almost any recent OnePlus phone can become a makeshift smart display when it's doing nothing while charging on your bedside table.
Ambient Mode was one of Google's surprise announcements back in September. On paper, it pretty much removed the need for investing in something like a Google Nest Hub. Of course, it's still powered by Google Assistant and is a lot better than losing users to, say, an Amazon Echo Show.
The disadvantage is that it isn't as quick as buying such a device since you have to wait for the feature to become available on your phone. The rollout started around November last year but still hasn't arrived on nearly most of the phones in the market. Even if they meet the bare minimum Android 8.0 Oreo requirement.
OnePlus users, however, need to wait only just a little bit longer. The company has just announced that the Google Assistant-powered Ambient Mode is now available on the devices. More importantly, it's actually available for all OnePlus phones starting from the OnePlus 3 onward.
OnePlus is, however, asking for a bit of patience as the rollout is happening in stages. It could take a week or more before it actually arrives on all phones. Of course, you'll have to plug in the phone to charge first in order to start the onboarding process from the notification panel but you can also manually go through the Google app's settings to set it up.