OnePlus Bullets Wireless 2 features: What's different in these earbuds?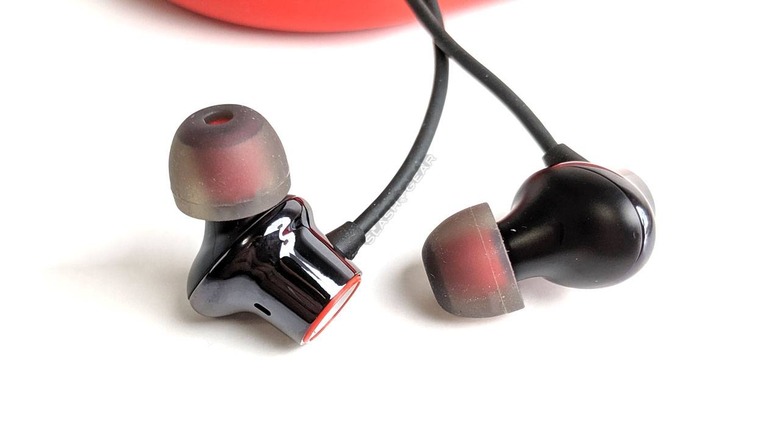 The OnePlus Bullets Wireless 2 were revealed today with a collection of new features. This pair of buds works with a triple-armature driver structure and one GoerTek dynamic driver – plus they sound pretty great. They're designed with the OnePlus 7 family of devices in mind – they match the hardware – but they're smooth and simple enough to collaborate with any phone that supports Bluetooth.
The OnePlus Bullets Wireless 2 works with "Warp Charge" fast charging tech for fast charging of battery life. According to OnePlus, they get around 10 hours of playback time out of 10 minutes of charge. With a full charge, OnePlus suggests they get a total of 14 hours of playback.
Once our full review is up, you'll see how those numbers compare to what we saw in the field. Spoiler alert – they're pretty gosh-darned accurate. They also pair up with "Quick Pair" really easily, especially if you're rolling with a OnePlus smartphone.
As you'll see in the photos above, these earbuds connect to one-another via magnet. This magnet connection system connects with "Magnetic Control" allowing pause and playback "in one click."
Bluetooth connectivity is augmented and strengthened with aptX HD technology in the buds. The buds support Bluetooth 5.0 connectivity. These buds are clearly the best that OnePlus has ever made – and they'll be the high water mark for the company from this point forward.
The OnePlus Bullets Wireless 2 price at launch is $99 per set. You'll find these devices on sale at the same time as the OnePlus 7 Pro, on May 17th, 2019 – or earlier, if you happen to be in NYC at a T-Mobile store.
In a nutshell: These earbuds have almost double the battery life of their predecessors – which is the main difference. They also include the new drivers mentioned above – so they sound slightly more incredible. If you're deciding between the $69 OnePlus Bullets Wireless and the $99 OnePlus Bullets Wireless 2, you might just need to make that $30 decision based on how long you need them to stay active – and if you're in need of that slight audio quality boost.