OnePlus 7T teardown reveals a small, sad fact about its design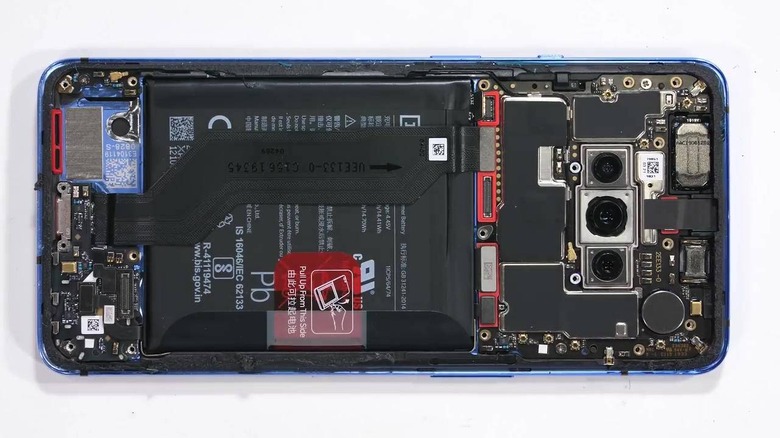 T-Mobile just announced that the OnePlus 7T Pro McLaren Edition will be coming someday but most of the people in the US will have to make do with the OnePlus 7T. That mostly fine considering all the power and features that you get for its price, presuming you don't break that glass back on purpose or by accident. The latter might actually be more likely considering the new back design which, at least based on this teardown, may have been an unnecessary change.
The OnePlus 7T's back easily cracked when JerryRigEverything's Zack Nelson performed his usual bend test. While most people will not be as strong as him, accidents, like sitting on it or even dropping it, could cause the glass the break just as well. Nelson's theory is the big circular hole in the middle of the glass might be its weak point and his teardown may have proven him correct.
It turns out that the design is purely aesthetic and serves no functional purpose. The cameras underneath are all aligned in a row and there is nothing that would have benefited from the new design. There is a chance that it could have had a sturdier glass back had OnePlus stuck to its old design, even if it meant not looking unique.
The good news is that that may be the only criticism about the OnePlus 7T, at least as far as the build quality is concerned. Everything save for the lack of a headphone jack and microSD card expansion gets a thumbs up from the YouTuber. OnePlus definitely deserves props for taking every water resistance measure despite having no formal IP rating (the company is against it on principle).
So the OnePlus 7T is one tough phone, at least mostly, but, as they say, the test of the pudding is in the tasting. Fortunately, our own Chris Burns had his pudding and ate it too so you can head over to his OnePlus 7T Review to see what he thinks of OnePlus' latest treat.