OnePlus 7T Pro Leaked Render Shows A Very Familiar Look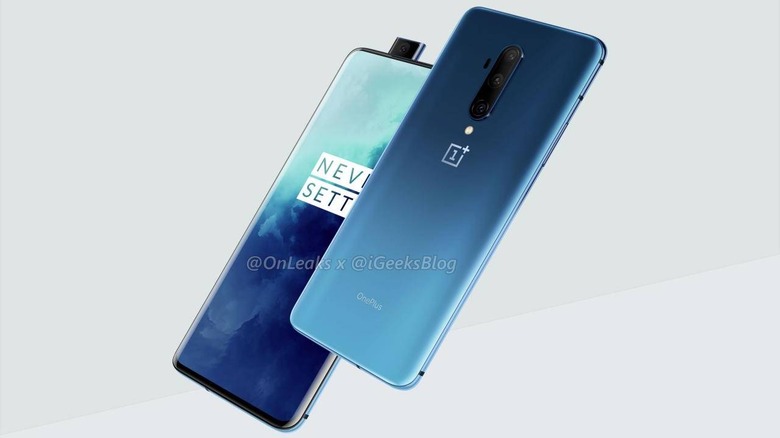 Later this month, OnePlus will be announcing its two (actually three) new smartphones for the second half of the year. As with its previous strategy, it will be launching Pro, non-Pro, and McLaren Edition models, some of which may not be available for the US market. New leaks now show the OnePlus 7T Pro's front and back and for owners of the OnePlus 7 Pro, it will feel like a case of deja vu.
OnePlus CEO Pete Lau practically revealed at least the back side of the OnePlus 7T and it brings the biggest design change since the OnePlus One. No longer is the camera array a single column smack in the middle of the phone. Instead, it has a circular bump that could be mistaken for the upcoming Mate 30.
Now a new leak courtesy of OnLeaks and iGeeks Blog shows a single render of the alleged OnePlus 7T Pro, this time both front and back. Immediately, it looks so different from what Lau just teased. Astute readers, however, might also notice how it looks exactly like the OnePlus 7T Pro.
There's still the triple camera system, including what may be a 3D time-of-flight (ToF) sensor, all arranged in a neat column. It even shows the popup camera, same as the OnePlus 7, that makes its nearly bezel-less curved-edge screen possible.
Based on the specs from the leak, which includes a 6.65-inch QHD+ screen, 8 GB of RAM, and 256 GB storage, the OnePlus 7T Pro will indeed be just a small step up from the OnePlus 7 Pro. The only notable upgrade is really the Snapdragon 855+ processor. Given that detail, it might be understandable that OnePlus won't be selling the OnePlus 7T Pro in the US.