OnePlus 7T durability test will have your reaching for the included case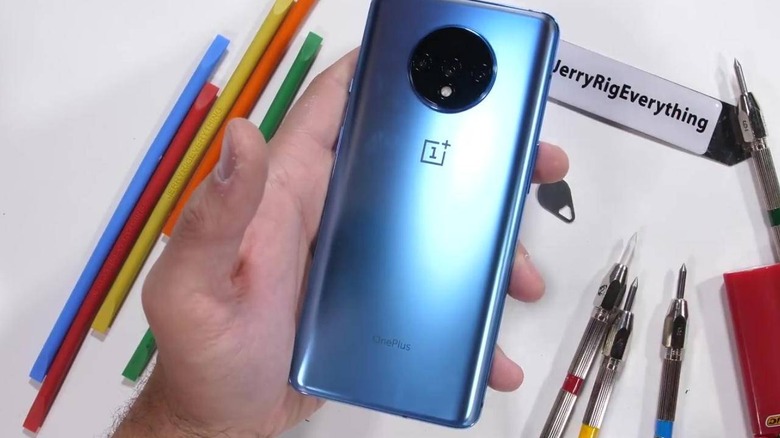 JerryRigEverything might soon have a problem when it comes to its durability tests for smartphones. Over the years, mobile devices have wised up to the usual problems in structural integrity and fewer phones today are as bendable as the iPhone 6 was. Of course, from time to time, some interesting phone lands on Zack Nelson's table that has the Web talking again. That's often the case with "unconventional" phones like the Galaxy Fold or even the OPPO Find X. Who would have thought, then, that the OnePlus 7T would actually have a different story to tell as well.
Of the company's somewhat confusing two-phone strategy, the OnePlus 7T is the one, no pun intended, that is available directly and officially in the US. Compared to the earlier OnePlus 7 Pro, it's a significant upgrade both inside and outside. The most telling part of that change is the circular camera bump on the back.
Unfortunately, that may or may not have contributed to the OnePlus 7T having a less than ideal back glass. Yes, that back is glass and is even frosted glass but the presence of a large gaping hole in the middle could have resulted in a more fragile composition that easily cracked under the YouTuber's hands.
Fortunately, the OnePlus 7T does come with a clear case in the box, almost as if the company foresaw this would happen. It might have actually been more to protect the back from scratches or drops but it could very well also keep the back from breaking apart.
It's a rather disappointing oversight for a smartphone that, on paper, should be one of the best smartphones this half of the year. Especially considering how the verdict on the Pixel 4 seems to be split equally. The OnePlus 7T still does have the making of a formidable 2019 Android phone, just be careful not to sit on it.