OnePlus "3T" Confirmed Coming Next Week With Snapdragon 821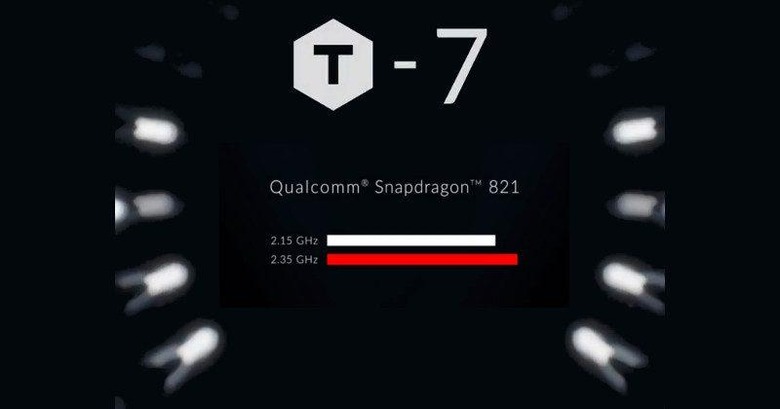 After Qualcomm has basically "let it slip" (intentionally, we bet) that there is a new OnePlus smartphone coming, the Chinese startup really had no choice but to make an official teaser as well. Or perhaps it was all an orchestrated marketing plan. Either way, without revealing any other detail aside from the Snapdragon 821, OnePlus has indeed confirmed that there is a new smartphone coming soon. So soon, in fact, that it's unveiling is going to take place no later than next week.
The main highlight, and probably the only real highlight, of this new smartphone is the Qualcomm Snapdragon 821. A minor jump from the current 820 titleholder, the newer processor boasts of an increase in clock speeds, up to 2.35 GHz. Of course, there is more to the chip than a simple speed boost, as the SD821 is also designed to better handle the demands of virtual and augmented reality, as well as more sophisticated camera sensors.
OnePlus' teaser might also have clues to the name of this smartphone. The Twitter video clip shows a "T – 7" countdown, but, oddly enough, the "T" is stylized and emphasized. This could confirm the "OnePlus 3T" moniker believed to be used for this "half step" flagship. Or it could simply be a "OnePlus T" as well, since we do have a OnePlus X in between the OnePlus One and OnePlus 2.
T-7: The @Qualcomm Snapdragon 821 (2.35GHz) is coming your way. Find out more on November 15. pic.twitter.com/fA8mUTYAjd

— OnePlus (@oneplus) November 8, 2016
The rest of the smartphone's specs remain mostly conjecture, but, if the speculation is accurate, there isn't much to guess, as the OnePlus 3T (or T) would pretty much be identical to the OnePlus 3, with 6 GB of RAM and 64 GB of starting storage. And, yes, that also includes the 5.5-inch still 1080p screen. We're still hoping for a QHD one, though.
OnePlus plans to unveil the OnePlus 3T/T on November 15, at 1:00 p.m. ET. The event will be live streamed over Facebook Live. Interestingly, OnePlus doesn't seem to be interested in a VR broadcast this time around.
SOURCE: @OnePlus