OnePlus 3 Turns Up On AnTuTu Benchmark, Specs In Tow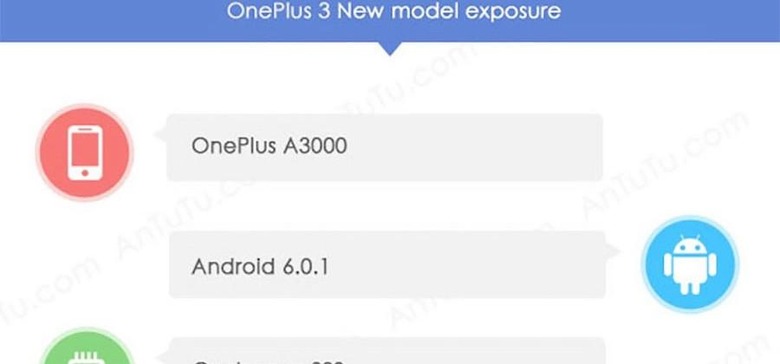 One of the best places to glean some details bout coming smartphones are benchmark apps. Some benchmarks for what is claimed to be the OnePlus 3 smartphone have turned up on AnTuTu and the phone sounds decent enough. The OnePlus 3 is expected to launch in the next few months and the specs might make you want to buy one, if the price is right.
AnTuTu shows that the smartphone has model reference number OnePlus A3000. It shows to be running Android 6.0.1 Marshmallow right out of the box. The chip under the hood is a Snapdragon 820 paired up with 4GB of RAM. An Adreno 530 GPU handles graphics.
One thing not called out in the specs is exactly how large the screen is, but we do know it will have a resolution of 1920 x 1080. Internal storage is 32GB and the smartphone rocks 8MP front and 16MP rear cameras. The leaked benchmarks come from a source that posted them to Weibo. Back in February, we heard that the OnePlus 3 would launch sometime in Q2 2016.
The last device from OnePlus was the OnePlus 2 that launched last summer. The big deal with that smartphone was that it sold unlocked for $329. OnePlus 2 buyers got a 5.5-inch screen, so we can expect at least that size screen or larger on the OnePlus 3. That 5.5-inch unit on the OnePlus 2 shared the same 1920 x 1080 resolution that benchmarks list for the new device. The big irritation for buyers of the previous OnePlus device in the US was that shipping was delayed compared to the rest of the world, perhaps OnePlus will address those shipping delays this time out.
SOURCE: Android Community