OnePlus 3 photos leak again, still looks like an HTC One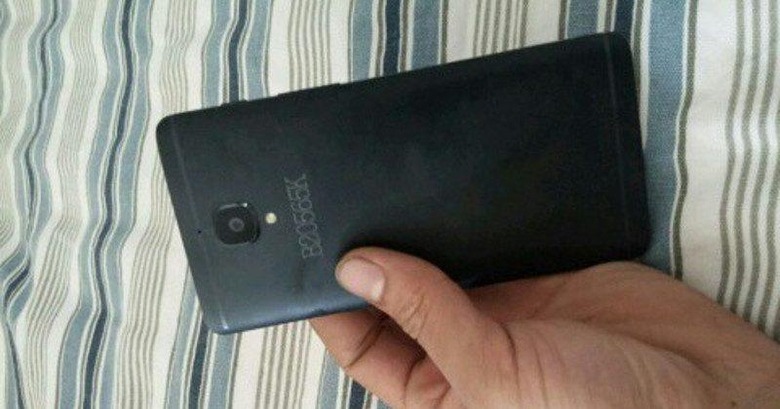 Sometimes, the problem with putting out a stellar product is making sure that future iterations will live up to the high standards that you yourself have set. Sometimes, starting with the bar at its highest might mean you can no longer raise it further. That is the challenge that OnePlus is facing with its next flagship smartphone. After an impressive OnePlus One and a passable OnePlus 2, the OnePlus 3 will definitely be on the receiving end of much scrutiny and expectations. Based on these leaked photos, OnePlus might have a lot of work still left to do.
Of course, we can never be sure how accurate these photos are, especially as they come from very anonymous and mysterious sources. But for the sake of conjecture, let's take them at face value and speculate based on that. The front of its face bears little change from the OnePlus 2, which is an otherwise clean and basic design save for the physical home button, which most likely hides a fingerprint scanner. We don't have a view of the sides, but we'll presume it's the same metal edges as before.
The back, however, is perhaps more interesting, if not more divisive. It's like a flatter version of the design found on HTC's past One flagships. There are even the same lines that run across the width of the smartphone as well as one down to the camera hole. On the HTC One, those lines aren't merely decorative. They are plastic, in contrast to the rest of the metallic back, which serves to let radio signals through, an important engineering aspect of the design. If those lines serve the same purpose on the OnePlus 3, then it has at least 2 important implications.
The first is that the OnePlus 3 might finally have a full metal back, except for those plastic strips. Though the photos so far seem to hint more at a matte material, it could very well just be some coating or paint. After all, what purpose would those plastic lines have, unless they were purely aesthetic in nature. If they are, however, antenna lines indeed, then it could mean that, for the first time, a OnePlus smartphone won't have a StyleSwap back. For two generations, OnePlus has boasted of the customization options when it comes to back covers. A rear with a critical antenna line, however, might not be removable. Unless, again, those are purely for looks.
As far as the rest of the specs go, the OnePlus 3 is expected to be quite normal for a 2016 flagship. That usually means a Snapdragon 820, 4 GB of RAM, and most likely 64 GB of storage for starters. The 5.5-inch screen is sadly still 1080p Full HD, though it's not really alone in that regard, at least as far as other Chinese OEMs are concerned. The price, however, will be an even more important consideration, as OnePlus traditionally sells a lot lower than most flagships, though it did bump up the price of the OnePlus 2.
VIA: Weibo