OnePlus 3 packing 6GB of RAM surfaces in benchmarks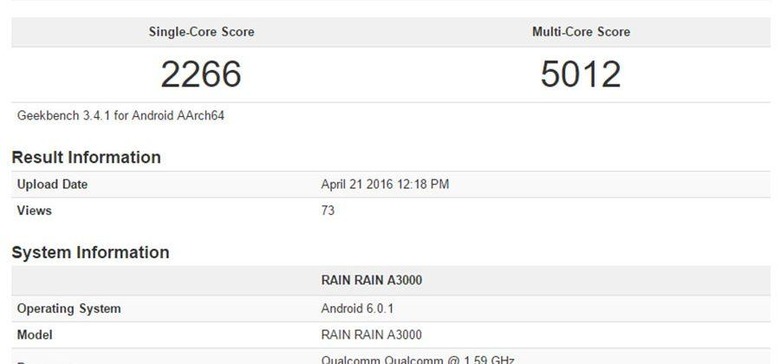 It's been a month now since we saw that OnePlus 3 smartphone with 4GB of RAM hit AnTuTu bringing us details on the hardware that is thought to be inside the device. When those details showed up there wasn't any real benchmarks to give us an indication of how well the smartphone might perform. Another OnePlus 3 leak has happened this time with a strange codename Rain Rain A3000.
If OnePlus follows its traditional naming conventions, A3000 would be the model number for the OnePlus 3 considering the OnePlus 2 was the A2000. This time out we do get a bit of detail on hardware, but we also get some actual benchmark numbers from Geekbench. Hardware is called out as a Qualcomm MSM8996 running at 1.59GHz.
That chipset is paired with 5739 MB of RAM, which is 6GB of RAM in this smartphone, 2GB more than was listed in the previous benchmarks we saw of this device. That indicates we will see multiple versions of the OnePlus 3 smartphone when it lands. Standard and Premium smartphone models aren't uncommon today.
Benchmarks show single-core performance of 2115 and multi-core performance of 5377. Floating point performance was 2027 single-core and 5269 multi-core. Memory performance scores were 3050 single and 3769 multi core. Overall scores for the smartphone were 2266 single core and 5012 multi core. No details on screen size were offered this time out. We have heard the screen resolution will be 1920 x 1080 and the device will have a 16MP rear camera and an 8MP front camera. With this version having 6GB of RAM, it would likely be the premium version and might have a different screen resolution. We will have to wait for more details to surface to confirm that.
SOURCE: Geekbench