OnePlus 3 DASH shown in action, gaming while charging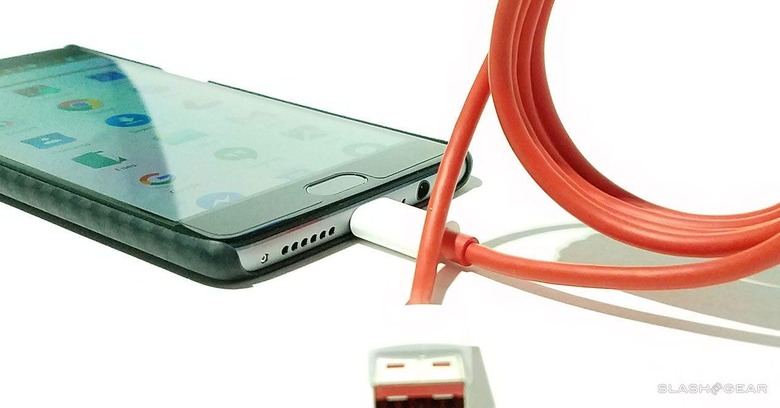 OnePlus execs seem to like living on the edge just to prove a point. Company CEO Pete Lau has taken to Weibo to show off the OnePlus 3's fast charging DASH tech and how it fares against other flagships using Qualcomm's Quick Charge feature. And he does so not through rigorous lab stress test but with a somewhat controversial behavior among smartphone users. That is, playing games on the OnePlus 3 while charging it at the same time. Fortunately for the OnePlus, it was victorious and remained unscathed.
Using the smartphone while it's charging is mostly frowned upon or discourage, though some would swear it does no harm. The reason for this is that the smartphone tends to heat up significantly when being used while charging and that the charging system has a bit of difficulty catching up with the simultaneous battery use. And that's for regular smartphone use only. Imagine the case when gaming while charging.
That does make for the ultimate, if not dangerous, speed charging test. In theory, if can charge fast enough and with ample power, you can actually overcome the battery drain. That's precisely what Pete Lau was showing off in his chart, where the OnePlus 3, thanks to its DASH Charge ability, ran from zero to full in just 90.2 minutes. Neither the Xiaomi Mi 5, which used Qualcomm Quick Charger 3.0, nor the Samsung Galaxy S7 edge, which only used Qualcomm Quick Charge 2.0, were able to catch up wihin 3 hours.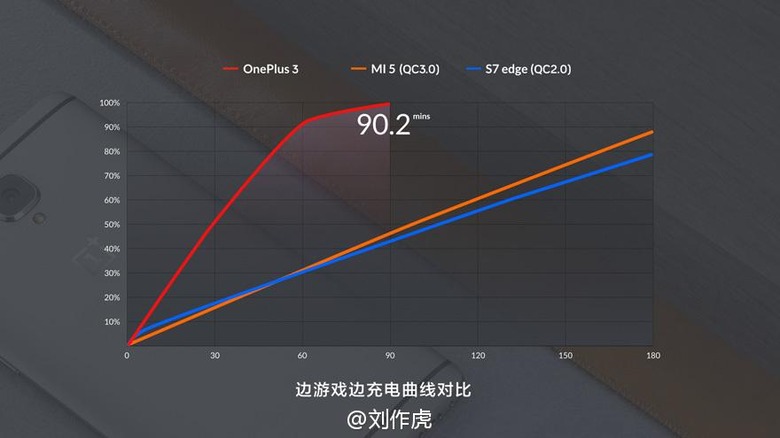 Of course, you could spin this in different ways, depending on whose technology you believe in. Some might be a bit wary of OnePlus' brand new feature, which has probably not enjoyed the same amount of lab and real-world tests as Qualcomm equivalent tech. OnePlus at least assures customers that its proprietary cable, which is absolutely required for DASH to work, is at least thick enough to support the added load.
Despite that, it might not be smart to tempt fate in straining the device too much while connected to a power source.
SOURCE: Weibo