OnePlus 2 hands-on - The Android wild-card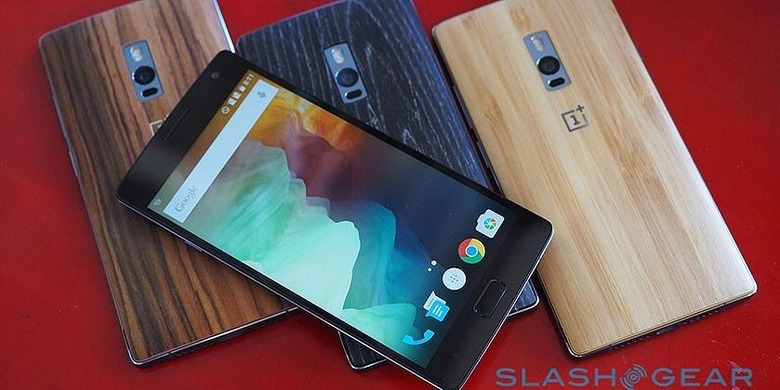 Seldom are the life-lessons so clear when you launch a follow-up product, like the new OnePlus 2 Android smartphone. Born of a desire to cater to the whims of the Android enthusiast, the requests were simple: they wanted power, they wanted affordability, and they wanted it right now. The original OnePlus One succeeded on the first two of those counts but notoriously botched the third. Now, still bearing a near-astonishing SIM-free, unlocked price tag – starting at $329 – but brought up to speed with 2015's finest, the OnePlus 2 is aiming for the hat trick. I caught up with OnePlus to see what's new.
The OnePlus One was never just about price, but it was certainly a key part of the story. Released for $299 in April last year, it met the specifications of more mainstream phones but with an contract-free price within spitting distance of carrier subsidized devices.
Likely to be controversial among Android fans wanting the very latest hardware is the screen resolution. The OnePlus 2 has a 5.5-inch LCD panel, but it runs at 1920 x 1080 for a total pixel density of 401ppi.
The thinking, OnePlus tells me, was that a higher-resolution screen – like the 2k becoming increasingly common on rivals' phones – is difficult to appreciate at this size. Certainly, graphics are smooth, text is crisp, and colors good. If the decision rankles all the same, the fact that the screen should use less battery than a more pixel-dense equivalent might prove a little solace, and OnePlus is estimating at least a full day of use from a single charge.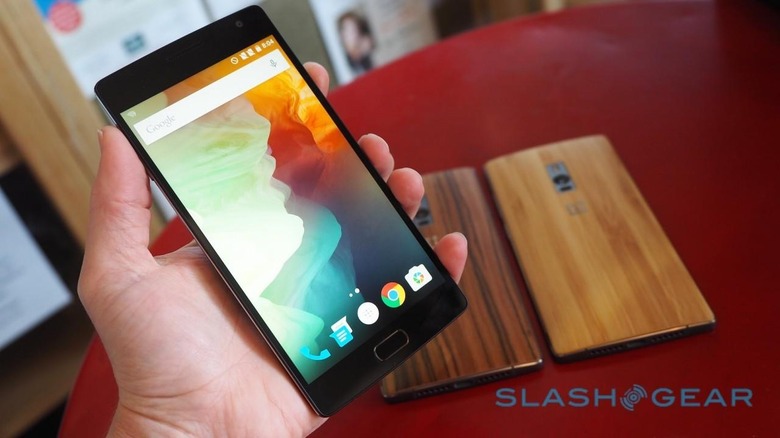 Physically, the design is derivative but more mature. At 151.8 x 74.9 x 9.85 mm and 6.17 ounces, it's slightly shorter and narrower than its predecessor, but a little thicker and heavier.
The original OnePlus flirted with some interesting materials, like its almost soft-touch back cover, but still felt somewhat plasticky. Happily the OnePlus 2 is a far more grown-up feeling phone.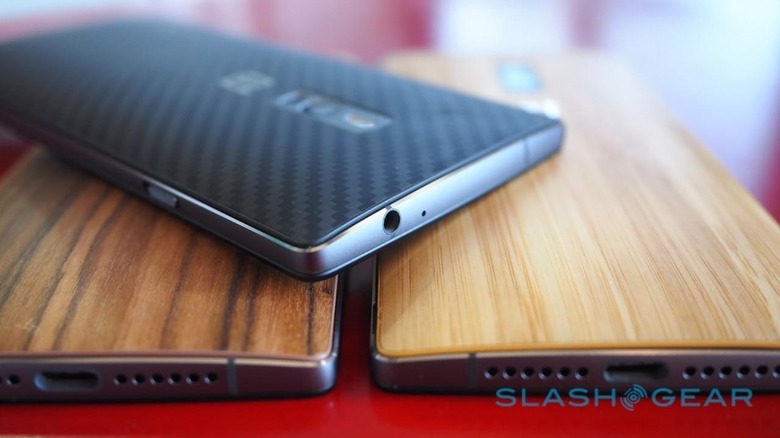 The chrome-effect bezel of the old phone has been replaced with proper metal, drilled with a neat row of holes on the bottom for the speakers, and inset with slim buttons for power and volume, as well as a knurled three-way switch designed to play nicely with the priority notifications option in recent versions of Android.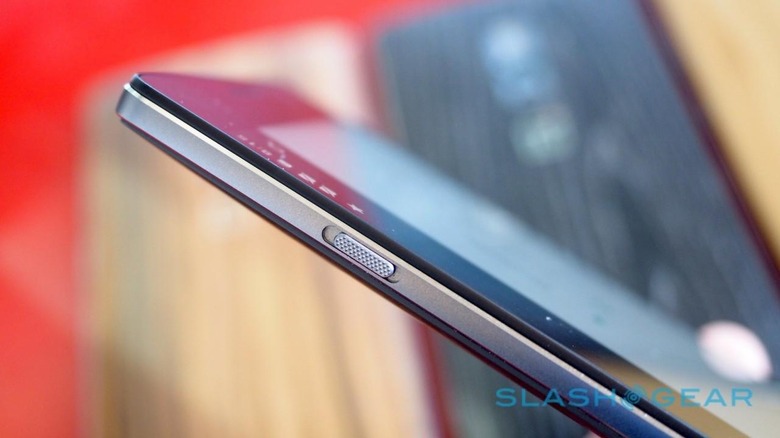 Also helping are the new, interchangeable back covers. By default the OnePlus 2 will come with a Sandstone Black panel, but that can be easily removed and replaced with one of the optional alternative finishes: real Kevlar, for instance, or a choice from three different types of real wood: bamboo, black apricot, and rosewood.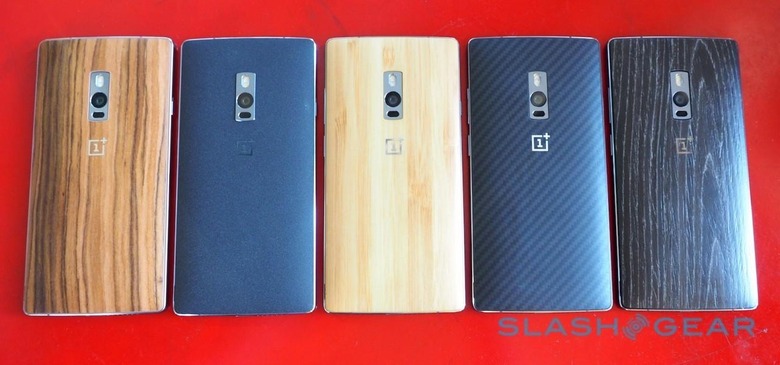 They may be a thin veneer over a plastic but they look and feel great, with the wood having surprisingly deep grooves.
OnePlus has also baked in the hardware for automatic theme-switching based on which panel is attached, though it won't be supported in the software at launch.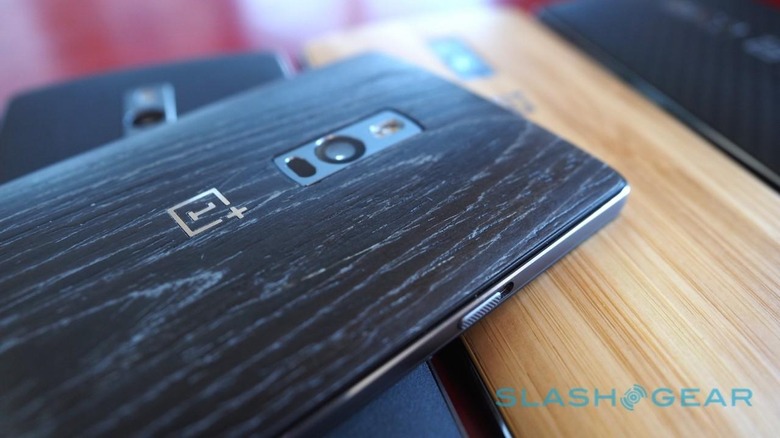 While you've got the back cover off, that's the moment to slot in up to two nano SIM cards. Both SIMs are active all the time – you can receive calls on either – though only one data connection can be used.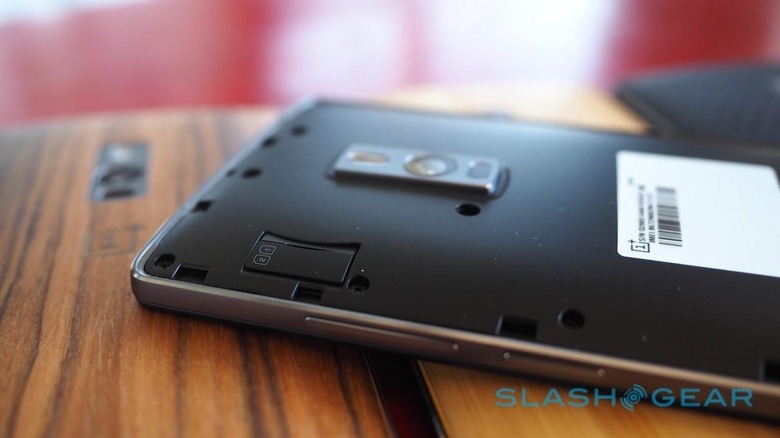 OnePlus didn't stint on connectivity options, either. In the US, there's support for LTE on AT&T and T-Mobile's networks, along with WiFi a/b/g/n/ac (2.4/5GHz), and Bluetooth 4.1. GPS, GLONASS, and a digital compass are joined by the usual accelerometer, gyroscope, proximity, and ambient light sensors.
Unusual, though, is the USB Type-C port for charging and data. USB-C is set to be the next big thing in smartphone connectivity – not least because it can be plugged in at either orientation, like Apple's proprietary Lightning – but so far we're yet to see a big manufacturer embrace it.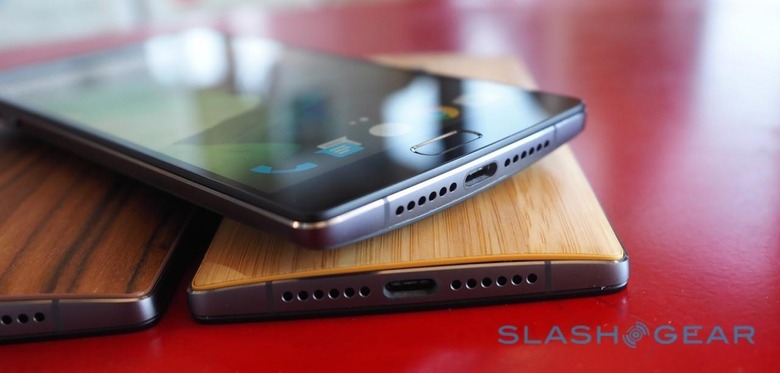 OnePlus is hoping to do its part in kickstarting adoption by offering its own USB to USB-C cable at cost: $5 gets you an anti-snag cord, and a homegrown double-sided USB plug that can hook up to your computer or AC adapter in either direction, too.
I'm also pleased to see a fingerprint sensor, integrated into the OnePlus 2's home key. It only demands a tap, not a swipe, just as with the iPhone 6 and Galaxy S6, and you can register up to five fingertips.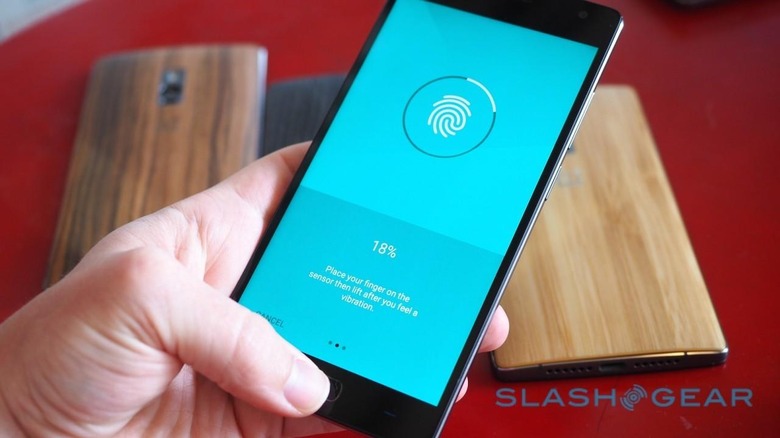 Above the screen there's a 5-megapixel camera for selfies, while on the back there's a 13-megapixel camera, with the sensor now provided by OmniVision rather than Sony. Combined with the six-element, f/2.0 lens is optical image stabilization and a laser focus system, similar to that on the LG G4, plus a dual-LED flash.
As you might expect, there's support for up to 4k resolution video recording, along with a slow-motion mode. The latter, however, tops out at 720p at 120fps.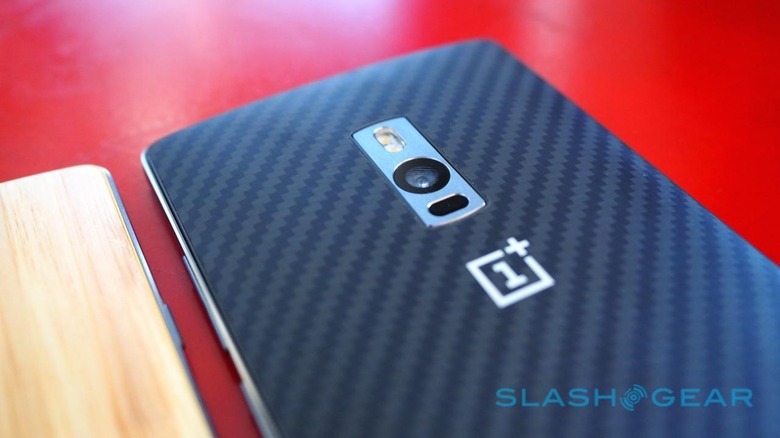 Inside the OnePlus 2 is Qualcomm's Snapdragon 810, a 1.8GHz octa-core with Adreno 430 graphics. Notably, it's the first smartphone to offer 4GB of faster LPDDR4 memory (other handsets have offered 4GB of LPDDR3, or 3GB of LPDDR4, but the OnePlus 2 is first to "four of four") though you'll need to opt for the $389 64GB version to get it. The 16GB phone makes do with 3GB.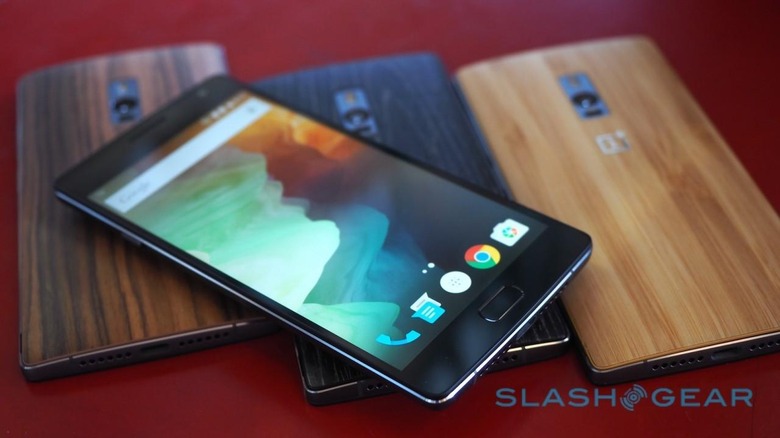 It's running Android 5.1 – though Android M will arrive just as soon as Google releases the final code and OnePlus has its way with it, the company tells me – with a number of tweaks, though unlike the original OnePlus One those aren't the handiwork of CyanogenMod. Instead, it's a homegrown OS dubbed OxygenOS.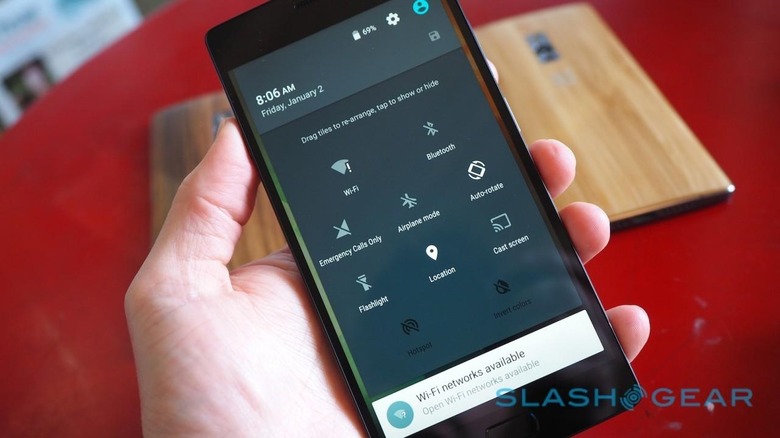 To be honest, though, you might not notice the differences unless they're pointed out to you. That's by design: OnePlus – sensibly, in my opinion – opted for a light-touch approach, making a number of small improvements rather than trying to outdo Google's Android developers at their own game.
So, there's a custom camera app, a preloaded file manager, and an audio tuner app for greater control over playback. The OnePlus 2 has touch-sensitive buttons for the Android multitasker and back key, but you can flip them around in the settings, or opt to have on-screen soft keys instead.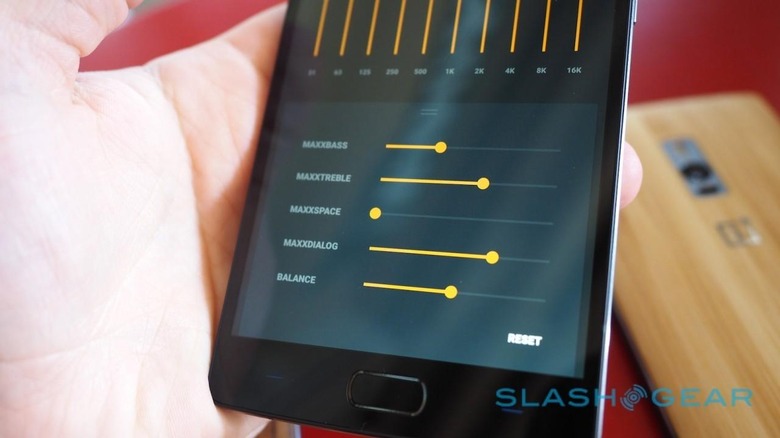 Similarly, the quick settings can be rearranged according to personal preference, and there's a dark mode that changes the color scheme of the UI.
There's also a new launcher, accessed with a side-swipe to the far left of the homescreen. It's only an early beta right now, with panes for recently-used apps and frequent contacts, but eventually OnePlus intends to add more panels as well as open it up to third-party developers.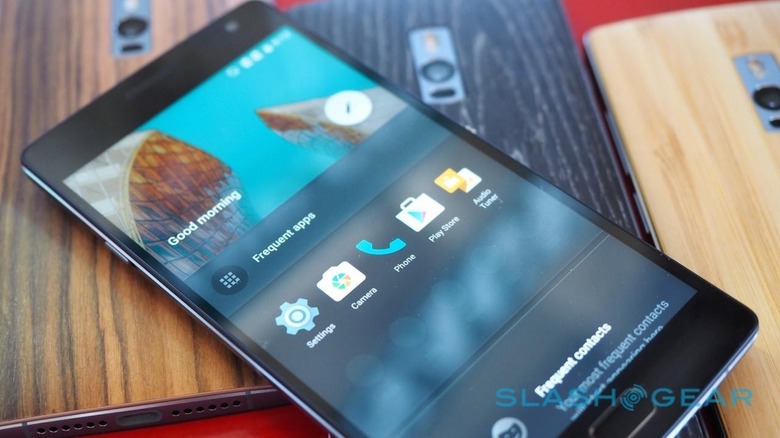 OnePlus's tagline for its original smartphone fourteen months ago was "never settle" but, all the same, you do have to compromise a little even on this second-generation device.
What you don't get are either an interchangeable battery or expandable storage. The 3,300 mAh LiPo battery can't be removed, and there's no microSD slot: instead, you have to choose between the 16GB or 64GB models.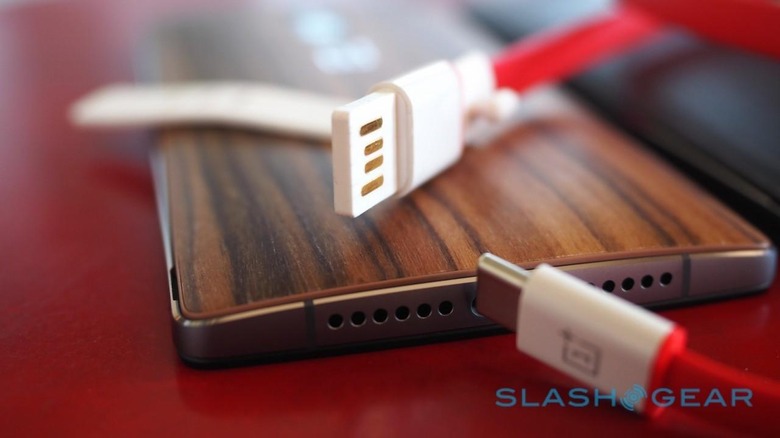 OnePlus tells me it expects most power-users who might require more storage to turn to the cloud to accommodate that. I'm okay with that, but I do wish OnePlus had found space for wireless charging.
Arguably the biggest difference this time around, though, will be availability. OnePlus' first launch was perhaps too successful for the company's own good: demand far exceeded supply, and left would-be buyers at the mercy of the convoluted invite system.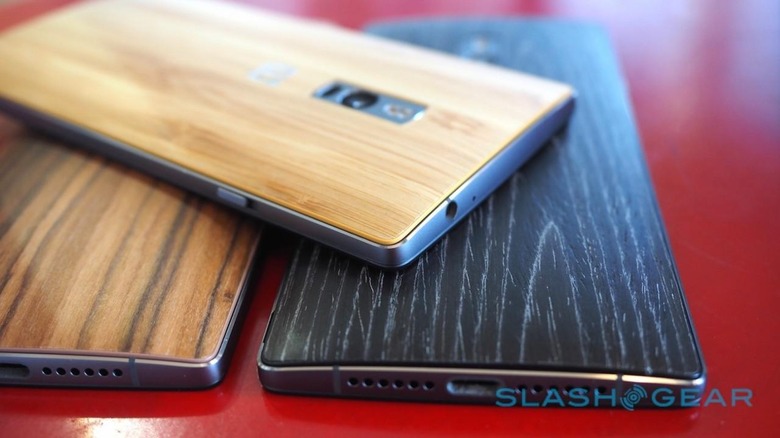 For the OnePlus 2, the company tells me, initial stocks are going to be much higher and, though it'll still be relying on invites to meter out devices, the wait-time involved should be much less.
Meanwhile, add-ons like the interchangeable back covers should be in stock from day one, along with accessories like the USB-C cable and a flip-case that clips on instead of the back cover so as to minimize bulk.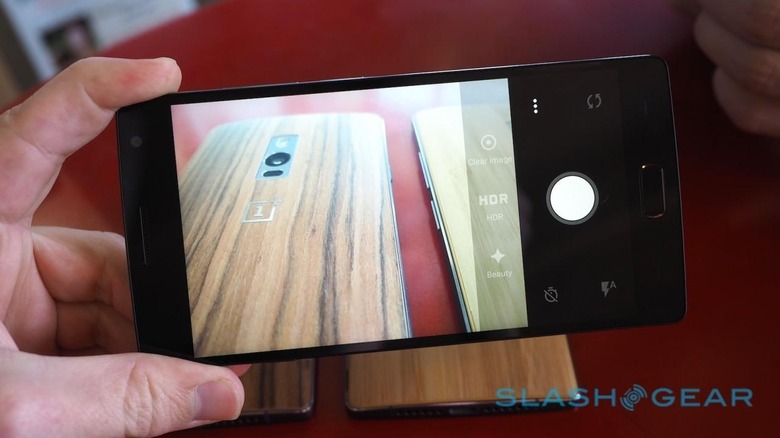 I can't help but admire what OnePlus is trying to do. The modern smartphone space is notoriously challenging: companies with lengthy histories in the space, like HTC, are struggling to compete. To launch what amounts to a boutique brand and a wannabe-flagship device, even with the lessons learned from Oppo under your belt, is hugely ambitious.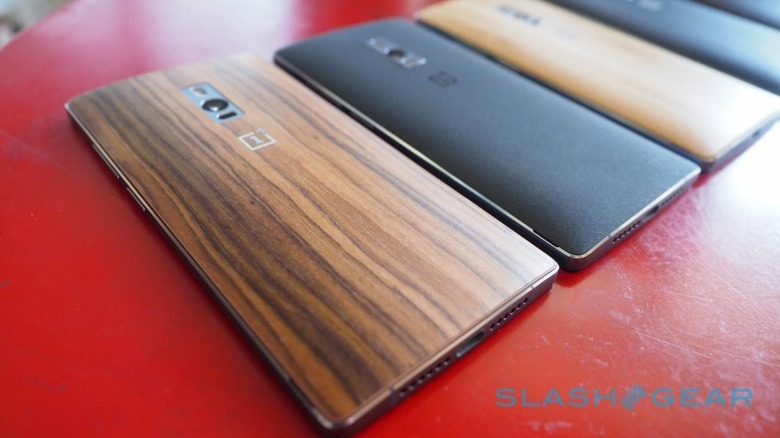 Usefully, the OnePlus 2 seems like a great handset, too. Anything more lasting than first-impressions will have to wait until we put one through its paces for a full review, but there's a tangible sense that OnePlus listened to feedback, cast a critical eye across the device landscape, and came up with something that should satisfy not only a good many Android enthusiasts but those looking for something of a bargain without a compromise on specifications.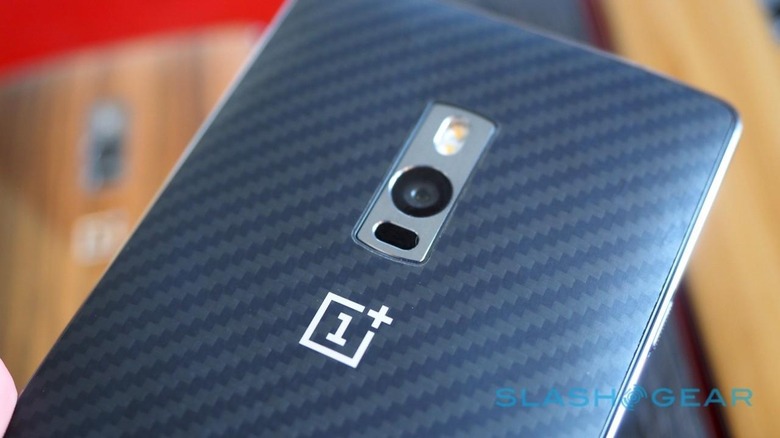 If the company can deliver on its supply chain promises, and avoid the distractions of its occasionally ill-advised sales promotions, the OnePlus 2 stands to be even more successful than its predecessor. OnePlus has opened up its invite system now, with sales expected to begin for the $389, 64GB version of the phone in the US and Europe come August 11. The $329, 16GB handset will follow on afterwards.
MORE OnePlus