OnePlus 2 allegedly shows up at TENAA with home button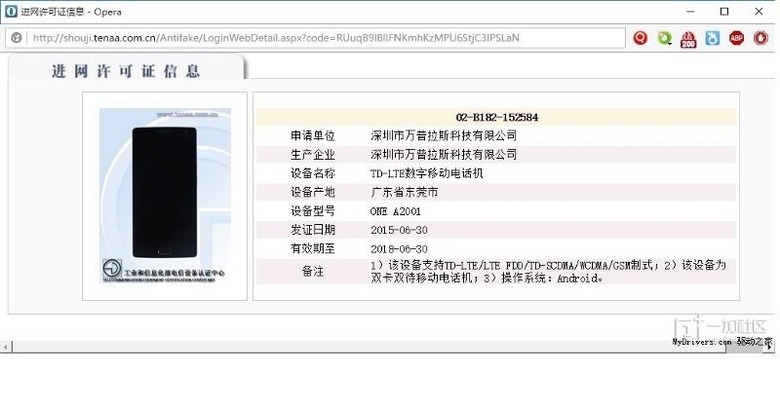 Unlike FCC sightings, a device that sits on China's TENAA pages is bound to reveal more details. That's why when an upcoming smartphone get spotted there, the Interweb seems to run amok. Like this alleged sighting of the OnePlus 2, the self-named "2016 flagship killer" that is set to debut in little less than a week. The smartphone depicted in these images, however, seems so different from its predecessor that you can't blame long time fans and hopefuls for calling it a poorly done Photoshop hoax.
The OnePlus 2 in these images does seem to be a bit like a Frankenstein of several design elements. While it does resemble the basic shape and even sandstone rear of the OnePlus One, the similarities end there. The bottom part is accused of being a Samsung and the backside components are compared to an LG.
There is some basis for these almost scathing comparisons. The OnePlus One opted for software navigation buttons, just like how Google wants Android devices to be. However, with the OnePlus 2, it wouldn't be able to afford that anymore. OnePlus has already confirmed that the next smartphone will have a physical fingerprint sensor, and, at the moment, there are only two possible locations for that: a physical home button or at the back. Word is founder and CEO Carl Pei isn't a fan of putting control elements on that hidden side.
It is almost ironic then that there is some similarities with LG's design on the rear side. To be specific, the rear camera has seemingly been moved considerably lower than on the OnePlus One. The exact reason for that is largely unknown, especially since there are no volume or power buttons to be found there. A change with little to no benefit, functionally or aesthetically.
These inconsistencies, the quality of the images, and the lack of a working link to an actual TENAA entry seem to question the veracity of this revelation. That said, TENAA might have just also pulled out the pages because they were leaked ahead of time. In any case, we'll find out the truth soon enough at OnePlus' VR-centric event next week.