Apple may have been cautious in embracing the stylus, but that doesn't mean iPad apps have held back, with Microsoft adding handwriting support to OneNote today. The updated note-taking app adds what Microsoft claims is one of the most commonly-requested features from users themselves, the ability to write and sketch directly into notes, just as you might with a Surface Pro 3. Meanwhile, there's also new optical character recognition (OCR) support in OneNote, pulling out the text in photos and scans automatically.
OneNote is no stranger to handwriting; in fact, the functionality has been supported in the Windows version since all the way back in 2003. However, the iPad version of the app hasn't supported it, focusing instead on doodling with a fingertip or entering text with an on-screen keyboard.
While Apple still doesn't have an official stylus for the iPad – though that may change, if perennial rumors of an iPad Pro pan out – Microsoft has baked in a number of features which should make using a third-party pen more straightforward.
For instance, you can set not only whether you're right- or left-handed, but also state which angle you commonly hold a stylus. That helps with the palm-rejection, which Microsoft says should stop the rest of your hand from confusing things, even if you're resting it fully on the screen while you write.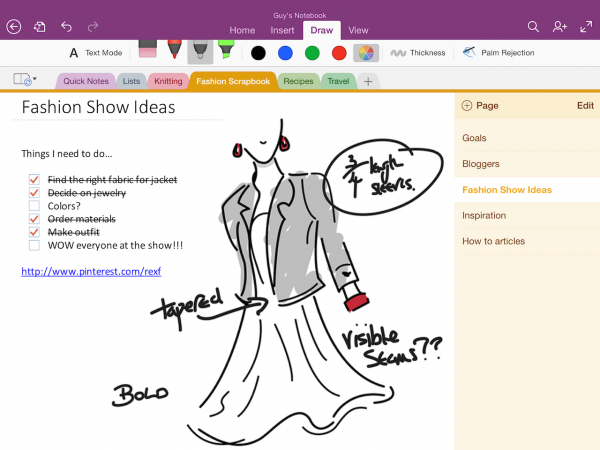 Meanwhile, there are multiple color and types of pen to choose between, including highlighters, and if your handwriting is huge there's pinch-zooming and infinite scrolling support.
As for the OCR, now any text in an image saved in OneNote will automatically be indexed for search. You don't need to be using the iPad app, either: anything that ends up in OneNote's cloud – whether it comes from an app, from a browser clipping extension, is emailed in, or uploaded through OneNote Online – will get the same treatment.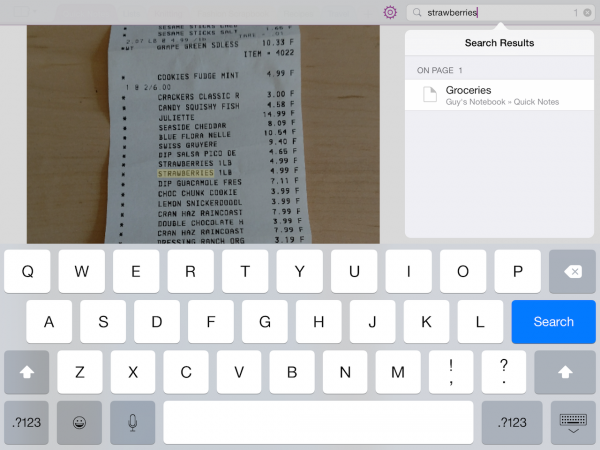 While this isn't picture-to-text – you can't copy and past from, say, a receipt to a spreadsheet – it does mean that text in pictures shows up in search results. Useful if you're trying to find a mention of a particular store.
Right now, it's only working on new notes uploaded, but Microsoft says historical picture indexing is in the pipeline too. There'll also be support in OneDrive for Business "in the coming months."
SOURCE Microsoft