On Black Friday, skip the Nintendo Switch bundle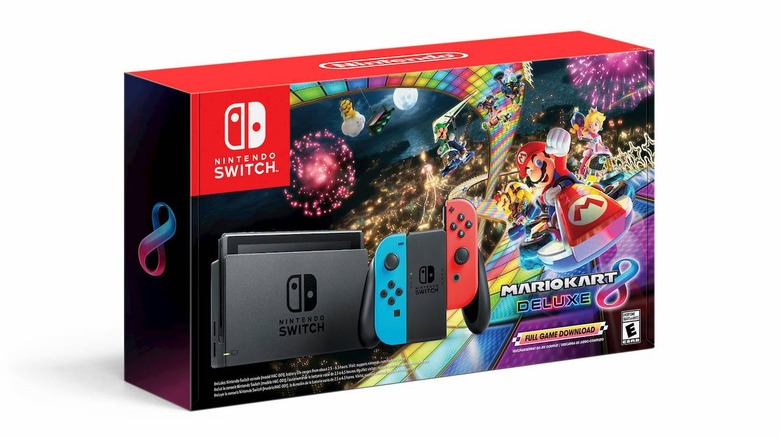 Black Friday is nearly here, and that means plenty of deals on games and consoles. This year, Nintendo is mostly sticking to the same deals it offered last year, offering a console bundle that essentially nets you a free copy of Mario Kart 8 Deluxe instead of a discount on the Switch itself, along with discounts on some Joy-Con variants and games both at retail and through the eShop. Before you decide to take the plunge on that Switch bundle, however, you need to consider what you're getting.
Over on its website, Nintendo's fine print reveals something that's absolutely worth knowing about this console bundle. Alongside the requisite information about promotion start dates and MSRP, that fine print reads, "Includes original Nintendo Switch model HAC-001, battery performance ranges from 2.5 – 6.5 hours." In my opinion, this makes the Switch bundle a non-starter.
Back in August, Nintendo launched a new type of Switch that carries a model number of HAC-001(-01). This new Switch doesn't change very much, but it does boast significantly longer battery life. As that quoted fine print reads, the original Switch – model HAC-001 – has a battery life of 2.5 to 6.5 hours, but the new Switch is capable of running for 4.5 to 9 hours. That's a huge difference, especially if you plan on using the Switch in handheld mode a lot.
When the new Switch launched, I actually traded-in my launch day Switch for one of these newer models. It was that new Switch I used for battery comparisons in my review of the Switch Lite, and I can say that the longer battery life is great. The Switch Lite itself has a Nintendo-quoted battery life of 3 to 7 hours (claims that line up with my own battery tests), and it costs $100 less than this Black Friday bundle.
With both the HAC-001(-01) Switch and Switch Lite out there, it's hard to recommend this Black Friday bundle, despite the fact that it includes a free game. Prospective Switch owners would be far better off purchasing an HAC-001(-01) Switch and buying the game separately, because the increased battery life is definitely worth the extra cost relative to this bundle.