Omate Wherecom K3 kid smartwatch has integrated phone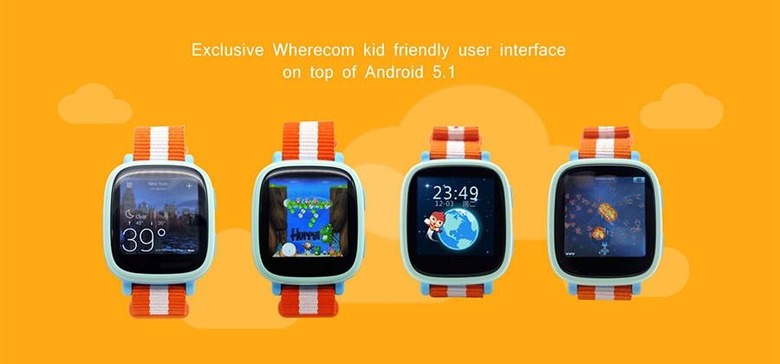 Omate has unveiled a new kid's smartwatch called the Wherecom K3. The device is aimed at kids between 6 and ten years old and is a 3G standalone smartwatch that runs the Android 5.1 OS. The smartwatch doesn't need to interface with a smartphone to operate, it has its own SIM card slot.
To make the watch as simple as possible for kids to operate, it has a specialized user interface over the top of Android 5.1. The UI offers access to weather reports, games, and the time among other things. The device has a restricted phone call list that only allows kids to call the people you want them to speak with. It also has a location SOS button if kids feel like they are in trouble when out without parents.
Several pre-installed apps are on the device out of the box, it has an alarm, and music features. It will count the steps the wearer takes during the day and has integrated WiFi and GPS capability. The case of the watch is polycarbonate and the screen is a capacitive touchscreen measuring 1.54-inches with 320 x 320 resolution. The mic and loudspeaker are integrated and the watch uses removable 20mm straps that can be replaced if needed.
Measurements are 41.9mm x 53.8mm and the device is 13.9mm thick. The watch operates on quad-band 2G networks at 900/850/1900/1800 and 3G at 1900 or 2100. Under the hood, the chipset is a MT6572M unit with a dual-core 1GHz processor, 8GB of internal storage, and 1GB of RAM. Power comes from a 600mAh internal battery and the watch uses a micro SIM card. The battery is charged with a standard Micro USB cable via a cradle. Management apps for parents are available for iOS and Android devices.
SOURCE: Omate