Olympus tough cameras now allow you to freeze, drown and drop your camera without worry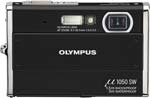 Olympus has announced they will be introducing the next round of rugged cameras in January under the brand "TOUGH."  These cameras are designed to take amazing photos in the most extreme outdoor conditions no matter where you are you what you are doing.
These new cameras will keep the same durability as we have seen before with the addition of new innovations that will benefit the entire line. Recent studies show that one of the key points customers are looking for when purchasing a new digital camera is durability and weatherproofing. Miquel Angel Garcia, Managing Director Marketing at Olympus Imaging Europa GmbH said, "Since some of our cameras even go beyond shockproof and waterproof – certain models are freezeproof and crushproof as well – we needed a name that was more reflective of the true nature of the SW series. The µ TOUGH brand lets our customers know what these cameras truly have to offer: strength that's always ready to go, even in the most extreme conditions".
The shockproof and waterproof models are ideal for the more adventurous users; whether it be snorkeling or hiking you can feel at ease taking your camera along for the ride. The freezeproof cameras can be taken anywhere from the top of Mount Everest to the deepest ice cavern. Snap breathtaking photos in great quality wherever you may be.