The premium compact camera you're about to experience is the Olympus XZ-2, coming in hard with a 12.3 megapixel 1/1.7" BSI CMOS sensor, an ultra-bright zoom lens at 28-112mm equivalent f/1.8-2.5, and a 3-inch touchscreen on the back with full tilting action. It's not the camera you're going to buy to blow up your family's eyeballs with fashionability on the outside – it's the compact high-class shooter that's going to make the difference on the inside. What we're seeing here is a premium experience at a relatively low price considering the quality of the output, that's for certain.
Hardware
This camera measures in at 113 x 65.4 x 48mm (without protrusions) and weighs 346g (including battery and memory card), coming with an exchangable grip that'll be provided with accessories sooner than later and a lovely removable clip up top for your microphone, bright lamp, or whatever else you want to jam into it. There's also a pop-up flash light that you can trigger with a physical switch or allow you pop up automatically when it's needed.
The lens that this camera works with is a lovely Olympus i.ZUIKO DIGITAL 4x wide optical zoom ed at 6-24mm focal length and 1:1.8-2.5 aperture. Focal length equivalency to 35mm here is 28-112mm, and it's entirely non-replaceable. The majority of the camera's body is made of black metal and, in addition to the traditional buttons up top and on the back, you've got a hot-key switch and button up front that you can tell to do basically anything – quite handy!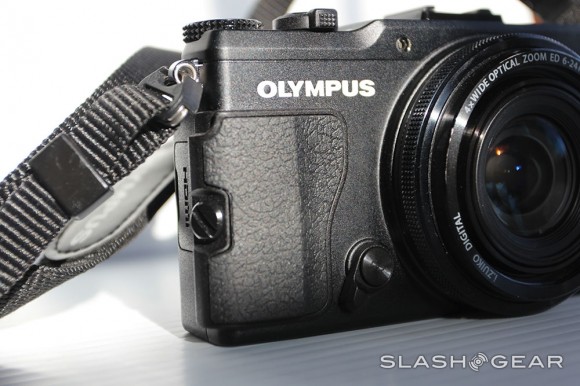 This little monster keeps both its SD card slot and battery compartment in one place so you're not messing with several different doors. There's a plastic door on the right of the device that holds your micro-HDMI port (type D) and your USB 2.0 port – and that's combined V and USB output, mind you, and the whole beast is able to work with Eye-Fi cards as well as FlashAir for wireless connectivity.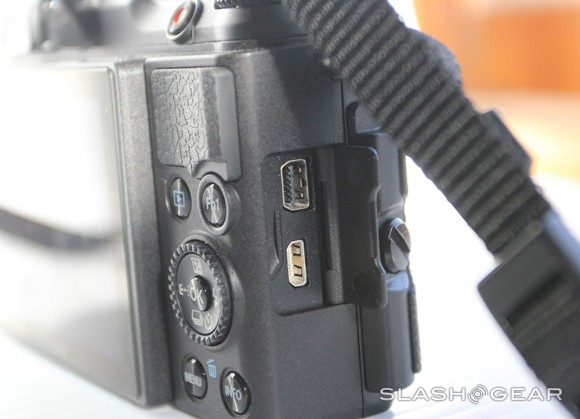 The LI-90B lithium-ion battery will last you several photo sessions at least, though working with video for hours will leave you with that – the display's to blame for such a thing here. Unfortunately you do have to use the display to see what you're taking photos or video of, as there is no option to turn it off entirely. You can work with the device's Sleep Mode, on the other hand, which turns the whole thing off after 1, 3, or 5 minutes of inactivity.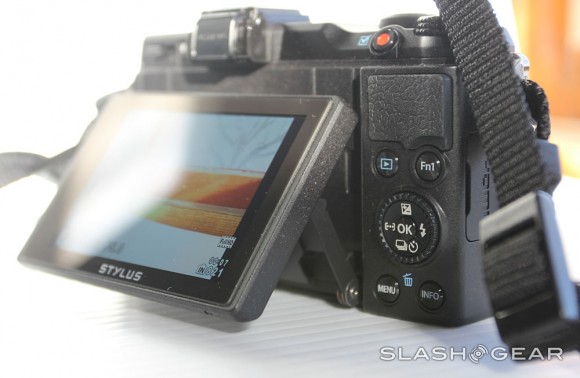 The touchscreen is ready for full-on tilt action for your down-low and up-high photography needs galore. Pull it out and tilt it up if you need to take a photo under your desk, or pull it out and tilt it down to take a photo over the fence into your neighbor's yard – once you've had such a display, you'll never be able to go back to a flat, unmovable dinosaur. Your ability to touch the display to take photos and make adjustments remains regardless of the angle of the display – if you were wondering.
Software
The user interface you've got here works with a combination of physical keys and the touchscreen, but you do not need to use the touchscreen at all if you do not want. On the other hand, you do need to press the physical "on" button to be able to even begin using the touchscreen – after that though, feel free to just tap away.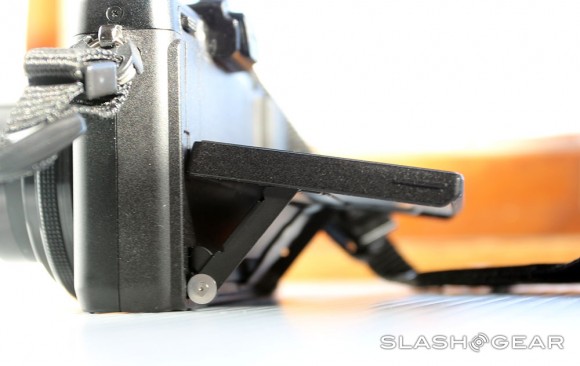 While some options are buried rather deep in the menu, the most-used items are right up near the top where you need them, and essentially anyone is going to be able to make the basics happen. Make no mistake, though, this device is not for beginners. You certainly can just switch the whole machine over to Auto and have at it, but making precise adjustments here isn't a "dummy-proof" situation.
That said, we've had little to no trouble getting to each of the featured items we wanted to try out, and the most common shooting modes and environmental changes were extremely easy to access.
Video and Photo Samples
First what you're going to see is a simple showing of the camera's video-capture abilities in a rather simple situation with both light and dark, far and near subject matter. Pay attention to how quickly the device focuses on the objects at hand and the adjustments to lighting conditions for a basic idea of how high quality your average video is going to be.
Then have a peek at a collection of shots of the same object showing off the effects and special abilities of camera. Note that these are all of the same metal door we had a look at in the basement and in the dark back in our camera comparison between the Nokia Lumia 920 and the Samsung Galaxy S III – this is also a good opportunity to see how well this Olympus camera handles low light in many different modes – and with odd effects turning the whole party upside-down.
Then have a peek at a set of shots in many different sorts of environments with high-quality HD output. Note that in the most basic sense, this camera has shown itself to be every bit the beast that Olympus claims it is, taking high quality photos and video with great ease. Colors appear to be as accurate as any of the highest-quality cameras we've tested at the price range and size we're working with here, and no abnormalities have been discovered in any way.
Wrap-up
This device presents a collection of abilities that make it a camera worth picking up if you're a photo enthusiast who wants to get into the big leagues without paying monster amounts of cash for high-quality photo gear. At £479.99 / $599.99 and available in any color just so long as its black, this is just the little beast you're going to want to toss in your backpack or purse.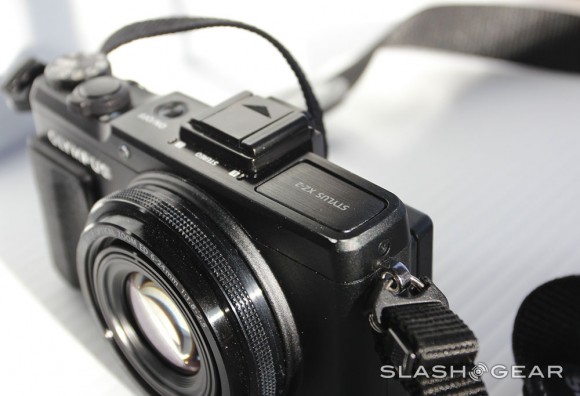 The touchscreen interface is simple and there when you want it, but you've got all the physical buttons and controls you could possibly want or need if you're not all about the touch. The user interface is simple the understand, adjustments are simple, and the output is great in the end – and best of all, it's an major name-brand camera so you know they'll stick with it as far as accessories go – latch on!