Olympus Stylus Tough TG-4 is ready for your rough adventure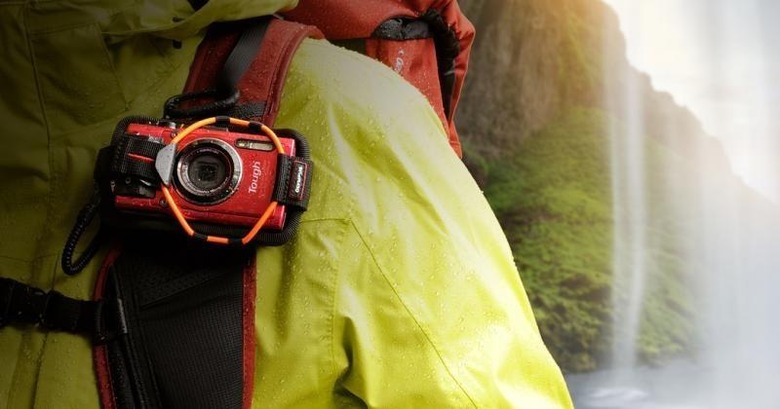 We love to take our smartphones everywhere with us, not just for communication, but also for capturing moments. But there are just some situations where taking out your phone to get that once in a lifetime shot is not only impossible, it would also constitute cruelty to the device. Even the most rugged smartphone will not survive long in extreme temperatures or even underwater. Fortunately, Olympus has you covered with its line of Stylus Tough digital cameras, and the latest TG-4, the toughest one yet, has a few more tricks up its sleeves.
When they say tough, Olympus means business. The Tough TG-4 will survive this rather extreme situations: submerged in water up to 50 ft or 5 m, a crushing force of up to 220 lbs, a drop from a height of 7 feet or 2.1 m, and an extremely cold temperature of 14°F ( -10℃). That's definitely an impressive chart, but a rugged camera is more than just a well-protected tank. It is also a camera, and the Tough TG-4 is definitely well-equipped in that area as well.
Among the many new features that this Olympus camera boasts of, it is the Nighttime Live Composite that truly grabbed our attention. In a nutshell, it takes multiple sequentially shot images, extracts the brightest spots, and composites them into a new whole, one that faithfully captures the spirit of night lights, stars, and other stunning nocturnal displays.
Don't just take our, or Olympus', word for it. Here is a shot of the light painting demo shot using the iPhone 6 Plus: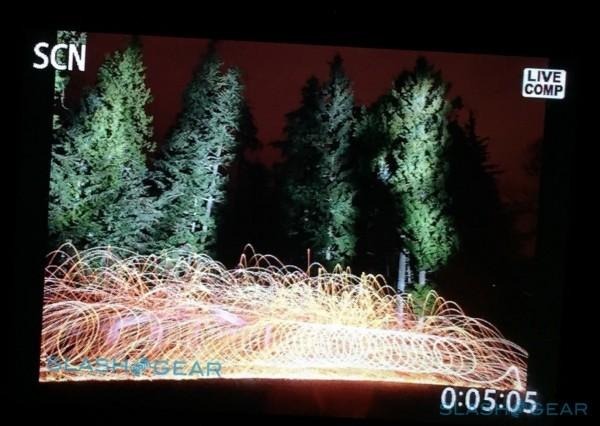 And here are images taken with the Tough TG-4's Live Composite feature (click to view the original):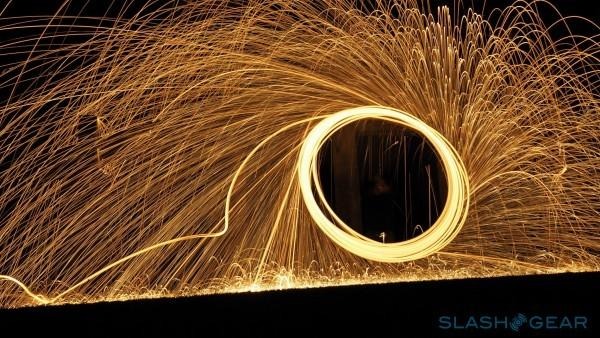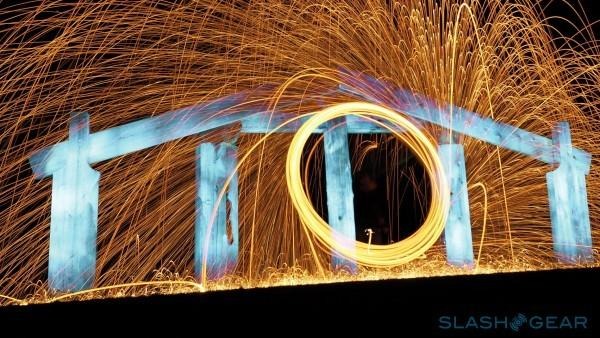 Another noteworthy feature is the Underwater HDR, which is just one of the new Underwater Modes that takes advantage of the camera's underwater resilience. Like any other HDR feature, it combines photos from multiple images but, at the same time, corrects colors and modifies exposure on the go, resulting in more vivid HDR output, even in water.
The Tough TG-4 is equippied with some of the finest in digital camera components, like a 16 megapixel BSI CMOS sensor and a large f2.0 lens, capable of wide-angle 25 mm as well as 100 mm telephoto shots. The camera's AF Target selection allow users to easily change the focus point of a shot using an arrow pad. The TG-4 is also the first Tough family member to get RAW shooting functionality. And what modern digital camera today would be without WiFi connectivity, connecting with smartphones and tablets not just for easy uploading and sharing of photos but also for remote viewing and control. The camera's built-in GPS also makes sure you'll be able to see not just when but also where a shot was taken.
The Olympus Stylus TG-4 will be available starting May, in black and red color options, for a price tag of $379.99 in the US and $399 in Canada. Olympus was kind enough to bring us to Canada to witness the annual Whistler filmmaker showdown, where our very own Vincent Nguyen didn't let any kind of weather stop him from taking this really tough camera for a spin, so be sure to be on the look out for our hands on impressions of the Stylus Tough TG-4. Also checkout #WhenInWhistler on Twitter and Instagram and follow @GetOlympus for more coverage.