Olympus Stylus Tough 8010 and 6020 rugged digicams get tap-control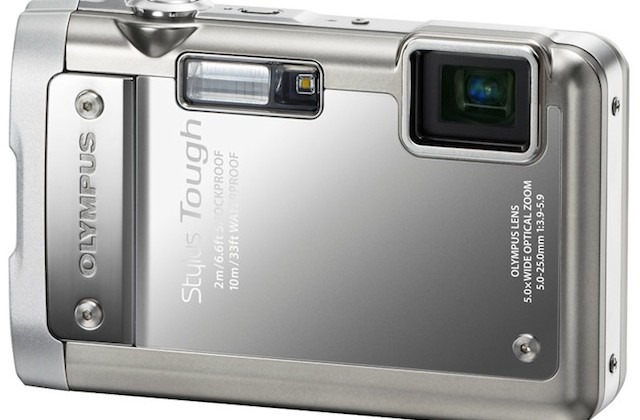 Someone warn Beyonce: Olympus' latest Stylus Tough digicams reckon they're the world's fiercest.  The new Olympus Stylus Tough-8010 and Stylus Tough-6020 each pack 14-megpixel sensors, 5x wide-angle optical zooms and 2.7-inch sunlight-visible LCD displays, but the real headline grabbing features are the shockproofing, waterproofing, crushproofing and freezeproofing.  Unlike Beyonce (we're guessing), the two point-and-shoots can withstand 220 pounds of direct pressure.
Both cameras have HDMI connectivity, along with USB charging, together with both optical and digital image stabilization.  If you're wearing gloves, you can operate the Stylus Tough cameras in "tap mode", which allows for basic settings changes to be made by tapping the top, front, back or sides.
Olympus will offer an underwater housing, just in case you want to go deeper than 16 feet (6020) or 33 feet (8010), which is good for up to 130 foot depths.  No word on how much that will cost, but the Olympus Stylus Tough-8010 and Stylus Tough-6020 will both drop in February 2010, priced at $399.99 and $299.99 respectively.
Press Release:
NEW OLYMPUS STYLUS TOUGH CAMERAS DARE TO GO WHERE OTHER POINT-AND-SHOOTS FEAR TO TREAD

World's Fiercest Shockproof, Waterproof, Crushproof, Freezeproof Cameras Capture Your Life Even Better with 14 Megapixels, HD Video, AF Tracking and In-Camera Creative Features

CENTER VALLEY, Pa., February 2, 2010 – Olympus Stylus Tough cameras already are world-renowned for being shockproof, waterproof, crushproof and freezeproof powerhouses. Now, the images they capture are virtually "delete-proof" because the new STYLUS TOUGH-8010 and STYLUS TOUGH-6020 deliver amazing images thanks to new technologies, including 14 megapixels, High-Definition (HD) video and powerful 5x wide-angle optical zoom lenses. These cameras not only endure more than any other cameras, they also capture images as vivid as the adventures you live.

"Because life's an adventure you need a camera that's tough enough to make the trip with you," said Nadine Clark, product manager, Olympus Imaging America Inc. "When you're on the move, AF Tracking keeps the subject in focus, in-camera creative features give artistic freedom and sharp HD video ensures that your adventures will be more memorable than ever before."

HD Videos and HDMI Control for a Home Theater Experience

Both new Stylus Tough cameras shoot gorgeous 720p HD videos using a one-touch button, so you'll always capture the scene. Playback also is a breeze. Gone are the days of friends and family huddling around a camera's LCD to see the pictures you just snapped. Now, you'll be the hit of the party or any family function when you proudly display your brilliant images and videos on any high-definition television (HDTV). Simply connect the camera to an HDTV with an HDMI™ cable, which can be purchased separately at any consumer electronics store. With HDMI Control, you can use your HDTV's remote to control playback functions and navigate the camera's menus from the comfort of your favorite couch.

AF Tracking for Domestic and Wild Life

Whether you've got a surfer or skier in your sites, AF Tracking technology locks your subject in focus. It continuously adjusts focus and brightness whether you or your subject is moving, and is perfect for unpredictable situations such as photographing young children. Additionally, the new "Pet Mode" was specifically designed for animal lovers.

Express Your Inner Artist with Magic Filter

In-camera creative features debuted on Olympus E-System cameras last year. Similar technology, called Magic Filter, has been developed for the new Stylus Tough cameras. The Magic Filter enables the user to enhance and customize images as they're being captured. This translates into more fun and flexibility as customization is no longer limited to using expensive and time-consuming computer software.

The new Magic Filter includes:

• Pop Art – Enhance and saturate colors to create vivid, high-impact pictures that express the joyful, lighthearted feeling of the Pop Art style of the 1960s;

• Pin Hole – Reduce the peripheral brightness of an image as though it were shot through a pin hole, connecting the viewer intimately with the subject at the center;

• Fish-Eye – Emulate the wide angle of a fish-eye lens by taking extremely wide, hemispherical images and magnifying the center of the frame; and

• Drawing – Turn your image into a sketch outline for children to color.

Nothing Can Shock These Tough Cameras

The STYLUS TOUGH-8010 can withstand a 6.6-foot drop and the STYLUS TOUGH-6020 can survive a 5-foot drop thanks to the Stylus Tough series' shock-absorbing technology, which minimizes the impact on the lens and circuitry. The STYLUS TOUGH-8010 can also withstand 220 pounds of crushing pressure. Throw it into your bag and go; don't worry about it being handled badly during the trip.

Point-Dunk-and-Shoot Cameras

Stylus Tough cameras perform as well under water as they do on land because their lightweight, stainless steel and aluminum exteriors are matched with interior rubber gaskets and O-rings to seal out the elements. The STYLUS TOUGH-8010 can dive to 33 feet under water, while the STYLUS TOUGH-6020 can be submerged to 16 feet under water. The inclusion of four preset underwater scene modes make these cameras perfect for taking photos while scuba diving, snorkeling or simply having worry-free fun in the pool. They can also capture HD movies with audio even under water – perfect for schools of fish or kids jumping into the water. The cameras feature a water-repellent lens coating to prevent water droplets from forming on the lens, enabling you to get crystal-clear shots no matter how wet the shooting environment.

14 Megapixels at 14 Degrees Fahrenheit

Whether you're cruising the Alaskan ice highway in a snowmobile or building a snowman in your backyard, both new Stylus Tough cameras can still perform when the temperature dips well below freezing (14 degrees Fahrenheit; -10 degrees Celsius) and offer a 14-megapixel image sensor to enable consumers to achieve consistently sharp and vivid images when producing large-format prints or cropping/enlarging a portion of an image. Stylus Tough cameras continue to enable you to capture great high-resolution images in freezing situations where most traditional cameras would fail.

Wide-Angle Optical Zoom Captures It All

Both new Stylus Tough cameras feature a 5x wide-angle optical zoom (28-140mm equivalent in 35mm photography) so that even more of the subject makes it into each shot – perfect for underwater photography or capturing the group around the ski lodge's fireplace. The lens does not protrude from either of the camera's bodies, protecting them from harsh conditions.

Fight the Blur with Dual Image Stabilization

Dual Image Stabilization combines two technologies – mechanical Sensor-Shift Image Stabilization and Digital Image Stabilization – to provide one powerful anti-blur solution for capturing great images whether the photographer or the subject is moving. Olympus' mechanical Sensor-Shift Image Stabilization keeps images sharp by adjusting the internal image sensor to compensate for camera movement, even in low-light conditions when shutter speeds are slower. Additionally, Digital Image Stabilization captures the action with high ISO sensitivity and fast shutter speeds that prevent blurry images often caused by a moving subject.

Hit Them with Your Best Shot: Tap Control

The Stylus Tough series cameras can be controlled with a simple tap on their top, back or sides, which is made possible thanks to their internal 3D accelerometer that detects the direction of the force on the camera's body. In adverse climates Tap Control ensures fast adjustment of settings even if you are wearing gloves that make pressing traditional buttons nearly impossible.

Can't Hide with Face Detection!

Portrait and group shots make family reunions live beyond the short event, and with Face Detection you'll capture even the shyest relatives. The STYLUS TOUGH-8010 and STYLUS TOUGH-6020 both detect up to 12 faces within the frame and automatically focus and optimize exposure to capture sharp, brilliant portraits and group shots. Thanks to the unrivaled durability of the Stylus Tough series cameras, you'll capture amazing photos even if your next family reunion is at a national park, a water park or a ski slope!

Tough Cameras, Not Tough to Use

Skating at night? You won't be the last one on the ice thanks to Intelligent Auto Mode. It automatically identifies what you are shooting (i.e., Portrait, Night + Portrait, Landscape, Macro and Sports) and adjusts the camera's settings to capture the best quality results. First-time users can jump into this quick and hassle-free feature that does the thinking for them and produces incredible images.

Broaden Your Horizons with In-Camera Panorama

You take your Stylus Tough camera to places where you want to capture as much of the scene as you can. In-Camera Panorama mode makes it easy by capturing three images and stitching them together to create one amazing panoramic picture. Simply press the shutter button and slowly pan across a panoramic scene. The second and third images will be captured automatically and stitched together with the first image – resulting in one seamless panorama-size picture. To create the ultimate panoramic picture, consumers can use the OLYMPUS [ib] software to stitch up to 10 images together. Great panaroma proof that you conquered the mountain summit.

Advanced HyperCrystalTM III LCD

HyperCrystal III displays twice as bright as previous LCDs so that you can see the details more clearly, even in direct sunlight. The technology is offered in a 2.7-inch LCD on both the STYLUS TOUGH-8010 and STYLUS TOUGH-6020.

LED Illuminator

An LED Illuminator on the Stylus Tough cameras works like a mini-flashlight on the front of the camera to enhance focus and exposure for macro shooting – great for underwater close-ups where light is scarce. The LED illuminator also works in conjunction with Bright Capture to help illuminate your subject when taking low-light portraits.

TruePic™ III Image Processor

Olympus developed its exclusive TruePic III image processor for the demanding performance of digital SLR (single lens reflex) cameras. Olympus' enhanced TruePic III Image Processor produces crystal-clear photos using all the pixel information for each image to deliver superior picture quality with more accurate colors, true-to-life flesh tones and faster processing speeds. TruePic III also captures crisp, clear images at high ISO settings, which are traditionally associated with increasing image noise or producing grainy photos.

Smart Charging for Active Lifestyles

The two new cameras offer internal USB charging for extreme portability and durability. Using the camera's USB cord, the camera plugs directly into a computer's USB port to charge the battery. It minimizes the need to open the battery compartment door, and helps ensure the watertight gaskets maintain your camera's durability. An optional AV adapter is also available.

OLYMPUS [ib] Software and In-Camera Manual

All Spring 2010 digital compact cameras, including the Stylus Tough series, will offer the new OLYMPUS [ib] integrated photo browsing and organizing software. The new software includes photography workflow, browsing, editing and unique photo organizing functions.

You can organize your photos by person with automatic face recognition technology, by place with a GPS base mapping function or by event; all information will be tagged in each photo's data. You can easily view photos on an HDTV or on the camera's LCD with the Photo Surfing or Slideshow functions. The name [ib] stands for image bridging, image browsing and image brightening. The new software will be available for Windows operating systems only.

The STYLUS TOUGH-8010 and STYLUS TOUGH-6020 will come equipped with the instruction manual saved on the camera's new internal memory. This translates into easily referencing instructions while shooting on the go. The internal memory also enables in-camera image playback in an organized fashion. Eliminating a paper or CD-Rom instruction manual is part of Olympus' ongoing environmental commitment to conserve natural resources and reduce its carbon footprint.

SD Compatibility

Olympus' new Spring 2010 digital compact cameras offer SD capability for up to 32 gigabytes of capacity.

Underwater Housing for Extreme Dive Adventures

When the action moves from snorkeling to diving, take your Olympus digital camera with you. The PT-048 underwater case has been specially customized for the STYLUS TOUGH-8010 and STYLUS TOUGH-6020 cameras and is waterproof down to a depth of 40 meters (approximately 130 feet). This case is perfect for capturing fascinating underwater photography. Our housings provide complete control of photo functions, such as zoom and flash modes.

Availability

The STYLUS TOUGH-8010 and STYLUS TOUGH-6020 will be available in February 2010. They include: wrist strap, camera WIN/Mac USB cable, audio/video cable, Li-Ion rechargeable battery, manual, warranty card and OLYMPUS [ib] software on the camera.

U.S. Pricing

STYLUS TOUGH-8010 Estimated Street Price: $399.99 (U.S.)

STYLUS TOUGH-6020 Estimated Street Price: $299.99 (U.S.)