Olympus Stylus TG-Tracker Action Cam Crams 4K, Sensors Inside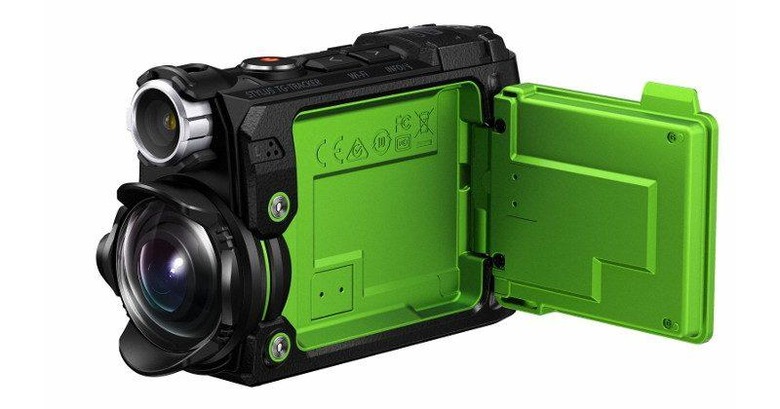 The day has come and Olympus has indeed unleashed a new Tough "TG" action camera, barely six months after it announced the TG-870 back in January. The new Olympus Stylus TG-Tracker, however, is quite different from the brood, aside from not having a number in its name. For one, it boasts of the ability capture 4K video and has as much as seven, yes seven, sensors. But perhaps most unique of all, the TG-Tracker eschews the usual horizontal or square designs of most action cams and embraces a vertical form more reminiscent of handy cams.
For one reason or another, many action cameras, including Olympus' previous models, have adopted the more conventional horizontal bodies of digital cameras. Others, especially those meant to be mounted like the GoPro, have opted for an even more compact but square case. The handy cam form factor, however, does have its benefits, like being able to more easily grip the whole body in one hand, with balance spread through the whole length of that body. Like a handycam, the 1.5-inch 115k-dot LCD monitor flips open side ways and can be tilted to get just the right angles. As there is no other viewfinder, this is the only way you'll be able to frame your shots.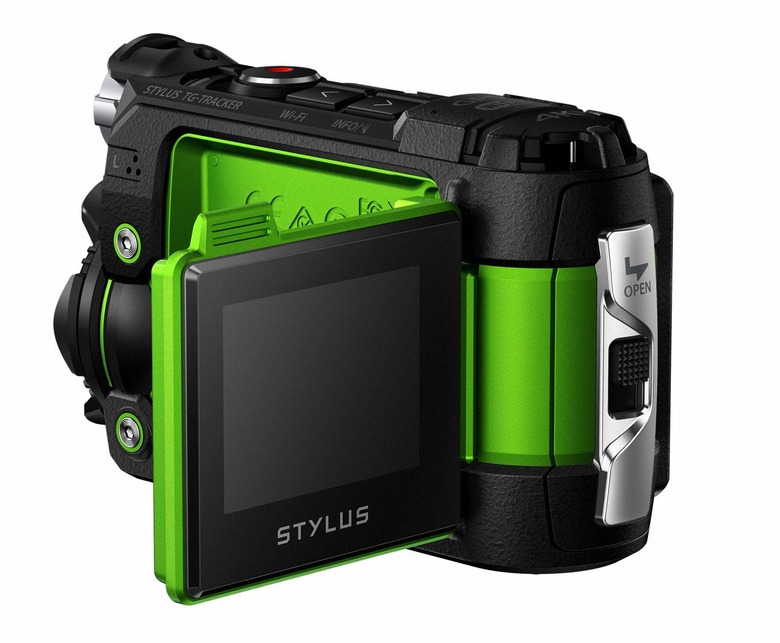 The other thing that sets the TG-Tracker apart is its ability to record 4K videos, though only at 30p rates. If you want 60 fps, you'll have to settle for 480p, 720p, or 1080p resolutions. The camera comes with an 8 megapixel 1/2.3-inch CMOS sensor, utilizing Olympus' Truepic VII image processor to produce 4K results. The lens is a rather formidable 7-group, 7-element construction with an f/2.0 aperture. It has a wide angle of 204-degrees in normal operation and has a distance of as close as 7.8 inches or 0.2 meters.
Olympus' latest action cam is also laden with sensors. There are your usual culprits of GPS, compass, and accelerometer. But Olympus also throws in a barometer, a depth sensor (manometer), and, to emphasize the camera's ruggedness, a water sensor and an underwater thermometer. The camera, without any form of housing, is waterproof up to 30 m, shockproof up to 2.1 m, freezeproof up to -10°C, and crushproof up to 100 kg of force. Sadly, while it might survive rough handling, the image quality might not. It has no OIS but does have a 5-axis digital, not optical, image stabilizer.
Unsurprisingly, the camera doesn't have memory of its own and will require a microSD, not the usual full-sized SD, card for that purpose. There is also built-in Wi-Fi for making wireless file transfers. In addition to regular video recording, the TG-Tracker is also capable of doing timelapse videos. No mention of any slow-mo capability, however. The Olympus Stylus TG-Tracker will come in two color option of black or green. The package comes with "steady grip" to make it even easier to keep the camera still as well as lens protectors both for above and below water. Prices start at $349.99 in the US and $479.99 in Canada.