Olympus Stylus-7010, FE-5020, FE-4000 and FE-46 12MP digicams announced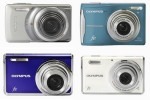 Olympus have announced four new digital cameras, each packing 12-megapixels.  The Olympus Stylus-7010 squeezes a 7x optical wide-angle zoom into a casing around an inch thick, and includes both optical and digital image stabilization.  Meanwhile the Olympus FE series – the FE-5020, FE-4000 and FE-46 – have a range of in-camera "Magic Filters" such as "Pop Art" and "Pin Hole" together with AF Tracking.
The Stylus-7010 Has a 2.7-inch preview LCD display, TruePic III Image Processor and AF Tracking, with a special "pet mode" for taking shots of animals.  There's also "Magic Filters" and an intelligent auto mode that flips the camera between portrait, landscape, "night + portrait", macro and sports settings depending on situation.   Meanwhile a "beauty mode" recreates the Vaseline-on-the-lens look of a romantic afternoon cable TV movie.
As for the Stylus FE-5020, FE-4000 and FE-46, they're mass-market digicams with wide-angle zoom lenses on the 5020 (5x) and 4000 (4x) and intelligent auto settings across the range.  There's also shadow adjustment technology, which promises detail in both light and dark areas of the shot, and in-camera red-eye and lighting fixes, resizing and cropping.  Either microSD or xD-Picture Card memory can be used.
The Olympus Stylus-7010 will go on sale in August, with an MRSP of $199.99.  The Olympus FE-5020 has an MRSP of $159.99, the FE-4000 of $149.99 and the FE-46 of $99.99; they will be available in September.
Press Release:
New Super-Thin Olympus Stylus-7010 Packs A Powerful 7X Wide-Angle Zoom Lens

12 Megapixels, Dual Image Stabilization, Auto-Focus Tracking and In-Camera Magic Filters Offer Unparalleled Creative Expression in a Point-and-Shoot Camera

CENTER VALLEY, Pa., July 22, 2009 – Today Olympus is proud to announce the tantalizingly stylish STYLUS-7010 that is thin in body but bursting with features. An extremely slim body houses an amazing wide-angle 7x optical zoom, making this camera one of the most powerful Stylus cameras ever. Sitting in the upper levels at your favorite concert? Your friends will never know the truth when they see the images you shot with the STYLUS-7010!

Style meets substance with 12 megapixels for detailed images, Dual Image Stabilization to reduce blur, AF Tracking to keep subjects sharp when in motion, Intelligent Auto to make all the decisions for you, In-Camera Panorama to create a super-wide composition, and the creative freedom of in-camera Magic Filters that turn a basic shot into something worthy of hanging on the wall.

The STYLUS-7010 is available in dark gray, silver and pink. The new camera offers a unique set of features, including the following:

Its ultra-compact 7x optical wide-angle zoom (28mm-196mm equivalent in 35mm photography) retracts to less than one inch thick to keep the STYLUS-7010 thin;

A big and bright 2.7-inch HyperCrystal II LCD screen makes it easy to view images even in bright sunlight;

The TruePic™ III Image Processor produces crystal clear photos using all the pixel information for each image to deliver superior picture quality with more accurate colors, true-to-life flesh tones and faster processing speeds; and

A 12-Megapixel image sensor enables consumers to achieve consistently sharp and vivid images when producing large-format prints or enlarging a portion of an image.

Dual Image Stabilization

The STYLUS-7010 combines two technologies – mechanical Sensor-Shift Image Stabilization and Digital Image Stabilization – to provide one powerful anti-blur solution for capturing great images whether the photographer or the subject is moving. Olympus' mechanical Sensor-Shift Image Stabilization keeps images sharp by adjusting the image sensor to compensate for camera movement, which often occurs in low-light conditions when shutter speeds are slower. Digital Image Stabilization freezes the action with high ISO sensitivity and fast shutter speeds that prevent blurry images often caused by a moving subject.

Always Stay Focused

The new AF Tracking technology locks your subject in focus, and continuously adjusts focus and brightness whether you or your subject are moving. This mode can remember the subject if it moves out of the frame. This enables you to keep fast-moving and unpredictable subjects like small children in focus for the perfect shot. There's even a specially designed AF Tracking "Pet Mode" for animal lovers.

Express Your Inner Artist with Magic Filters

In-camera Creative Features recently debuted on Olympus E-System DSLR (digital single lens reflex) cameras. Similar in-camera Magic Filters have been developed for the new STYLUS-7010. The new Magic Filters enable the user to enhance and customize images as they're being captured. This translates into more fun and flexibility as customization is no longer limited to using expensive and time-consuming computer software. The new Magic Filters include:

Pop Art – Enhance and saturate colors to create vivid, high-impact pictures that express the joyful, lighthearted feeling of the Pop Art style of the 1960s;

Pin Hole – Reduce the peripheral brightness of an image as though it were shot through a pin hole, connecting the viewer intimately with the subject at the center; and

Fish-Eye – Emulate the wide-angle of a fish-eye lens by taking extremely wide, hemispherical images and magnifying the center of the frame.

Capture More of the Photo You Want

Shooting in small spaces where you're unable to back away from your subject has always been a challenge. Now, thanks to the camera's new wide-angle zoom lens, it's easy to capture everything and everyone – including group shots at weddings, family reunions and dinner parties. The new wide-angle lens almost seems to defy the laws of physics as it fits into the STYLUS-7010's slim, ultra-compact body. Of course, you'll love how it easily fits into a pocket or evening clutch.

Intelligent Auto Mode

Tired of changing the settings on your camera every time you're shooting something different? The new camera's Intelligent Auto Mode automatically identifies what you are shooting (Portrait, Landscape, Night + Portrait, Macro, Sports) and adjusts settings to capture the best quality results depending on the situation. First-time users will enjoy this quick and hassle-free feature, which does the thinking for them and produces incredible images like a pro.

In Sunshine or Shadows, Never Miss a Detail

Shooting outdoors in bright daylight can be tricky because of the extreme contrast between dark shadowed areas and bright sunlight areas. While the human eye is capable of detecting the nuances between dark and light and all the details in between, image sensors traditionally have not been quite as sensitive. The STYLUS-7010 addresses this challenge head-on with Shadow Adjustment Technology, which compensates for extreme contrast where the shadow areas are underexposed and lack visible detail. With the new technology, users can preview and capture images that have the same contrast as seen with the naked eye.

In-Camera Panorama

In-Camera Panorama mode captures three images and stitches them together to create one amazing panoramic picture. Simply press the shutter button and slowly pan across a panoramic scene. The second and third images will be captured automatically and stitched together with the first image – resulting in one seamless panorama. To create the ultimate panoramic picture, consumers can use the Olympus Master™ Software 2 to stitch together up to 10 images.

Olympus Recommended Button

The new "OR" button makes it easy to activate the camera's unique features, including Magic Filters, In-Camera Panorama, Shadow Adjustment or Perfect Shot Preview. Simply press the new OR button to easily access these commonly used features.

Beauty Mode

Taking beautiful portraits is easy with the STYLUS-7010's Beauty Mode. It enables you to soften shadows and smooth wrinkles or blemishes on your subject's face – all in the camera and before capture! Additionally, subtle edits can be made post-capture using the Beauty Fix mode. Choose "Clear Skin" to smooth a person's complexion, "Dramatic Eye" to slightly emphasize the eyes, and "Sparkle Eye" to brighten and enhance the contrast of the iris and pupils. You can also apply all three edits at once. Have fun customizing your brilliant images without a PC and costly image editing software.

Perfect Shot Preview

The new camera features Perfect Shot Preview, which enables users to preview and select various photographic effects on a live, multi-window screen before snapping the shot. Seeing the results before capturing the image ensures users are getting the shots they want. It is an ideal way for novice users to learn about the effects of different photography techniques, such as zoom, exposure compensation, white balance and metering.

OLYMPUS Master 2 Software

Use the included OLYMPUS Master™ 2 software (Mac and PC) to easily download images from the camera or other external device, such as a USB drive, and automatically organize them into albums, edit and print. Update camera and lens firmware through the software and download additional menu languages. A direct link makes uploading your images and videos to YouTube™ easier than ever.

Availability

The STYLUS-7010 will be available in August 2009. It will also include: a wrist strap, camera WIN/Mac USB cable, audio/video cable, Li-Ion rechargeable battery and charger, MASD-1 (microSD Adapter), CD-ROM manual, warranty card and OLYMPUS Master 2 software (CD-ROM).

U.S. Pricing

Stylus-7010 Estimated Street Price: $199.99
Press Release:
Premium Looks Without Premium Prices: New Olympus FE Series Cameras Pack More Features Into Super-Slim Bodies

12 Megapixels, Wide-Angle Zoom Lenses, Auto-Focus Tracking and Creative Magic Filters Inside Stylish Compact Cameras

CENTER VALLEY, Pa., July 22, 2009 – Whether you're enjoying a wedding or a fun weekend afternoon, the new Olympus FE series (FE-5020, FE-4000 and FE-46) digital compact cameras will consistently capture extraordinary, in-focus pictures of your family and friends. Inside their new premium crystal shell finish, the three stylish FE series cameras pack 12 megapixels, creative in-camera Magic Filters like Pop Art and Pin Hole that make your images stand out, and new AF Tracking that keeps kids, pets, tossed wedding bouquets and other fast-moving objects in focus. The FE-5020 and FE-4000 also have wide-angle zoom lenses inside their new super-slim bodies, so you'll be able to capture even more friends in one memorable image.

"Life's great moments happen in an instant, so these new FE cameras ensure that you won't miss a shot thanks to AF Tracking," said Jennifer Schmell, product manager, Olympus Imaging America Inc. "Intelligent Auto takes the guesswork out of photography by automatically choosing the right mode for your subject, and Perfect Fix In-Camera Editing will enable you to crop and adjust your photos on the fly."

Always Stay Focused

The new AF Tracking technology locks your subject in focus, and continuously adjusts focus and brightness whether you or your subject are moving. This mode can remember the subject if it moves out of the frame. This enables you to keep fast-moving and unpredictable subjects like small children in focus for the perfect shot. There's even a specially designed AF Tracking "Pet Mode" for animal lovers.

Express Your Inner Artist with Magic Filters

In-camera Creative Features recently debuted on Olympus E-System DSLR (digital single lens reflex) cameras. Similar in-camera Magic Filters have been developed for the new FE cameras. The new Magic Filters enable the user to enhance and customize images as they're being captured. This translates into more fun and flexibility as customization is no longer limited to using expensive and time-consuming computer software. The new Magic Filters include:

Pop Art – Enhance and saturate colors to create vivid, high-impact pictures that express the joyful, lighthearted feeling of the Pop Art style of the 1960s;

Pin Hole – Reduce the peripheral brightness of an image as though it were shot through a pin hole, connecting the viewer intimately with the subject at the center;

Fish-Eye – Available on the FE-5020, this filter emulates the wide-angle of a fish-eye lens by taking extremely wide, hemispherical images and magnifying the center of the frame; and

Wedding – The FE-4000 and FE-46 also offer this in-camera filter, which encloses the foreground of an image in gentle, pastel colors with a soft, elegant focus; similar to effects achieved in a studio.

Capture More of the Photo You Want

Shooting in small spaces where you're unable to back away from your subject has always been a challenge. Now, thanks to the cameras' new wide-angle zoom lenses, it's easy to capture everything and everyone – including group shots at weddings, family reunions and dinner parties. The FE-4000 versatile lens starts extremely wide and goes to 4x (26mm – 105mm equivalent in 35mm photography), and the FE-5020 provides an impressive wide-angle 5x zoom lens (24mm – 120mm equivalent). The new lenses almost seem to defy the laws of physics as they fit into the slim, ultra-compact bodies of the new FE cameras. Of course, you'll love how they easily fit into a pocket or evening clutch.

Take Pictures In Style

The three new FE cameras are as high-fashion as they are easy to use. Their sleek new double-layered crystal shell utilizes silk printing and a pearlized mirror finish to give the camera an elegant, transparent feel. Get this great look with any color body that you choose, including:

FE-5020 in Wine Red, Dark Gray and Royal Blue;

FE-4000 in Dark Gray, Pearl White and Magenta; and

FE-46 in Light Blue, Light Pink, Pearl Black and Pearl White.

Intelligent Auto Thinks For You

Tired of changing the settings on your camera every time you're shooting something different? The new cameras' Intelligent Auto Mode automatically identifies what you are shooting (Portrait, Landscape, Night + Portrait, Macro, Sports) and adjusts settings to capture the best quality results depending on the situation. First-time users will enjoy this quick and hassle-free feature, which does the thinking for them and produces incredible images like a pro.

In Sunshine or Shadows, Never Miss a Detail

Photographers know that shooting scenes with both highlights and shadows can be tricky because of the extreme contrast between dark and bright areas. When using Intelligent Auto on any of the three new FE cameras, Shadow Adjustment Technology is automatically activated to address this challenge. It adjusts for extreme light variations and maintains visible detail in both the shadow and highlight areas of the scene.

Always Find a Face in the Crowd

The new camera's Advanced Face Detection reduces the chance of blurred subjects in photography by distinguishing between people's faces and the background. It tracks up to 16 faces within the image area, even if people are moving, and automatically focuses and optimizes exposure for sharp, brilliant portrait pictures (ideal for large family or group photos).

Perfect Fix In-Camera Editing

All three new FE cameras offer Red-Eye Fix, Lighting Fix, Resizing and Cropping so photographers can edit images right in the camera without the need for any editing software.

Versatile Memory

The new FE cameras offer the flexibility to use either xD-Picture Card or microSD memory cards, which is just one more advantage of Olympus point-and-shoot cameras.

Easy Operation and Help Guides

The new FE cameras feature enhanced In-Camera Help Guides that make digital photography simple and fun for users of all ages and skill levels. In addition to the Help Guide that displays a brief description of camera settings and features on the LCD, all three cameras allow consumers to easily adjust ISO and white balance settings using the Program Auto mode. Additionally, Exposure Compensation enables users to preview and select various exposure effects on a live, multi-frame window on the LCD before snapping the shot. This smart feature allows users to see precisely what the image will look like when adjustments are made, ensuring they are capturing the exact image desired. Program Auto and Exposure Compensation are great modes that enable novice users to get results like the pros while learning about the effects of different photography techniques. Menus are available in 39 languages for convenient operation.

TruePic™ III Image Processor

The FE-5020 features Olympus' exclusive TruePic III Image Processor, which was developed for the demanding performance of professional Digital SLR (single lens reflex) cameras. Olympus' enhanced TruePic III Image Processor produces crystal-clear photos using all the pixel information for each image to deliver superior picture quality with more accurate colors, true-to-life flesh tones and faster processing speeds. TruePic III also captures crisp, clear images at high ISO settings.

OLYMPUS Master 2 Software

Use the included OLYMPUS Master™ 2 software (Mac and PC) to easily download images from the camera or other external device, such as a USB drive, and automatically organize them into albums, edit and print. Update camera and lens firmware through the software and download additional menu languages. A direct link makes uploading your images and videos to YouTube™ easier than ever.

Availability

All three new FE cameras will be available in September 2009. The FE-5020 and FE-4000 cameras include an LI-42B Rechargeable Battery and Charger, and the FE-46 includes two AA alkaline batteries. All three cameras also include a USB Cable, Audio/Video Cable, MASD-1 (microSD Adapter), Wrist Strap, Quick-Start Guide, CD-ROM Manual, OLYMPUS Master 2 Software and Warranty Card.

U.S. Pricing

FE-5020 Estimated Street Price: $159.99 (U.S.)

FE-4000 Estimated Street Price: $149.99 (U.S.)

FE-46 Estimated Street Price: $99.99 (U.S.)