Olympus SP-800UZ and SP-600UZ super-zooms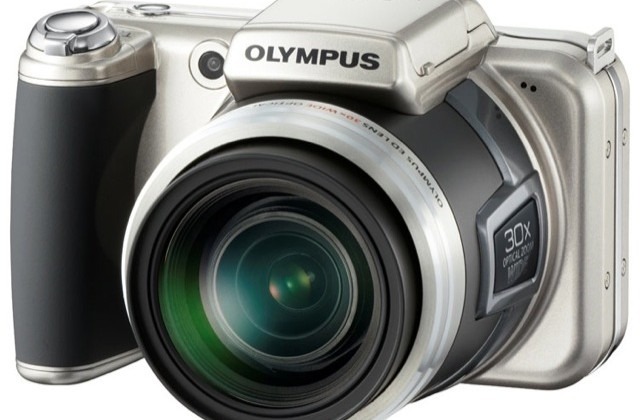 Olympus have announced a pair of new super-zoom cameras, and if Fujifilm's FinePix HS10 thought it would have the 30x optical zoom market to itself, it should think again.  The Olympus SP-800UZ packs a 14-megapixel sensor and a 30x optical zoom, but still manages to be the "world's smallest" such snapper; meanwhile the SP-600UZ slots in underneath it, offering a more budget-friendly 12-megapixel sensor and 15x optical zoom.
The SP-800UZ has a 3-inch LCD preview display and Li-Ion battery, while the SP-600UZ has a smaller 2.7-inch display and uses AA batteries.  Both can record 720p HD video – and have HDMI connectivity for hooking up an HDTV – and have various onboard filters to tweak and mangle your shots.
There's also a shadow adjustment mode, which claims to cut out underexposed parts of photos in bright scenes, and dual image stabilization.  Both models will drop in February 2010, priced at $249.99 for the SP-600UZ and $349.99 for the SP-800UZ.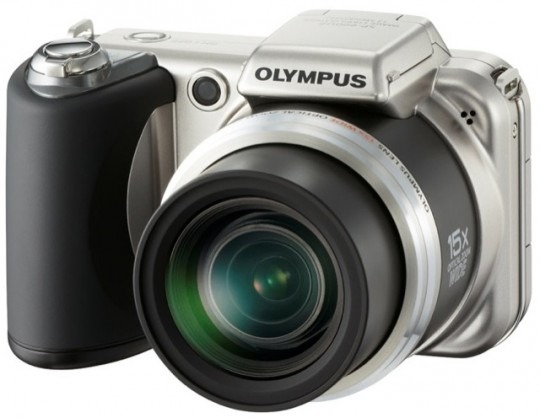 Press Release:
EXTREME POWER IN A PORTABLE PACKAGE: OLYMPUS SP SERIES ULTRA-ZOOM CAMERAS DELIVER UP TO 30X WIDE ANGLE OPTICAL ZOOM

Slim SP-800UZ and SP-600UZ Combine Power, Design, Creativity, Performance and Now High-Definition Video

CENTER VALLEY, Pa., February 2, 2010 – Olympus today unveils two full-featured SP ultra-zooms cameras – the SP-800UZ, the world's smallest 30x wide-angle optical-zoom, and the 15x SP-600UZ – that are easy-to-use and sure to get you closer to the action, whether you're capturing still images or High-Definition (HD) video.

Travelers want powerful zooms without the bulk. The sleek, titanium-colored SP-800UZ and SP-600UZ are as small as they come, packed with a variety of new features that deliver a superior imaging experience far and wide: HD Movie and HDMI control, in-camera panorama and Magic Filter to expand creativity, as well as AF tracking to keep subjects in focus automatically.

"The new SP-800UZ and SP-600UZ cameras offer the power that has made Olympus Ultra Zooms famous, along with fully automatic controls ideal for first-time users and in-camera creative filters for artistic control," said Nadine Clark, product manager, Olympus Imaging America Inc. "The new, slimmer bodies are another example of how Olympus leads the industry at packing power, performance and creativity into small, stylish, easy-to-use packages."

More Zoom in a Smaller Stylish Package

The SP-800UZ is the world's smallest camera featuring a 30x wide-angle optical-zoom lens and the SP-600UZ packs a 15x wide-angle optical-zoom lens into an even slimmer premium body. With f2.8 (W) / f5.6 (T) wide-angle lenses providing the equivalent of 28-840mm focal length on the SP-800UZ and 28-420mm on the SP-600UZ, users can get closer to the action with a more compact super telephoto-zoom 28mm wide-angle lens that captures even more in each frame. The wide-angle lens makes it easy to take a picture of the entire stadium, while the powerful zoom lets you focus on your favorite player. Whether capturing fast-action, life's everyday snapshots or HD videos, the SP cameras provide the versatility to get the job done like never before.

HD Videos and HDMI Control for a Home Theater Experience

Both the SP-800UZ and SP-600UZ shoot gorgeous 720p HD videos, so you'll always capture the moments you cherish in clear, crisp high definition. The SP-800UZ even captures your memories in the 16:9 wide recording format ideal for playback on your high-definition television (HDTV) or laptop. And with new HDMI Control, playback is also a breeze. Gone are the days of friends and family huddling around your camera's LCD to see the pictures and movies you just captured. Now, you'll be the hit of the party or any family function when you proudly display your brilliant images and videos on high-definition televisions. Simply connect the camera to an HDTV with an HDMI™ cable, which can be purchased separately at any consumer electronics store. With HDMI Control, you can use your HDTV's remote to control playback functions and navigate the camera's menus from the comfort of your couch.

Lock Onto the Action with AF Tracking

AF Tracking technology locks in-focus your fast-moving subject – everything from house cats to Siberian tigers – and continuously adjusts focus and brightness. This enables you to keep fast-moving and unpredictable subjects like small children in focus for the perfect shot. There's even a specially designed "Pet Mode" for animal lovers.

Express Your Inner Artist with Magic Filter

In-camera Art Filters debuted on Olympus E-System cameras last year. A similar feature, entitled Magic Filter, has been developed for the new SP cameras. Magic Filter enables the user to enhance and customize images as they're being captured. This translates into more fun and flexibility as customization is no longer limited to using expensive and time-consuming computer software.

The new Magic Filter includes:

• Pop Art – Enhance and saturate colors to create vivid, high-impact pictures that express the joyful, lighthearted feeling of the Pop Art style of the 1960s;

• Pin Hole – Reduce the peripheral brightness of an image as though it were shot through a pin hole, connecting the viewer intimately with the subject at the center;

• Fish-Eye – Emulate the wide-angle of a fish-eye lens by taking extremely wide, hemispherical images and magnifying the center of the frame; and

• Drawing – Turn your image into a sketch outline for children to color.

Beauty Mode Makes Everyone Look Great

Taking beautiful portraits is easy with the Beauty Mode. It enables you to soften shadows and smooth wrinkles or blemishes on your subject's face – all in the camera and before capture! Additionally, subtle edits can be made post-capture using the Beauty Fix mode. Choose "Clear Skin" to smooth a person's complexion, "Dramatic Eye" to slightly emphasize the eyes and "Sparkle Eye" to brighten and enhance the contrast of the iris and pupils. You also can apply all three edits at once. Have fun customizing your brilliant images without a PC and costly image-editing software.

Shadow Adjustment Technology Captures Bright Right

Shooting outdoors in bright daylight can be tricky because of the extreme contrast between dark shadowed areas and bright sunlight areas. While the human eye is capable of detecting the nuances between dark and light and all the details in between, image sensors traditionally have not been quite as sensitive. The SP-800UZ and SP-600UZ address this challenge head-on with a new Shadow Adjustment Technology, which compensates for extreme contrast where the shadow areas are underexposed and lack visible detail. With the new technology, users can preview and capture images that have the same contrast as seen with the naked eye.

TruePic™ III Image Processor Delivers Superior Quality and Performance

Whether you are globetrotting or attending a family birthday party, the SP-800UZ offers a 14-megapixel image sensor, and the SP-600UZ offers a 12-megapixel image sensor enabling consumers to achieve consistently sharp and vivid images when producing large-format prints or cropping/enlarging a portion of an image. Olympus developed its exclusive TruePic III image processor for the demanding performance of digital SLR (single lens reflex) cameras and has migrated the technology to the SP cameras for amazing image quality. Olympus' enhanced TruePic III Image Processor produces crystal clear photos using all the pixel information for each image to deliver superior picture quality with more accurate colors, true-to-life flesh tones and faster processing speeds. TruePic III also captures crisp, clear images at high ISO settings, which are traditionally associated with increasing image noise or producing grainy photos.

Cut Out the Blur with Dual Image Stabilization

Dual Image Stabilization combines two technologies – mechanical Sensor-Shift Image Stabilization and Digital Image Stabilization – to provide one powerful anti-blur solution for capturing great images whether the photographer or the subject is moving. Olympus' mechanical Sensor-Shift Image Stabilization keeps images sharp by adjusting the internal image sensor to compensate for camera movement, even in low-light conditions when shutter speeds are slower. Additionally, Digital Image Stabilization freezes the action with high ISO sensitivity and fast shutter speeds that prevent blurry images often caused by a moving subject.

Easier Group Shots with Face Detection!

Wedding, birthday and family reunion group shots have never been easier with Face Detection. SP cameras detect up to 16 faces within the frame and automatically focus and optimize exposure to capture sharp, brilliant portraits and group shots.

Intelligent Auto Thinks for You

Taking a moonlit stroll on the beach? With the Intelligent Auto Mode in the SP cameras your camera knows and it automatically identifies what you are shooting (i.e., Portrait, Night + Portrait, Landscape, Macro and Sports) and adjusts the camera's settings to capture the best quality results. First-time users can jump into this quick and hassle-free feature that does the thinking for them and produces incredible images.

Broaden Your Horizons with In-Camera Panorama

The places you can take SP cameras – national parks, weddings, sporting events or city streets – are locations where you want to capture as much of the scene as you can. In-Camera Panorama mode makes it possible by capturing three images and stitching them together to create one amazing panoramic picture. Simply press the shutter button and slowly pan across a panoramic scene. The second and third images will be captured automatically and stitched together with the first image – resulting in one seamless panorama-size picture. To create the ultimate panoramic picture, consumers can use the Olympus [ib] Software to stitch up to 10 images together.

Large High-Resolution LCD

The SP-800UZ boasts a bright 3-inch advanced high-resolution LCD monitor ideal for viewing and composing all your favorite images and HD videos in vivid color even in bright sunlight. The SP-600UZ features a 2.7-inch LCD.

OLYMPUS [ib] Software, Photo Surfing and Eco Friendly In-Camera Manual

All Spring 2010 digital compact cameras, including the SP series, will offer the new OLYMPUS [ib] integrated photo browsing and organizing software. The new software includes photography workflow, browsing, editing and unique photo organizing functions. You can organize your photos by person with automatic face recognition technology, by place with a GPS base mapping function or by event; all information will be tagged in each photo's data. You can easily view photos on an HDTV or on the camera's LCD with the Photo Surfing or Slideshow functions. The name [ib] stands for imaging bridging, imaging browsing and image brightening. The new software will be available for Windows operating systems only.

The new SP cameras will come equipped with the instruction manual saved on the cameras' new internal memory. This translates into easily referencing instructions while shooting on the go. The internal memory also enables in-camera image playback in an organized fashion.

SD Compatibility

Olympus' new Spring 2010 digital compact cameras offer SD compatibility for up to 32 gigabytes of capacity.

Availability

The SP-800UZ and SP-600UZ will be available in March 2010. The SP-800UZ includes a Li-Ion rechargeable battery and charger, and the SP-600UZ includes two AA alkaline batteries. Both cameras also include neck strap, camera WIN/Mac USB cable, audio/video cable, warranty card and OLYMPUS [ib] software saved on the camera's internal memory.

U.S. Pricing

SP-800UZ Estimated Street Price: $349.99 (U.S.)

SP-600UZ Estimated Street Price: $249.99 (U.S.)