Olympus PEN E-PL7 tries to appeal to selfie lovers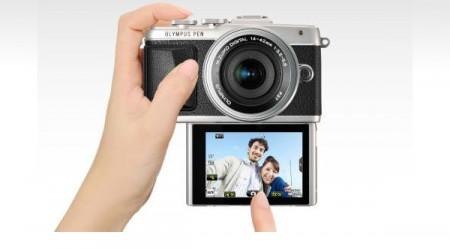 Olympus has finally outed the PEN E-PL7, the latest in its line of PEN digital compacts, slated for a late September launch. This portable and lightweight camera flaunts a host of features that are targeted at the next generation of digital photographers who are just as obsessed about selfies and photographic filters as they are about picture quality.
The rise of smartphones and their cameras have given birth to a new breed of photographers and have given camera makers reason to worry about their bottom lines. But while smartphone makers are frantically working to integrate higher and bigger camera sensors into their devices, Olympus is going the opposite route and is integrating smartphone functionality into its cameras, giving would-be buyers incentive to opt for better quality photos and still have access to their most used mobile features.
The PEN E-PL7 features built-in WiFi and Olympus' OI.Share feature that makes short work of transferring shots from the camera to a smartphone or tablet for fast and easy sharing online. It also givers users the ability to control the camera's functions from a distance using just their smartphone. But perhaps the biggest sign that this is a digital camera design for this new generation is the 3.0-inch 1.04M-dot touch panel. Unlike other digital cameras with tilting displays, the PEN E-PL7's screen actually opens downward. Once flipped down to a 180-degree angle, it transforms into a selfie monitor, putting all the essential controls on the touch screen and letting you easily set up the perfect selfie.
Smartphone photographers are all about filters too, as the popularity of Instagram would prove. To similarly appeal to this crowd, Olympus has include its Art Filter effects, which includes two new ones in the roster. "Vintage", as the name suggests, adds an atmosphere of nostalgia to the scene. "Partial Color" lets you choose a single color to retain in a photo while the rest are turned into shades of black and white. There is also one new effect called "Shade Effect", which adds bands of shading at the edges to give an illusion of width. All in all, including the three additions, Olympus boasts of a collection of 14 Art Filters and 8 Effects.
But lest you consider the PEN E-PL7 a smartphone in camera clothing, Olympus has equipped it with photography components that, while not exactly top of the line, offer better results than a smartphone. This digital compact sports a 16.05 megapixel Live MOS (not CMOS) sensor and an in-body 3-axis VCM image stabilization system it inherited from Olympus' OD-M line, specifically the E-M10. It also boasts of a fast, 81-point autofocus, with Small AF Target and Super Spot AF modes. From the PEN E-P5 flagship, it inherited a premium design, including a leather-styled body cover, while maintaining a compact, lightweight, and portable body. And for those who want a bit more quality, the camera is compatible with the Olympus OD-M interchangeable lens line.

The Olympus PEN E-PL7 is schedule to become available next month. The starting price for the camera alone, in either Black or Silver color, is $599.99. When packaged with the M.ZUIKO DIGITAL 14-42 mm f3.5-5.6 II R lens, it costs $699.99.
SOURCE: Olympus