Olympus PEN E-PL2 leaks again with Close Up Spotlight accessory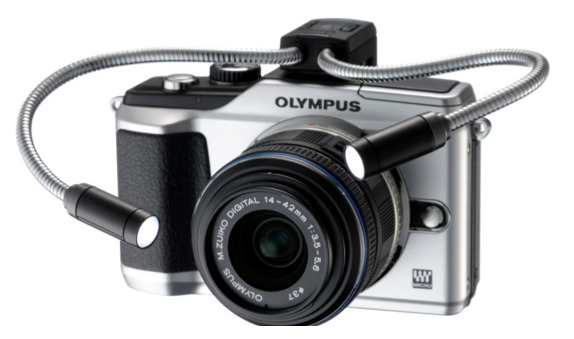 A second shot of the Olympus PEN E-PL2 has leaked ahead of the micro four thirds camera's official debut at CES 2011 next week, and it seems a Bluetooth dongle isn't the only unusual accessory the company has planned. 43Rumors' latest shot shows the E-PL2 with a Close Up Spotlight addition, two independently posable LED lights that attach to the hot-shoe.
Power is taken from the hot-shoe itself, so there's no extra battery to worry about, and each LED is apparently individually adjustable for brightness. The intention is obviously to make close-up photography more straightforward, in situations where the E-PL2's regular pop-up flash would over-saturate closely-positioned subjects.
What remains to be seen is if Olympus release a suitably macro-centric dedicated lens for the PEN E-PL2, as well as what sort of pricing they're asking for the Medusa-style lighting accessory. It's something you could probably whip up yourself with a couple of LED penlights and some spare time.