Olympus PEN E-PL1 Micro 4/3 Digital Camera Review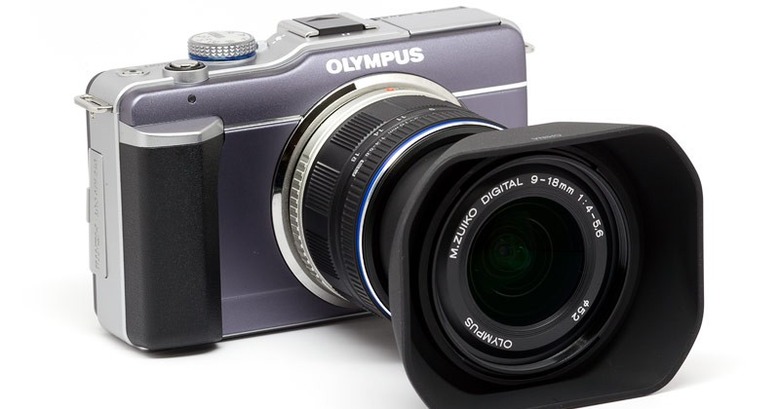 Micro-four-thirds cameras may be small in your pocket but their impact on your pocketbook can often still be significant. Stepping into the budget micro-4/3 market is the Olympus Pen E-PL1, packing much of the functionality from the 12.3-megapixel PEN E-P2 but with a considerably cheaper price tag. Built with mainstream consumer photographers in mind, we've been putting it through its paces for the full SlashGear review.
In comparison to the well-received E-P2 the new E-PL1 gets an integrated pop-up flash and buttons to quickly flip into magnified live view and start recording video. Meanwhile, it also has a smaller preview display (2.7-inches versus 3-inches on the E-P2), a slower maximum shutter speed (1/2000 vs 1/4000s), slower maximum flash sync speed (1/160s vs 1/180s), 3-stop image stabilization (versus the E-P2's 4-stop) and a consumer-grade plastic chassis instead of brushed aluminum and stainless steel construction. The integrated microphone records mono sound instead of stereo, and controls are squeezed into a single dial rather than two. Finally, maximum ISO setting is reduced from ISO 6400 to ISO 3200.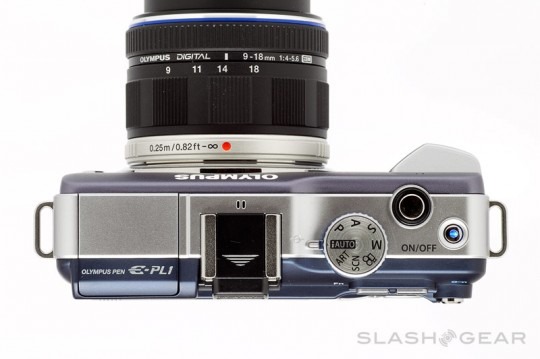 Physically, while the E-PL1 obviously lacks the hand-feel of its metal-bodied sibling, it feels anything but cheap. Build quality is high, and we reckon that – unlike most point-and-shoots – the budget PEN could withstand a drop without undue damage. The buttons, dials and general grip design are very well constructed, with the main mode dial having a strong spring-tensioned feel to it; you need to grip it firmly and twist it hard, which we actually prefer far more than what you'd find on an entry-DSLR. Even the battery compartment opens and closes with a clear snap, neatly done despite the cheaper construction.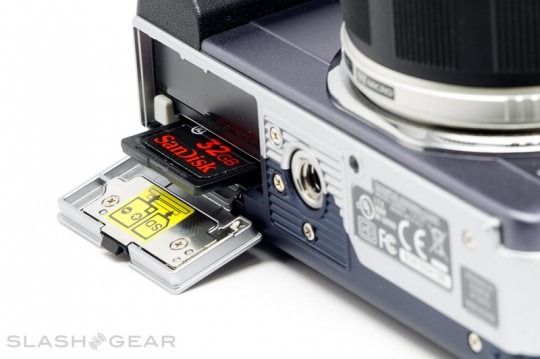 The battery itself is the same BLS-1 Lithium-ion rechargeable unit as in the previous PEN. A fully drained battery took less than three hours to charge, and then lasted us three days of shooting short movies and still images while covering the recent Qualcomm Uplinq 2010 mobile conference. Storage, meanwhile, is reliant on SD/SDHC memory cards. In-camera formatting took place at the same speed as our professional Canon Mark IV DSLR, prepping a 32GB SanDisk 30MB/s SDHC card in less than 4 seconds (high level setting).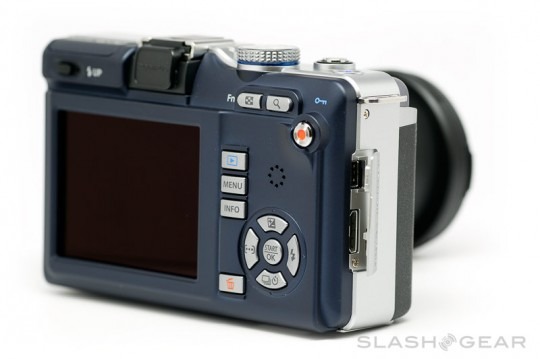 Unfortunately, our main ergonomic complaint concerns the new direct movie record button. While it's generally handy to have, on the PEN E-PL1 it's far too easy to trigger accidentally; a little more depth or slightly more resistance would make all the difference. As it is, you can remap that button so that it does nothing at all or toggles the LCD backlighting.
As for the LCD itself, it has a sufficiently fast response rate and provides enough shooting information for advanced users, though direct sunlight does wash it out and can make outdoor photography trickier. Ambient lighting, though, is fine. Olympus also outfit the E-PL1 with an accessory port that can be used with an electronic viewfinder, external flash or microphone; there are also two ports on the side, first a combined USB/AV-out and then a mini-HDMI for hooking up the PEN to an HDTV directly.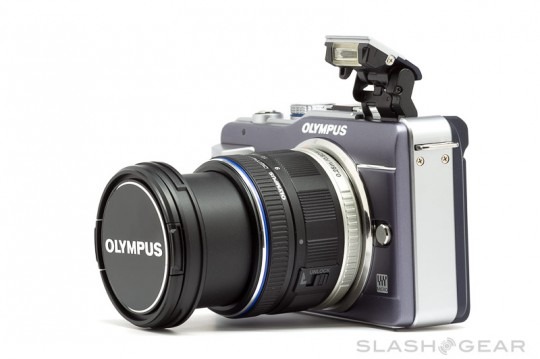 The new flash is easily triggered with a button just above the top left corner, and presses back into place to switch off. It's also possible to use the flash for direct control of multiple external flash units wirelessly, such as the FL-36R and FL-50R, through we're not sure how likely mainstream consumers might use that functionality. Its effectiveness – and indeed usefulness – varies depending on which lens you're using. With a wide angle lens, for instance, it can be tricky avoiding shadows cast by the lens hood, such as the LH-55B on the Zuiko Digital 9-18mm ultra wide angle zoom. Even with the hood removed, the shadow is well defined at the zoom's widest end. Still, that's a common problem photographers have to deal with when they're relying on pop-up flash units.
i-Auto
Olympus were keen to remind us on numerous occasions that the E-PL1 is tailored for beginners seeking out a prosumer camera capable of high image quality on a budget, and the i-Auto mode is built specifically for that. The Live Guide mode uses basic language for the menus and allows amateurs to tweak saturation, white balance, brightness, background blur and express motion, with the effect of their settings shown in the live view preview before the picture is taken. On-screen guidelines and tips give hints on how best to compose the shot and what sort of settings might benefit from adjustment. Perhaps the most interesting feature is the "express motion" setting, which simulates a motion blur effect on the LCD screen which more advanced photographers would recognize as panning blur. Usually you'd have to play with lower shutter speeds to create a directional blur effect, but the E-PL1 does a fair approximation itself. Unfortunately, even if you've found your new favorite settings in i-Auto, they're only applied once to that particular shot. The camera automatically resets to the defaults for the next frame (unless several images are taken in one continuous-burst).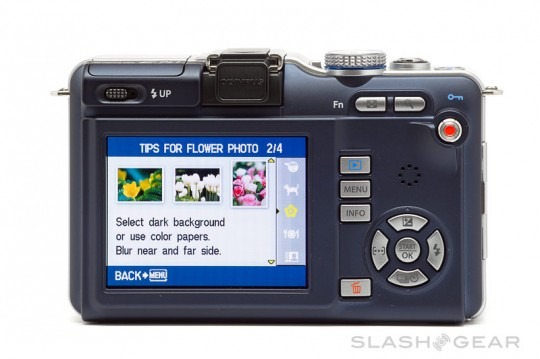 The PEN E-PL1's panorama mode is only half managed by the camera itself. Sequences of images are stored in the camera first, with stitching done in post-processing with the bundled Olympus Master 2 image editing software. The app does a good job putting together the scene, though of course nothing is fully automatic; you first have to select images to be stitched, and then afterwards crop off the extra canvas area for a clean frame. Zoomed in to a pixel-peeping level, the edges in-between images are visible but the result is still quite pleasing after being suitably resized.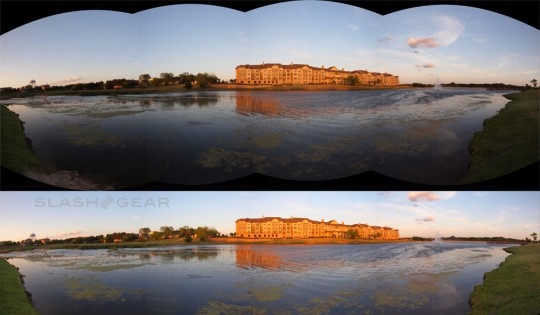 Performance
The camera goes from boot-to-ready in little over a second, with focusing speed almost instantaneous when in decent ambient lighting using both the 9-18mm and 14-42mm lenses we tested. In low light, it hesitates but not enough to upset an impatient photographer more used to a powerhouse DSLR. In extreme low light and low contrast situations, it didn't perform any worse than a professional DSLR costing 10 times as much. Overall, focusing speed is fast and reliable.
Image stabilization is sensor-based and can compensate up to 3 stops; it proved especially useful in low light situations without tripod support. We were able to capture San Diego bay's last light as low as 1/4 s while maintaining usable sharpness. The PEN provides three user-selectable modes of stabilization: Mode 1 for general shooting, Mode 2 for creative high-speed horizontal capture, and Mode 3 for high-speed vertical capture. Meanwhile there's also Olympus' SuperSonic Wave Filter system, which shakes any dust particles from the image sensor.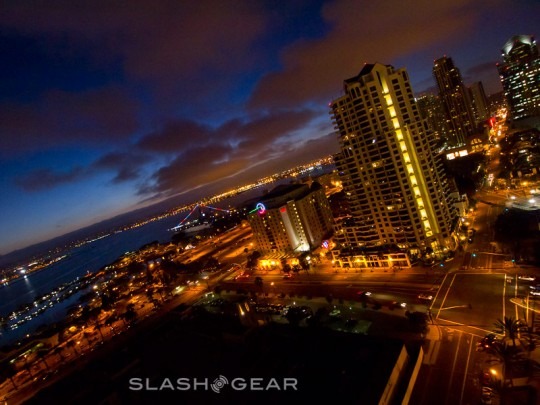 Noise levels are good; many of our sample pictures were taken at ISO 1600, and they're sufficiently high quality to use that setting freely. For a 2.0 crop sensor, the high ISO noise level is surprisingly good in color performance and sharpness. In addition, there are no excessive blotchy noise patterns as often found when digital cameras attempt to get rid of high ISO noise. Combined with the anti-shake, high ISO capability and lightweight body, the EP-L1 is quite a treat as a low light camera.
Image Sharpness
Image sharpness has more to do with lenses than with cameras; however, the low-pass aka anti-alias filter placed in front of the image sensor does affect the outcome of the image. In the case of the E-PL1, a weaker filter is used thus it actually handles sharpness a little better than its predecessors. We tried the ZUIKO Digital ED 14-42mm and M.ZUIKO Digital ED 9-18mm ultra wide angle lenses for our review. The former is an entry-level kit lens with plastic construction, and it both looks cheap and feels cheap as though it might fall apart after a single drop. The latter, on the other hand, is a better-built wide angle lens with a with metal mount; like the 14-42mm, it's a light weight, compact ultra angle with plastic components, but you can definitely tell the difference in quality holding both in your hands. Unlike the 14-42mm, the 9-18mm zoom mechanism doesn't wobble as you move the inner tube back and forth. As for lens construction, you're looking at 12 elements in 8 groups, 3 aspherical and 1 ED element construction vs 10 elements in 8 groups, 2 Aspherical and 1 ED element.
On the 9-18mm, image distortion at the widest ends is acceptable, and there's minimal to no chromatic aberration displayed at the center of the lens but quite visible at the very corners. The same result was observed for image sharpness, but overall it's a respectable ultra wide angle lens considering the price tag of $475. The compact design is great for landscaping and dropping in a bag while on vacation. Particularly worth mentioning is the lack of vignetting from a 35mm equivalent of 18mm-36mm.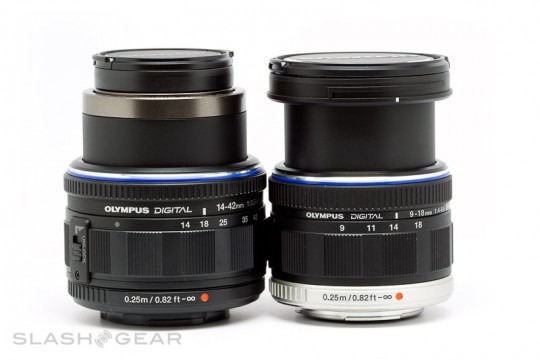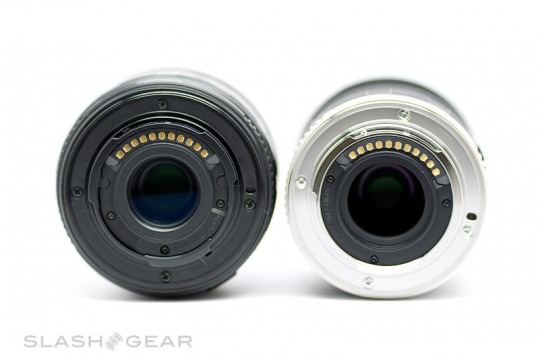 Video Recording
The Pen E-PL1 offers 720p HD video recording at 30fps in 16:9 aspect ratio, or VGA resolution in 4:3 aspect ratio. Sound is limited to mono only as opposed to stereo mode in more expensive models like the PEN P1 and P2, but an optional external stereo microphone is available. Footage is recorded in AVI Motion JPEG format and individual clips are limited to 7 minutes in 720p or 14 minutes in VGA. When used with Olympus' high-speed quiet autofocus technology MSC (Movie and Still Compatible) micro-4/3 system lenses, such as the 9-18mm or the newer M ZD 14-150mm 4.0-5.6 ED, focussing is faster and almost silent, promising speedy shooting without the mechanical background noises.
You're locked out of settings such as aperture and shutter speed while footage is being recorded, but you can zoom while continuing to rely on the auto-focus. In Program, Aperture-Priority or Manual modes you can adjust exposure, but it but must be set prior to shooting. Finally, you can apply art filters at hardware level to overlay effects such as Pop Art, soft focus, grainy films, diorama, sepia and pin-hole to motion as well as still captures. The biggest omission, though, is that the E-PL1 doesn't make the best use of its image stabilizer during movie recording, as it's not available in video mode. Still, the bottom of the camera does have a full size metal tripod mount for serious shooters.
Video clip from Olympus Pen E-PL1
[vms 62963ccde717b18f9759]
Conclusion
With an MRSP of $599.99 – and a street price closer to $520 – the Olympus PEN E-PL1 is pretty much half what you'd pay for its E-P2 sibling. That's despite using the same sensor and the same 720p HD video recording functionality. It's tempting to see micro-4/3 cameras a teetering in a no-mans-land between point-and-shoot simplicity and proper DSLRs, but the PEN E-PL1 has enough strengths of its own to argue its case. Excellent image stabilization and strong picture quality, coupled with a chassis that's easy to pocket and long battery life, add up to a compelling option for the photographer who wants DSLR-style flexibility in a highly mobile package.