Olympus PEN E-P3, E-PL3 and E-PM1 micro four thirds official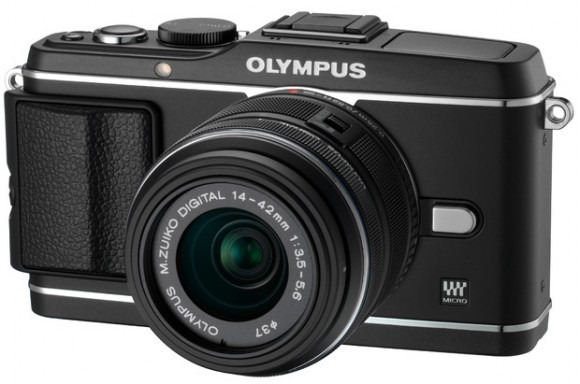 Olympus has outed its trio of new PEN micro four thirds cameras, each using a new 12.3-megapixel Live MOS Image Sensor supporting up to ISO 12,800, and promising faster 35-point auto-focussing, shutter response and image processing than the company's own E-5 DSLR. The Olympus PEN E-P3 is the flagship, with a 3-inch OLED 614k pixel touchscreen and a built-in flash, while the PEN E-PL3 and PEN E-PM1 have a 3-inch 460k LCD display, articulated on the PL3.
Olympus reckons the PEN E-P3 has sub-60ms shutter response time, while there's also 1080i HD video recording of AVCHD or AVI movies of up to 29 minutes and with a choice of CD-quality or AC3 Dolby Digital Audio sound recording. The new TruePic VI Image Processing Engine is onboard, and there's in-camera image stabilization.
All three get various in-camera filters and effects, like Art Filters and in-camera editing, along with a special 3D Photo mode which, by shooting off two frames as you slightly pan the camera, puts together a 3D image despite only having one lens.
There are also two new lenses, a M.Zuiko Digital ED 12m f2.0 lens for landscape shots and M.Zuiko Digital ED 45mm f1.8 lens with a particularly shallow depth of field, together with the FL-300R Compact Flash. Olympus will be offering all three new PEN models with a choice of the M.ZUIKO DIGITAL 14-42mm II R f3.5/5.6 II R zoom lens (28mm-84mm equivalent) or the M.ZUIKO DIGITAL 17mm f2.8 prime lens, though only the E-P3 has been priced so far: $899.99 for either kit.